The Pros' Picks: 22 Top Stocks to Invest In for 2022
Wall Street's best ideas for the new year are all over the map. Read on to discover the pros' top stocks to invest in across 2022.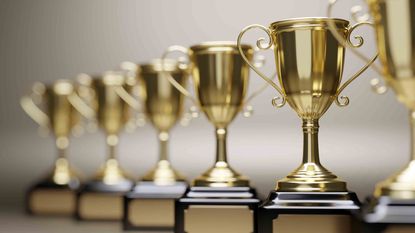 (Image credit: Getty Images)
Wall Street's analyst community is broadly optimistic about the market's prospects for the year ahead – but they're torn about where exactly those gains will come from. In other words, 2022's top stocks to invest in could come from numerous corners of the market.
Just consider the headwinds that the pros are factoring in as the new year approaches. Inflation. Supply-chain chaos. The potential for more COVID disruptions. Sky-high equity valuations. And none of that accounts for potential "black swan" events in 2022.
Still, the consensus direction for the stock market's arrow remains up for 2022. Infrastructure spending and a resumption of the economy's rehabilitation should help prop up equities in general, goes Wall Street's thinking.
"We expect solid economic and earnings growth in 2022 to help U.S. stocks deliver additional gains next year," says Ryan Detrick, chief market strategist for LPL Financial, the largest independent broker-dealer in the U.S. "If we are approaching – or are already in – the middle of an economic cycle with at least a few more years left (our view), then we believe the chances of another good year for stocks in 2022 are quite high."
Also noteworthy is LPL's S&P 500 target for 2022, which stands at 5,050 at the midpoint. That represents a roughly 10% gain from when the call was made Dec. 20, but closer to 5% from today's prices. Plenty of other Wall Street strategists have similar targets. Thus, if you want anything more than a mid-single-digit return in 2022, you might need to stray from the index and instead delve into individual picks.
But where should you begin?
Here are 22 of the pros' highest-conviction stocks to invest in for 2022. We used TipRanks data to unveil the crème de la crème, as viewed by Wall Street's analyst community. Each stock currently earns a consensus Strong Buy rating based on opinions from analysts surveyed by TipRanks.
As of today, these stocks are expected to produce upside of between 10% and 82% over the next 12 months – handily more than consensus S&P 500 projections. And like Kiplinger's best stocks for 2022, they represent just about every corner of the market.
Disclaimer
Data, including consensus price targets and ratings, is as of Dec. 28. Stocks listed in reverse order of projected 2022 returns.