10 Electrifying EV Stocks Worth Watching
Like many areas of the market, electric vehicle stocks have had a rough year. But if you're looking to gain exposure to this growing industry, here are 10 to consider.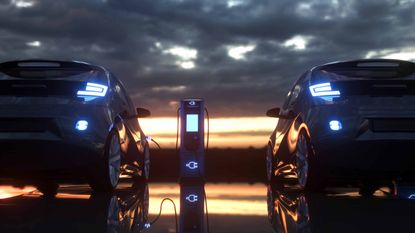 (Image credit: Getty Images)
2022 has been a tough year for growth stocks. The Nasdaq is well into bear-market territory, and many of the tech and growth names of the past several years have been hit particularly hard.
Electric vehicle (EV) stocks have been no exception. The entire industry has lagged as investors have rotated out of growth names and into cheaper value stocks.
So, what's the story here? Is the epic run in EV stocks over, or is it merely taking a well-deserved break?
Part of it comes down to the Federal Reserve. The value of a stock today is determined by its future earnings discounted to today's prices. The higher interest rates go, the lower those future earnings are worth in today's dollars.
As a result, the Fed's aggressive response to inflation tends to hit growth stocks like EVs the hardest. Most are not particularly profitable today, so the price is heavily influenced by those expected future profits, which get less and less valuable the higher interest rates go.
There's also the competition factor. The notion of an "electric vehicle company" may seem antiquated in just a few short years. Virtually every traditional automaker is jumping into the fray, and some, particularly in Europe, have already effectively reinvented themselves. That said, the introduction of new competitors isn't all bad. It normalizes electric vehicles and expands the overall market.
Also helping to expand the market is the recently passed Inflation Reduction Act, which introduced a $7,500 tax credit for new EVs and a $4,000 credit for used ones. There are rules and limitations to the EV tax credit, but it still provides a big incentive to go green, especially when you consider that the total cost of ownership over an EVs lifetime is cheaper than a gasoline-powered vehicle.
The growth is there, with global EV sales up 63% year-over-year in the first half of 2022, according to research firm Canalys. The question for investors is simply how to best play this trend.
Today, we're going to take a look at 10 EV stocks to watch as sales heat up. This isn't necessarily a recommendation list – some of these electric vehicle stocks might indeed not be right for you.
Every stock on this list is highly speculative, so you should only purchase them if you have a high tolerance for risk. And you might want to wait for some indication that the stocks have bottomed out before putting money at risk. But if you're looking to play the trend of rising consumer embrace of electric vehicles, these EV stocks are the ones you'd want to consider.
Data is as of Sept. 15. Analyst opinions from S&P Global Market Intelligence. Stocks are listed in reverse order of analysts' consensus rating.
Contributing Writer, Kiplinger.com
Will has written professionally for investment and finance publications in both the U.S. and Canada since 2004. A native of Toronto, Canada, his sole objective is to help people become better and more informed investors. Fascinated by how companies make money, he's a keen student of business history. Married and now living in Halifax, Nova Scotia, he's also got an interest in equity and debt crowdfunding.