Kiplinger's Interest Rates Outlook: The Fed May Be Done Hiking Short Rates
Long rates are likely to stay low this year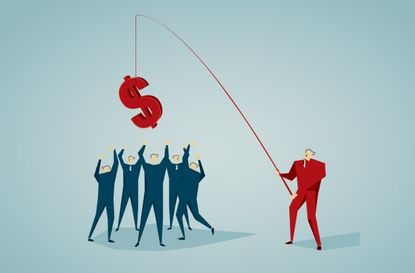 (Image credit: Getty Images)
Kiplinger's Economic Outlooks are written by the staff of our weekly Kiplinger Letter and are unavailable elsewhere. Click here for a free issue of The Kiplinger Letter or for more information.
The Federal Reserve indicated that it is no longer assuming that rate hikes will be necessary. The May 3 policy meeting statement omitted the words that anticipated future rate hikes. Chair Powell was careful to say that a decision to pause at their June 14 and later meetings would be based on whether the economy was slowing sufficiently to bring down inflation. But the wording change showed that Fed officials are beginning to think that their rate hikes, in conjunction with the tightening of bank lending standards, might be sufficient at current levels. Odds are roughly a coin flip that the Fed is actually finished hiking after this.
Short-term rates have jumped because of worries that Congress may not be able to pass legislation to raise the debt ceiling in time before the ceiling is reached. Janet Yellen, the Treasury Secretary said that the ceiling could be reached as early as June 1. It is likely that the timing depends on how large the June 15 quarterly tax payments are. If large enough, the ceiling would likely not be hit until late July or early August. Otherwise, the ceiling would be reached sometime in June. Expect short rates to stay elevated and increase even more if the ceiling prevents the government from paying its bills on time. Also, expect some fiscal disruption and legal challenges in such an event. It seems likely that any Congressional deal to raise the ceiling will involve fiscal cuts, as happened in 2011, but it's also likely that these cuts would be pushed into the future so as to avoid burdening current economic growth, as also happened in 2011 in a deal between the Obama Administration and House Republicans.
Subscribe to Kiplinger's Personal Finance
Be a smarter, better informed investor.
Save up to 74%
Sign up for Kiplinger's Free E-Newsletters
Profit and prosper with the best of expert advice on investing, taxes, retirement, personal finance and more - straight to your e-mail.
Profit and prosper with the best of expert advice - straight to your e-mail.
Long-term interest rates will likely remain low while the economy slows. Expect the 10-year Treasury note rate to edge down to 3.2% by the end of the year. But inflation developments will also have an effect. Monthly data releases on the consumer price index (next due on May 10), jobs (next due on May 5) and other indicators are likely to have an outsized impact on movements in the financial markets.
The Federal Reserve is confident in the U.S. banking system. Chair Powell doesn't expect any more major ripples in the banking system and thinks the lending facilities the Fed has that banks can access are sufficient.
For now, other short-term interest rates will rise along with the federal funds rate. Rates on home equity lines of credit are typically connected to the fed funds rate and move in lock-step with it. Rates on short-term consumer loans such as auto loans will also be affected. Rates to finance new vehicles are around 7% for six years for buyers with good credit.
Mortgage rates will stay elevated until there is more progress in the inflation fight. 30-year fixed-rate loans are at 6.6%, after peaking at 7.1% in early November, while 15-year fixed-rate loans are around 6.0%. Mortgage rates react to changes in the 10-year Treasury yield, though they are still about a full percentage point higher in relation to the 10-year Treasury note than would normally be expected. Mortgage rates tend to stay higher for longer when inflation is high, whereas Treasury rates tend to be more sensitive to signs of economic slowing.
Corporate high-yield bond rates peaked in November last year. The banking issues caused investors to favor higher-quality bonds. AAA bonds are now yielding 4.3% and BBB bonds, 5.5%, while CCC-rated bond yields are at 14.5%. CCC rates have edged down as the banking crisis appears to have passed.
Staff Economist, The Kiplinger Letter
David is both staff economist and reporter for The Kiplinger Letter, overseeing Kiplinger forecasts for the U.S. and world economies. Previously, he was senior principal economist in the Center for Forecasting and Modeling at IHS/GlobalInsight, and an economist in the Chief Economist's Office of the U.S. Department of Commerce. David has co-written weekly reports on economic conditions since 1992, and has forecasted GDP and its components since 1995, beating the Blue Chip Indicators forecasts two-thirds of the time. David is a Certified Business Economist as recognized by the National Association for Business Economics. He has two master's degrees and is ABD in economics from the University of North Carolina at Chapel Hill.