10 Smart Artificial Intelligence (AI) Stocks to Buy
AI stocks have been bloodied up in 2022, but the technology's relentlessly growing importance should see the sun shine on them again.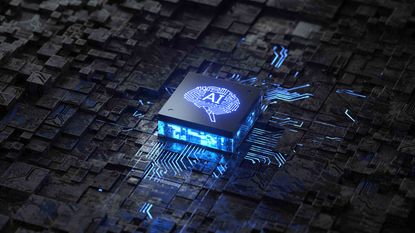 (Image credit: Getty Images)
Artificial intelligence (AI), for all of its futuristic elements, is not a new category – not by a long shot. The roots of the technology go all the way back to the late 1950s, when computers started to become much more powerful.
But the proliferation of AI stocks hasn't come until much more recently, as artificial intelligence became commercially viable over the past decade or so. That's due to a variety of factors such as the evolution of cloud computing, the use of sophisticated graphics processing units (GPUs), growth in open-source software, and the explosion of data.
Artificial intelligence uses algorithms to detect patterns, which can help businesses create predictions that ultimately lower costs, improve productivity and increase revenues.
As technological breakthroughs arise, AI models continue to scale. An example is the Megatron-Turing Natural Language Generation from Microsoft (MSFT (opens in new tab)) and Nvidia (NVDA (opens in new tab)). It has a massive 530 billion parameters, which helps with reading comprehension, reasoning and natural language inferences.
And artificial intelligence is a massive market opportunity. Gartner estimates that global spending on AI software will jump by more than 21% to $62 billion in 2022. The research firm says top use cases include knowledge management, virtual assistants, autonomous vehicles, digital workplace and crowdsourced data.
That growth should mean great things for Wall Street's best AI stocks. Let's look at 10 that stand out from the crowd.
Contributing Writer, Kiplinger.com
Tom Taulli is the author of High-Profit IPO Strategies, All About Commodities and All About Short Selling. He is also the founder of several high-tech companies, such as Web IPO (one of the pioneers of digital public offerings). He can be reached on Twitter at @ttaulli.