10 Stocks Warren Buffett Is Selling (And 4 He's Buying)
Berkshire Hathaway CEO Warren Buffett kept up his bearish streak in Q3 2021, but he did add a pair of positions from two of his favored industries.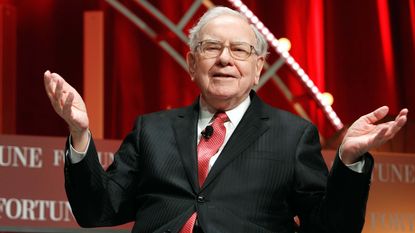 (Image credit: Getty Images)
Warren Buffett once again was a net seller of equities in the third quarter, reducing Berkshire Hathaway's (BRK.B (opens in new tab), $284.67) exposure to the stock market amid a series of then-record highs and increasingly stretched valuations.
The chairman and CEO continued to back out of bets in the pharmaceutical sector, pared Berkshire Hathaway's holding in financial stocks – and payments processors in particular – and eliminated one cable bet in its entirety.
On the plus side of the ledger, Buffett initiated a stake in a flooring retailer and added to an existing position in a major energy sector name.
The bottom line, however, is that the Oracle of Omaha continued to play defense when it comes to Berkshire Hathaway's equity investments. Buffett oversaw a total of $1.95 billion in net sales of equities from his holding company's portfolio during the three months ended Sept. 30, up from $1.1 billion in the second quarter. Indeed, the chief has been paring back on Berkshire Hathaway's market exposure for several quarters in a row.
We know what the greatest long-term investor of all time has been up to because the U.S. Securities and Exchange Commission requires investment managers with at least $100 million in assets to file a Form 13F quarterly report disclosing changes in share ownership. These documents add an important level of transparency to the stock market and give Buffett-ologists a bead on what the Berkshire chief is thinking.
When Buffett initiates a stake in some company, or adds to an existing one, investors read into that as a vote of confidence. But if he pares his holdings in a stock, it can spark investors to rethink their own investments.
Here's the scorecard for what Warren Buffett was buying and selling during the third quarter of 2021, based on Berkshire Hathaway's 13F filed on Nov. 15, 2021, for the period ended Sept. 30, 2021. You can check out the entire list of Buffett stocks here, or continue reading if you're most interested in Buffett's most recent transactions.
And remember: Not all "Warren Buffett stocks" are actually his picks. Some of Berkshire Hathaway's positions are handled by lieutenants Ted Weschler and Todd Combs.
Current share prices are as of Nov. 15, 2021. Holdings data is as of Sept. 30, 2021. Sources: Berkshire Hathaway's SEC Form 13F filed Nov. 15, 2021, for the reporting period ended Sept. 30, 2021; and WhaleWisdom.