18 Bitcoin ETFs and Cryptocurrency Funds You Should Know
The rapidly growing world of Bitcoin ETFs have expanded in recent months to include futures-based cryptocurrency funds. Here are 18 ways to ride the crypto wave.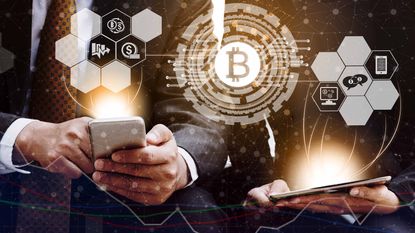 (Image credit: Getty Images)
Cryptocurrencies have continued to uphold their reputation for volatility in recent months, but the frenzy over digital currencies doesn't appear to be daunted. And crypto fans have more investment options than ever before as the list of bitcoin and other cryptocurrency exchange-traded funds (ETFs) continues to swell.
The ProShares Bitcoin Strategy ETF's (BITO (opens in new tab)) October 2021 launch kicked off a flurry of new funds coming to market. The SEC had been hesitant to approve Bitcoin ETFs prior to that – in July there were said to be as many as 13 applications waiting for the regulator's blessing.
"This is a milestone for the ETF industry," Todd Rosenbluth, head of ETF and mutual fund research for independent investment analysis outfit CFRA, said at the time.
That step was a long time in the making, too. As early as 2013, the Winklevoss twins, founders of the Gemini cryptocurrency exchange, looked to start a Bitcoin ETF but were unsuccessful.
SEC Chair Gary Gensler has said in the past that he would prefer to see funds holding Bitcoin futures rather than the cryptocurrency itself. However, the launch of BITO and a second Bitcoin futures ETF in October suggested the SEC was perhaps also coming around to the idea of U.S.-listed ETFs holding "physical" Bitcoin.
So much for that. In November, the commission rejected a VanEck spot Bitcoin ETF, and as recently as March 2022, it shot down offerings by NYDIG and Global X. Thus, ETFs that directly hold cryptocurrencies appear off the table (for now).
Still, digital currencies should see no dearth of interest, especially after President Joe Biden's recent cryptocurrency executive order, which puts the U.S. further on the path to crypto regulation and could bring the asset class even closer to the mainstream. Meanwhile, fund providers have been adding even more products to the heap, so Wall Street is flush with crypto-focused investment options.
Here are 18 Bitcoin ETFs and other cryptocurrency funds available to investors today. This includes the Bitcoin futures ETFs, but the majority of these products either deal in equities that are somehow involved with cryptocurrencies, or in other types of exposure that have their own twists and turns.
Fund data as of April 11 unless otherwise indicated.
Contributing Writer, Kiplinger.com
Will has written professionally for investment and finance publications in both the U.S. and Canada since 2004. A native of Toronto, Canada, his sole objective is to help people become better and more informed investors. Fascinated by how companies make money, he's a keen student of business history. Married and now living in Halifax, Nova Scotia, he's also got an interest in equity and debt crowdfunding.