The 25 Best No-Load Mutual Funds You Can Buy
The key to building wealth long-term is buying high-quality, no-load mutual funds run by seasoned stock pickers. Here are our favorites.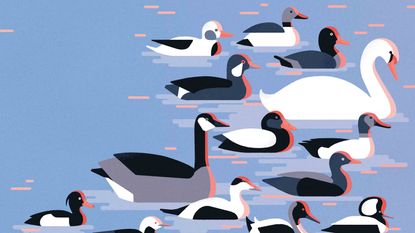 (Image credit: Illustration by Maria Hergueta)
The Kiplinger 25 list of our favorite no-load mutual funds dates back to 2004, and our coverage of mutual funds goes all the way back to the 1950s. We believe in holding funds rather than trading them, so we focus on promising mutual funds with solid long-term records – and managers with tenures to match.
After several seasons of unpredictable market conditions, a spring cleaning can bring a sense of order to things. We're talking about your portfolio, of course. Moves you make now to ensure you hold the right mix of funds could be richly rewarding later. As renowned value investor Shelby Davis once said, "You make most of your money in the bear market. You just don't realize it at the time."
Given that most markets – and funds – have declined over the past year, smart investors will carve out time now to review their portfolio and make any necessary adjustments. A good mix of holdings will include both stocks and bonds, pay adequate attention to small and large companies – foreign and domestic – and be balanced between value-priced shares and growth stocks.
A broad assortment is key, because in coming years it is less likely that any one sector or small group of stocks will dominate market leadership, as was the case pre-pandemic, says Ken McAtamney, head of William Blair's global equity team. "We believe that diversity of growth, industries and business models at appropriate levels of valuation will make for optimal investment returns."
This year, in our annual review of the Kiplinger 25, we're making two changes. Parnassus Mid Cap (PARMX), which has been on watch for two years, is out. The fund tends to do well during down-markets and lag in upswings. But lately it has trailed in both types of markets. Its replacement, Heartland Mid Cap Value (HRMDX), is a better complement to the other Kip 25 strategies because it is invested more in mid- and small-cap stocks than the Parnassus fund; it tilts more toward value, too.
The other change: Metropolitan West Total Return Bond (MWTRX) is out, and Baird Aggregate Bond (BAGSX) is in. The MetWest fund has lagged both the broad bond market and peer funds over the past three and five years. We liked the fund's leeway to invest in below-investment-grade sectors, such as high-yield bonds, bank loans and emerging-markets debt. But today's higher interest rates mean there's little need to goose yield with lower-quality credit, so we sought a more basic intermediate core bond fund. "There's no need to take on much risk to earn a good yield these days," the Baird managers told us. We agree.
Here are our picks for the best 25 no-load mutual funds: what makes them tick, and what kind of returns they've delivered.
Disclaimer
Data is as of Feb. 28, unless otherwise noted. Five- and 10-year returns are annualized. Yields on equity funds represent the trailing 12-month yield. Yields on balanced and bond funds are SEC yields, which reflect the interest earned after deducting fund expenses for the most recent 30-day period.

Senior Associate Editor, Kiplinger's Personal Finance
Nellie joined Kiplinger in August 2011 after a seven-year stint in Hong Kong. There, she worked for the Wall Street Journal Asia, where as lifestyle editor, she launched and edited Scene Asia, an online guide to food, wine, entertainment and the arts in Asia. Prior to that, she was an editor at Weekend Journal, the Friday lifestyle section of the Wall Street Journal Asia. Kiplinger isn't Nellie's first foray into personal finance: She has also worked at SmartMoney (rising from fact-checker to senior writer), and she was a senior editor at Money.