Kiplinger ESG 20: Our Favorite Picks for ESG Investors
Doing good and making money are no contradiction with these 15 stocks and five funds that ride the trend of socially conscious investing.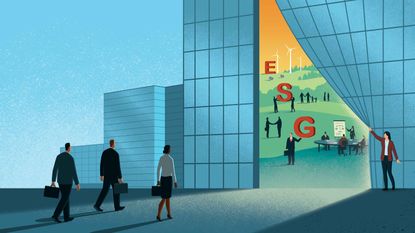 (Image credit: Illustration by Davide Bonazzi)
Introducing the Kiplinger ESG 20, the list of our favorite stocks and funds that excel at meeting environmental, social and corporate governance challenges.
Buying stocks or funds that are planet- and people-friendly is becoming as important a goal among investors as saving for retirement. In response to crises tied to climate change and the global pandemic, as well as to pressing social issues such as income inequality and the push for racial justice, more investors are embracing the ESG investing movement in a bid to drive change and make the world a better place.
People who want to align their investments with their values seek businesses that not only focus on increasing profits for shareholders but also take steps to protect the planet, boost the well-being of their employees, keep customers satisfied and safe, and assist communities in need. Money invested just in ESG index and exchange-traded funds could jump nearly sixfold this decade, to $1.2 trillion, projects BlackRock, the world's largest money management firm.
You don't have to sacrifice returns to jump on the ESG train. The S&P Composite 1500 ESG index, a broad measure of ESG-focused stocks covering U.S. companies of all sizes, returned 36.4% over the past year—barely a hair less than the 36.6% return of the S&P Composite 1500, its non-ESG cousin. Over the past three years, the ESG index has returned an annualized 18.6%, besting its counterpart's 17.2% average yearly gain.
Because it's harder to quantify non-financial ESG factors, such as a company's carbon emissions or its record on board diversity, than it is to tally annual revenues or calculate a price-to-earnings (P/E) ratio, identifying promising investments through a sustainability lens can be as tough as pinpointing where a Category 5 hurricane will make landfall. An explosion of ESG ratings, rankings and reports adds more complexity than clarity, given that criteria are continually evolving, reporting isn't standardized and U.S. regulation is nascent.
Our list is broken down by category: You'll find 15 stocks in the Environmental, Social or Governance groups, along with five funds that cover any or all of the bases. Few firms exceed on every ESG metric, but we tried to select all-around good corporate citizens. Says Cheryl Smith, comanager of Green Century Balanced fund: "No company is perfect."
Methodology: We reviewed ratings on individual stocks and funds published by leading ESG rating firms such as MSCI, Sustainalytics and Institutional Shareholder Services, among others. We then interviewed fund managers, ESG investing experts, Wall Street analysts and company representatives. Finally, we did our own research to identify sustainable investments that possess a winning combination of strong ESG credentials along with solid business fundamentals and growth potential. Returns and other data are as of Dec. 19. Tabular data is from Morningstar Direct.
Senior Associate Editor, Kiplinger's Personal Finance
Nellie joined Kiplinger in August 2011 after a seven-year stint in Hong Kong. There, she worked for the Wall Street Journal Asia, where as lifestyle editor, she launched and edited Scene Asia, an online guide to food, wine, entertainment and the arts in Asia. Prior to that, she was an editor at Weekend Journal, the Friday lifestyle section of the Wall Street Journal Asia. Kiplinger isn't Nellie's first foray into personal finance: She has also worked at SmartMoney (rising from fact-checker to senior writer), and she was a senior editor at Money.