The 9 Best Inflation-Proof Investments for Your Portfolio
These stocks and ETFs are some of the best inflation-proof investments and could continue to shine as price growth cools.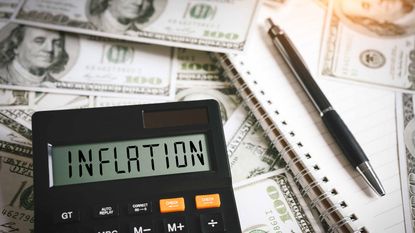 (Image credit: Getty Images)
It's a tale as old as time – or at least, as old as the stock market: When consumer prices are on the rapid rise, investors start scrambling to snatch up the best inflation-proof investments.
It's a sound strategy … even if investors' fear of inflation is a touch overblown.
The theory goes that high inflation causes economic uncertainty and stock volatility, which typically don't bode well for equities. But the data suggests otherwise. Ben Carlson, of Ritholtz Wealth Management, showed stocks' performance between 1928 and 2020 alongside inflation data in his Wealth of Common Sense blog. The U.S. experienced 17 periods of 5.7% or higher inflation during that time. The verdict?
"The average returns for the S&P 500 in these years were 9.4%," Carlson says. "That's basically the long-term average over the past 90+ years."
So perhaps investors shouldn't fear high inflation generally. But they should still be tactical – certain parts of the stock market (and other investments, for that matter) tend to fare better than others during periods of rising consumer prices.
Today, we're going to examine nine "inflation-proof" investments – a collection of stocks, exchange-traded funds (ETFs) and other assets that can help fortify your portfolio from inflation's potential drag on the broader stock market.
But keep this in mind: Many investments designed to beat back inflation can take it on the chin when consumer prices decelerate. Thus, many of these stocks and funds might not be ideal buy-and-hold-forever investments. If you're nimble and like to take a more active tack, however, they can be useful tools to stash in your investing toolbelt.
Disclaimer
Data is as of April 11.
Kyle Woodley is the Editor-in-Chief of Young and The Invested, a site dedicated to improving the personal finances and financial literacy of parents and children. He also writes the weekly The Weekend Tea newsletter, which covers both news and analysis about spending, saving, investing, the economy and more.
Kyle was previously the Senior Investing Editor for Kiplinger.com, and the Managing Editor for InvestorPlace.com before that. His work has appeared in several outlets, including Yahoo! Finance, MSN Money, Barchart, The Globe & Mail and the Nasdaq. He also has appeared as a guest on Fox Business Network and Money Radio, among other shows and podcasts, and he has been quoted in several outlets, including MarketWatch, Vice and Univision. He is a proud graduate of The Ohio State University, where he earned a BA in journalism.
You can check out his thoughts on the markets (and more) at @KyleWoodley.