9 Best Stocks for Rising Interest Rates
The Federal Reserve has been aggressive in its rate hiking, and it's likely not done yet. Here are nine of the best stocks for rising interest rates.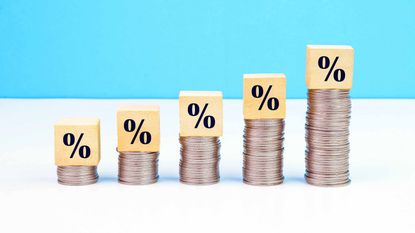 (Image credit: Getty Images)
The Federal Reserve raised its benchmark interest rate seven times last year, sending the effective federal funds rate above 4% for the first time since before the financial crisis of 2008. That has left investors scrambling to scrape up the best stocks for rising interest rates.
And it's likely the central bank is not done lifting rates just yet. The market is currently pricing in a 25 basis point rate hike (0.25%) at the Fed's early February meeting, and another one at its March gathering, according to CME Group (opens in new tab).
While there is undoubtedly some pain that comes from these aggressive rate hikes, including increased borrowing costs for consumers and businesses, there are some stocks that actually benefit from higher interest rates. Furthermore, there are other investments that appear resilient and reasonably insulated from any rate-related disruptions on Wall Street.
With this in mind, here are nine of the best stocks for rising interest rates. The potential options featured here offer different ways to sidestep the challenges of higher interest rates. They can also prepare investors for the prospect of additional increases if and when they occur in 2023.
Data is as of Jan. 23. Dividend yields represent the trailing 12-month yield, which is a standard measure for equity funds.
0
Contributing Writer, Kiplinger.com
Jeff Reeves has covered finance and capital markets since 2008, contributing to outlets including CNBC, the Fox Business Network, the Wall Street Journal digital network, USA Today, US News & World Report and CNN Money.