10 Best Stocks for Rising Interest Rates
The Federal Reserve has signaled in no uncertain terms that interest rates will head higher in 2022. Here are 10 of the best stocks for this environment.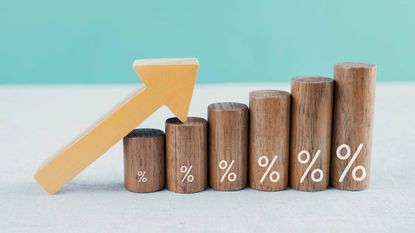 (Image credit: Getty Images)
In March, the Federal Reserve raised benchmark interest rates for the first time since 2018. And in the intervening weeks, Fed Chair Jerome Powell has been increasingly clear that even higher rates may be on the way soon. That has investors scrambling to scrape up the best stocks for rising interest rates.
Speaking on March 21, Powell said the central bank will move "expeditiously" and "more aggressively" towards higher interest rates. That has left little doubt in the minds of many investors about what's in store for the markets in the coming months.
To be clear, rates are still relatively low even after all this. The effective federal funds rate now sits at 0.33% instead of 0.08% prior, but that's not even within earshot of rates from prior decades that were several full percentage points higher.
Furthermore, rising rates should never be seen as a death knell for the economy. In fact, the presence of rate increases is because the Federal Reserve sees inflation as a bigger risk to the U.S. economy than the burden of higher borrowing costs. If businesses and consumers weren't churning along, there would be concerns of how these rate hikes would be absorbed, keeping Powell and other policymakers in check.
There are certainly changes that are afoot as a result of higher interest rates, but investors should not make the mistake of thinking these moves means you should abandon the stock market entirely. Indeed, several of the best stocks for 2022 had the potential for rising rates on the mind, and today, we'll be looking at a few that are tailor-made for this environment.
Here are 10 of the best stocks for rising interest rates. The potential options presented here are for those concerned about mitigating the impact of rising interest rates throughout 2022.
Data is as of April 3. Dividend yields represent the trailing 12-month yield, which is a standard measure for equity funds.
Contributing Writer, Kiplinger.com
Jeff Reeves has covered finance and capital markets since 2008, contributing to outlets including CNBC, the Fox Business Network, the Wall Street Journal digital network, USA Today, US News & World Report and CNN Money.