The 8 Best Energy ETFs to Buy Now
Oil and gas stocks might not repeat the past year's gains in 2023, but these energy ETFs can still harness a stiff tailwind.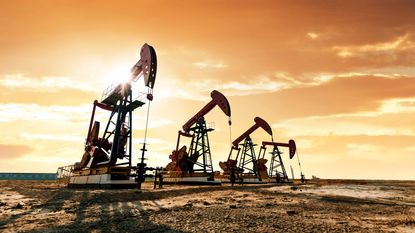 (Image credit: Getty Images)
Energy stocks and exchange-traded funds (ETFs) were a popular bet heading into 2022. So far, so good – the sector has been by far and away the best performer as the end of the year nears.
The S&P 500 Energy Index delivered a massive total return (price plus dividends) of 58% through early December, driving numerous attached energy ETFs higher. Compare that to a negative total return for the S&P 500 and seven of its sectors, and low-single-digit gains for the remaining three, and it's not even close.
But after a 2022 like that, what chance do energy ETFs have of repeating in 2023?
The past year will be (hopefully) almost impossible to replicate. Russia's war with Ukraine, higher travel demand and other drivers sent U.S. crude oil prices from around $75 at the start of 2022 to multiple peaks above $120 across the year.
Still, certain sparks – including any eventual let-up of Chinese COVID prevention measures, as well as continued conflict in Ukraine – could sustain a floor under oil prices.
Carrie King, global deputy chief investment officer at BlackRock Fundamental Equities, says among cyclical sectors, her firm favors energy (and financials) in 2023: "We see energy sector earnings easing from historically elevated levels yet holding up amid tight energy supply," she says.
Will energy repeat as the S&P leader in the coming year? The odds are against it. But there is reason to believe energy funds still have more gas in the tank. So if you want to add exposure to the sector, here are our eight best energy ETFs to buy for 2023.
Data is as of Dec. 6. Yields represent the trailing 12-month yield, which is a standard measure for equity funds.
Kyle Woodley is the Editor-in-Chief of Young and The Invested (opens in new tab), a site dedicated to improving the personal finances and financial literacy of parents and children. He also writes the weekly The Weekend Tea (opens in new tab) newsletter, which covers both news and analysis about spending, saving, investing, the economy and more.
Kyle was previously the Senior Investing Editor for Kiplinger.com, and the Managing Editor for InvestorPlace.com before that. His work has appeared in several outlets, including Yahoo! Finance, MSN Money, Barchart, The Globe & Mail and the Nasdaq. He also has appeared as a guest on Fox Business Network and Money Radio, among other shows and podcasts, and he has been quoted in several outlets, including MarketWatch, Vice and Univision. He is a proud graduate of The Ohio State University, where he earned a BA in journalism.
You can check out his thoughts on the markets (and more) at @KyleWoodley (opens in new tab).