7 Gold ETFs With Low Costs
These seven gold ETFs provide investors with numerous ways to play the metal, from direct exposure to stock-related angles, on the cheap.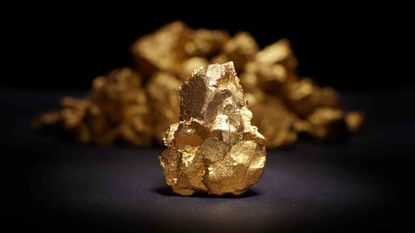 (Image credit: Getty Images)
Investors in gold and gold exchange-traded funds (ETFs) haven't had much to crow about in the past year or so.
The yellow metal is virtually flat over the past 52 weeks, versus 15% gains for the broader market during that time. Despite loads of central-bank stimulus across the world and red-hot inflation here in the U.S., gold investing simply hasn't delivered. But that could change soon.
For one, "with inflation hitting more categories, gold could start behaving more like an inflation hedge as the flattener trade will likely limit the dollar's gains going forward," says Ed Moya, senior market analyst at currency data provider OANDA.
Moreover, investors might seek out gold as a safe haven should recent Russia troopbuilding along the Ukranian border evolve into all-out war.
Gold investors typically tout several virtues of the yellow metal: It hedges against inflation, they say, it's an uncorrelated asset that doesn't move with the stock market and it can grow in value when national or even global uncertainty is high. Those features help build the bull case, which you can leverage via gold ETFs.
Some people look to gold investing to diversify their portfolios, and aggressive investors can try to squeeze profits out of short-term swing trades. We recommend that if you do try your hand at this commodity, you first learn the ins and outs of investing in gold, make it a small portion (5%) of your portfolio and use ETFs, for several reasons, including liquidity, low expenses and ease of use.
Here's an introduction to seven low-cost gold ETFs that offer varying types of exposure to the precious commodity. This list includes the most ubiquitous gold ETFs on the market – funds you typically can read about in just about any daily commodity wrap-up – as well as a few that aren't as well-covered by the financial media but might be better investments than their high-asset brethren.
Senior Investing Editor, Kiplinger.com
Kyle is senior investing editor for Kiplinger.com. As a writer and columnist, he also specializes in exchange-traded funds. He joined Kiplinger in September 2017 after spending six years at InvestorPlace.com, where he managed the editorial staff. His work has appeared in several outlets, including U.S. News & World Report and MSN Money, he has appeared as a guest on Fox Business Network and Money Radio, and he has been quoted in MarketWatch, Vice and Univision, among other outlets. He is a proud graduate of The Ohio State University, where he earned a BA in journalism.