The Best Gold ETFs with Low Costs
These gold ETFs provide investors with numerous ways to play the metal, from direct exposure to stock-related angles, on the cheap.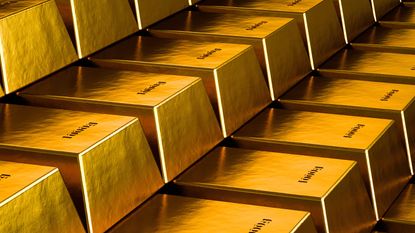 (Image credit: Getty Images)
It's a good time to be an aficionado of gold and gold exchange-traded funds (ETFs). The cost of investing in gold through funds continues to trickle lower, and the variety of ways to get exposure to gold continues to grow.
True, gold prices are on the downswing at the moment amid expectations the Federal Reserve could hike interest rates again, as well as strength in the U.S. dollar. The former tends to hurt gold demand because institutional money migrates to the improving yields on bonds and other interest-bearing debt; the latter because gold is priced in U.S. dollars but most often bought in other currencies that are weakening by comparison.
"The Fed's hawkish communication at a time when other central banks are adopting more of a neutral stance is boosting U.S. [Treasury] yields and the dollar, and punishing gold," says Craig Erlam, senior market analyst at currency data provider OANDA. "In the absence of more promising U.S. data on inflation and the labor market, it may remain a tough environment for gold."
However, the eventual end to rate hikes either later this year or next bodes much better for gold strength moving forward.
Why should I invest in gold?
Gold investors typically tout several virtues of the yellow metal: It hedges against inflation, they say, it's an uncorrelated asset that doesn't move with the stock market and it can grow in value when national or even global uncertainty is high. Those features help build the bull case, which you can leverage via gold ETFs.
Plus, a recent State Street Global Advisors survey found that 65% of respondents felt gold is a long-term strategic investment. Additionally, 73% of those surveyed believe that owning gold ETFs has improved the overall performance of their investment portfolios.
What are the best gold ETFs?
We recommend that if you look to use these commodity ETFs to diversify your portfolio, you first learn the ins and outs of gold investing. For one, gold "has generated disappointing long-term returns compared to stocks," says Dan Burrows, senior investing writer at Kiplinger.com, in his article on 10 facts you need to know about investing in gold. Even then, make it a small portion (5%) of your portfolio.
And we recommend investing in ETFs for several reasons, including liquidity, low expenses and ease of use.
Using my professional experience as editor-in chief for Young and The Invested, as well as former senior investing editor at Kiplinger and managing editor at InvestorPlace, I looked for the best ETFs to buy that gave different degrees of exposure to gold.
With that in mind, here's an introduction to seven low-cost gold ETFs. This list includes the most ubiquitous gold ETFs on the market – funds you typically can read about in just about any daily commodity wrap-up – as well as a few that aren't as well-covered by the financial media but might be better investments than their high-asset brethren.
Disclaimer
Data, including assets under management, dividend yield and expenses, is as of October 2, and is courtesy of Morningstar .
Kyle Woodley is the Editor-in-Chief of Young and The Invested, a site dedicated to improving the personal finances and financial literacy of parents and children. He also writes the weekly The Weekend Tea newsletter, which covers both news and analysis about spending, saving, investing, the economy and more.
Kyle was previously the Senior Investing Editor for Kiplinger.com, and the Managing Editor for InvestorPlace.com before that. His work has appeared in several outlets, including Yahoo! Finance, MSN Money, Barchart, The Globe & Mail and the Nasdaq. He also has appeared as a guest on Fox Business Network and Money Radio, among other shows and podcasts, and he has been quoted in several outlets, including MarketWatch, Vice and Univision. He is a proud graduate of The Ohio State University, where he earned a BA in journalism.
You can check out his thoughts on the markets (and more) at @KyleWoodley.