11 Nasdaq-100 ETFs and Mutual Funds to Buy
The QQQ is the best-known ETF that invests in the popular Nasdaq-100 Index. But several other funds are at your disposal, too.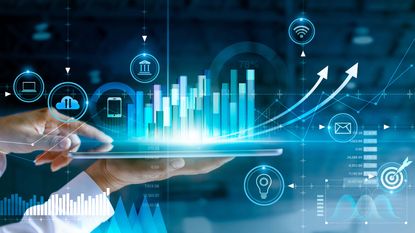 (Image credit: Getty Images)
Forget the S&P 500 and even the Dow Jones Industrial Average. The big name in big-name indices – at least in the past few years – is the Nasdaq-100.
The Nasdaq-100 Index, which began in 1985, is a select slice of the larger Nasdaq Composite's 100 largest nonfinancial companies. Historically (and currently), it has been dominated by technology stocks, which currently account for roughly half the fund's assets, and it also holds healthy slugs of high-growth communications and consumer plays.
This tech-heavy index has been a monster outperformer for years. The Nasdaq-100 Index has run up about 445% since the start of 2011, lapping the S&P 500 (180%) and the Dow (148%), and even widely beating the broader Nasdaq Composite (348%).
That has been a boon for Invesco (IVZ (opens in new tab)), whose Invesco QQQ Trust (QQQ (opens in new tab)) has allowed investors to take advantage of those rapid gains for decades. Assets in the QQQ ETF have exploded, and the company hopes to further leverage the QQQ's success via some newly announced investment products tied to the fund (more on those in a moment).
"When it launched 20 years ago, the Invesco QQQ ETF was a pioneer in simplifying how investors gained access to companies within the NASDAQ-100 Index," says John Hoffman, Head of Americas, ETF & Indexed Strategies at Invesco. "By building this suite with Nasdaq, Invesco will enable clients to select the personalized combination of strategies that best suits their needs and time horizons."
Read on as we examine 11 Nasdaq-100 ETFs and mutual funds. A few of these funds are a direct play on the index itself, while the rest are various ways of slicing, dicing and even amplifying the Nasdaq-100.
Senior Investing Editor, Kiplinger.com
Kyle is senior investing editor for Kiplinger.com. As a writer and columnist, he also specializes in exchange-traded funds. He joined Kiplinger in September 2017 after spending six years at InvestorPlace.com, where he managed the editorial staff. His work has appeared in several outlets, including U.S. News & World Report and MSN Money, he has appeared as a guest on Fox Business Network and Money Radio, and he has been quoted in MarketWatch, Vice and Univision, among other outlets. He is a proud graduate of The Ohio State University, where he earned a BA in journalism.