Hedge Funds' 21 Top Blue-Chip Stocks to Buy Now
What is the reputed smart money up to lately? We explore the 21 most popular blue-chip stocks among the hedge fund crowd.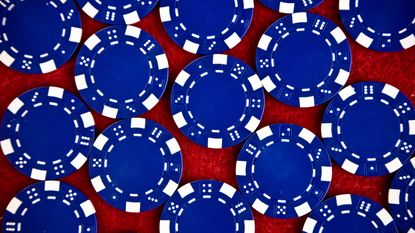 (Image credit: Getty Images)
Hedge funds as a group have a poor long-term track record, but there's still something irresistible about knowing what the putative smart money has been up to.
Besides, you've got to give them credit where credit is due. Hedge funds as a group might not be generating positive returns in 2022, but hey, at least they're beating the broader market.
And by a wide margin at that.
Subscribe to Kiplinger's Personal Finance
Be a smarter, better informed investor.
Save up to 74%
Sign up for Kiplinger's Free E-Newsletters
Profit and prosper with the best of Kiplinger's expert advice on investing, taxes, retirement, personal finance and more - straight to your e-mail.
Profit and prosper with the best of Kiplinger's expert advice - straight to your e-mail.
Hedging strategies by definition limit upside when stocks are rising, which helps explain the industry's years of underperformance during the bull market. By the same token, however, hedging strategies limit downside when everything is selling off. And goodness knows investors have seen plenty of red on their screens so far this year.
Case in point: the Eurekahedge Hedge Fund Index delivered a total return (price appreciation plus dividends) of -4.2% year-to-date through July 31. That compares with the S&P 500's total return of -12.6% over the same span.
We won't know how hedge funds are dealing with the current market selloff until they disclose their third-quarter buys and sells in mid-November. But we do know what they were up to in Q2, thanks to a recent batch of regulatory filings.
"Stymied by an uncertain market environment and poor recent returns, hedge funds have cut leverage, shifted back towards growth stocks, and increased portfolio concentrations in their favorite stocks," notes the portfolio strategy team at Goldman Sachs Global Investment Research.
And, indeed, as is always the case, hedge funds were heavily invested in most of the market's biggest and bluest of blue-chip stocks – particularly Dow stocks.
That's largely a function of Dow stocks' massive market capitalizations and attendant liquidity, which creates ample room for institutional investors to build or sell large positions.
Big-name blue-chip stocks also carry a lower level of reputational risk for professional money managers. (It's a lot easier to justify holding a large position in a Dow stock than a no-name small-cap if restive clients start grumbling about their returns.)
Be that as it may, half these names are not in the famed blue-chip average, and a few of these picks might surprise you. But before we get to the full list of stocks in the table below, let's look at some of the more notable entries.
Although Amazon.com (AMZN (opens in new tab), $130.75) remained the second-most popular stock with hedge funds in Q2, on balance, these institutional investors were heavy sellers. Hedge funds sold a net of more than 24 million shares in the e-commerce giant in Q2, a period in which AMZN stock tumbled 35%. The number of hedge funds with positions in AMZN declined 4%, according to WhaleWisdom (opens in new tab). Furthermore, the number of hedge funds counting AMZN as a top 10 holding fell by 22%.
Hedge funds who remained committed to Google parent Alphabet's (GOOGL (opens in new tab), $110.34) Class A shares absolutely piled into the name when it went on sale. GOOGL tumbled 22% in Q2, and yet hedge funds were net buyers of more than 117 million shares. Be that as it may, the number of hedge funds holding GOOGL fell by almost 6%, and the number of hedge funds counting it among their top 10 positions declined by more than 10%.
Warren Buffett's Berkshire Hathaway (BRK.B (opens in new tab), $289.96) went bargain hunting in Q2, beefing up its stakes in Apple (AAPL (opens in new tab)), Chevron (CVX (opens in new tab)) and Occidental Petroleum (OXY (opens in new tab)). But hedge funds didn't avail themselves of the same opportunity afforded by the slump in BRK.B. Shares in Buffett's holding company fell 23% in Q2, and hedge funds provided some of the selling pressure. Indeed, hedge funds were net sellers to the tune of 14.6 million shares in Berkshire Hathaway during the three months ended June 30.
Have a look at hedge funds' 21 top blue-chip stocks to buy now in the table below.