Best Silver ETFs to Buy Now
Silver will always sit in gold's media shadow, but the best silver ETFs can help you enjoy runs of outperformance.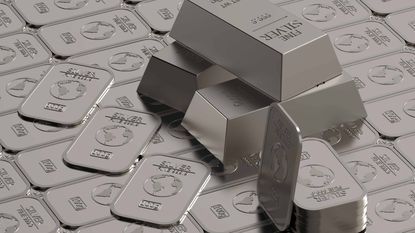 (Image credit: Getty Images)
Silver might never hold a candle to gold. But that doesn't mean you can't put it to good use in your portfolio – and what better way than with the best silver ETFs.
Between the end of 2018 and the end of 2022, silver gained 52% in price, beating gold by more than 10 percentage points and providing wind beneath the wings of silver exchange-traded funds. But given silver's persistent placement in gold's shadow when it comes to financial media coverage, chances are this is the first you've heard about its solid outperformance.
Granted, silver is popular among investors, but it still doesn't come close to ol' Element 79. Consider that the iShares Silver Trust (SLV), the largest silver ETF on the market at roughly $11 billion in assets under management, is just one-fifth of the size of the largest of the gold ETFs: the $60 billion SPDR Gold Shares (GLD). And fewer silver funds are vying for those assets, no less.
Still, there are several reasons to consider investing in silver, even if it's just a small allocation.
"While gold tends to get the most attention, silver, along with platinum and palladium, is also an important piece of a precious metals portfolio," says Charles Sizemore, principal of Sizemore Capital Management. "While silver also has more industrial uses, and is thus somewhat sensitive to the economic cycle, it has also been a viable inflation hedge over time."
And several tailwinds are conspiring to lift silver higher in 2023.
"The price of silver and precious metals as a whole were suppressed by rising interest rates and a strong USD in 2022. However, silver demand still rose by about 16% from 2021 while supply only increased by 2%," says Stephen Gardner, director of ETF provider ETFMG. "We think this imbalance, which started in 2021, paired with the expectation that the Fed will pause rate hikes later in the year (weakening the U.S. dollar) will be a tailwind for the silver price."
What are the best ETFs for silver?
The pool for silver funds is relatively small. Using my professional experience as editor-in chief for Young and The Invested, as well as former senior investing editor at Kiplinger and managing editor at InvestorPlace, I looked for the best ETFs to buy that gave different degrees of exposure to silver. These picks include funds that own the actual metal itself, as well as those that invest in mining stocks.
If you're feeling bullish on this often-snubbed metal, here are five of the best silver ETFs to buy.
Disclaimer
Data, including assets under management, dividend yield and expenses, is as of May 23, and is courtesy of Morningstar.
Kyle Woodley is the Editor-in-Chief of Young and The Invested, a site dedicated to improving the personal finances and financial literacy of parents and children. He also writes the weekly The Weekend Tea newsletter, which covers both news and analysis about spending, saving, investing, the economy and more.
Kyle was previously the Senior Investing Editor for Kiplinger.com, and the Managing Editor for InvestorPlace.com before that. His work has appeared in several outlets, including Yahoo! Finance, MSN Money, Barchart, The Globe & Mail and the Nasdaq. He also has appeared as a guest on Fox Business Network and Money Radio, among other shows and podcasts, and he has been quoted in several outlets, including MarketWatch, Vice and Univision. He is a proud graduate of The Ohio State University, where he earned a BA in journalism.
You can check out his thoughts on the markets (and more) at @KyleWoodley.