Investing in Gold: 10 Facts You Need to Know
Gold tends to do well in times of trouble.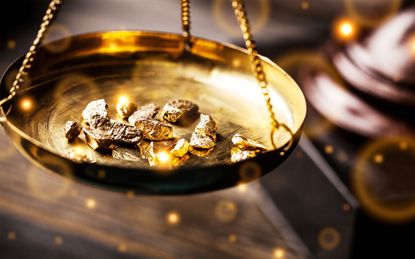 (Image credit: Getty Images)
Gold tends to do well in times of trouble. Well, thanks to the coronavirus pandemic putting the global economy on lockdown, investors had trouble in spades in 2020, and that was evident in a nearly 25% return for the yellow metal last year.
However, gold prices have had a more difficult time in 2021, off about 8% year-to-date. But despite what should be a much better year for the economy than last, some investors still might be tempted to buy gold on this dip. After all, even after coming under pressure from higher interest rates and outflows from gold exchange-traded funds (ETFs), analysts think the outlook for the shiny metal remains bright this year.
Indeed, 38 analysts surveyed by the London Bullion Market Association forecast gold prices to average $1,974 an ounce in 2021. That's about 13% higher than current prices, and would represent a return to levels not seen since August 2020.
Just understand: Pouring a chunk of your assets into gold isn't always a good idea. In fact, gold actually has a spotty long-term record as an investment.
Here are some critical nuggets you should know about investing in gold before betting on the precious metal.
Data, prices and returns are courtesy of Kitco, DQYDJ, the Perth Mint, the World Gold Council, YCharts, the U.S. Mint and Morningstar.
1/10
Since 1980, Which Investment Has Generated the Best Returns?
Gold? Nope. Maybe U.S. bonds? Wrong again. Large-cap stocks traded in the U.S. have easily outperformed those asset classes over the past four decades.
Let's go to the tape: From March 1980 through March 2021, the S&P 500, with dividends reinvested, returned an annualized 12.1%. As for bonds, the benchmark 10-year Treasury note delivered an annualized return of 6.6% over the same period. But gold? It hasn't been quite so lustrous, returning an annualized gain of just 2.8% during that span.
Sign up for Kiplinger's FREE Investing Weekly e-letter for stock, ETF and mutual fund recommendations, and other investing advice.
Even more recently, gold still has underwhelmed. The S&P 500 put up an annualized return of 13.8% with dividends reinvested over the past decade ended March, while benchmark Treasuries returned 2.2% and gold 3.1%.
2/10
Since 1990, Which Investment Performed Best?
Once again, U.S. stocks beat both U.S. bonds and gold.
From March 1990 through March 2021, the S&P 500 gained 10.4% on an annualized basis with dividends reinvested. The 10-year Treasury note delivered an annualized return of 4.6%. Gold, meanwhile, generated an annualized return of 5.2%. Interestingly, gold is supposed to be bulwark against rising prices, but when adjusted for inflation, the commodity performed even worse.
Adjusted for inflation, the S&P 500 returned an annualized 7.9% from March 1990 through March 2021, including dividends. The 10-year Treasury generated an annualized return of 2.2%. Gold adjusted for inflation delivered only 2.7% annualized.
Note that the price of gold actually dropped about 27% between 1989 and 1999. Gold often loses value in prosperous times, as the 1990s generally were.
3/10
What About Since 2000?
The 21st century has been gold's time to shine. From March 2000 through March 2021, gold generated an annualized return of 19.1%. Adjusted for inflation, that comes to 14.7% annualized.
However, let's not forget that gold dropped to $208 an ounce in 1999 from $595 in 1980 and $401 in 1989. Once again, gold's price fell during a period of economic prosperity: the 1990s.
Stocks came in second over the same period, with a return of 6.8% annualized, including dividends. (Or 4.7% after factoring in inflation.) Equities were the victim of the bursting of two bubbles – the tech bubble early in the century and the real estate and credit bubbles starting around 2007.
Benchmark Treasury notes came in last during this period, with a 3.6% annualized return, or 1.5% in inflation-adjusted terms.
4/10
Gold Isn't the Inflation Hedge It's Cracked Up to Be
The price of gold doesn't track inflation, as a general rule. Between 1987 and 2001, as inflation fluctuated around 3% a year, the price of gold dropped.
But it is true that during periods of extraordinarily high inflation, gold's price may soar.
That's what happened from the mid-1970s through the early '80s, when inflation crept from 4.8% in 1976 to 13.3% in 1979 and 12.4% in 1980, before beginning a long descent. The price of gold leapt from less than $150 an ounce to more than $800, then collapsed to $400 by 1981.
Want a guaranteed inflation hedge? Try Treasury Inflation-Protected Securities (TIPS).
5/10
But Gold Can Indeed Be a Good Hedge in a Crisis
Gold can soar in value during hard times, when investors are fearful and uncertain and seek safety. Just look at the diverging paths that stocks and gold took in 2020 amid the outbreak of COVID-19.
When the pandemic-fueled selloff in stocks finally bottomed out on March 23, the S&P 500 was sitting on a year-to-date loss of more than 30%. Gold prices, however, held firm. By March 23, they were up about 1% for the year-to-date.
And then the real fun began. Gold went on a tear over the next four-plus months, rallying 36% through Aug. 6 when it hit an all-time high of $2,067.20 an ounce.
As noted above, the 21st century has given gold several opportunities to shine. The turmoil that followed the Sept. 11, 2001, terrorist attacks and continuing through the 2008-09 economic meltdown was bullish for gold investors.
It's not unusual to see gold's price rise with bad news (such as the global pandemic or a sovereign debt crisis) and drop with good news (such as better-than-expected economic growth).
6/10
Don't Believe the Hype: Gold Is Not a Good Store of Value
A longtime argument in favor of investing in gold is that it is a good store of value – that is, its inflation-adjusted price remains relatively stable over long periods.
Sign up for Kiplinger's FREE Closing Bell e-letter: Our daily look at the stock market's moves, and what moves investors should make.
A store of value implies a steady price, and as we have seen, gold prices are anything but steady. Although gold's correlation to stocks is complicated, suffice to say the precious metal can be volatile. In 2012, for example, the price rose almost 6%. In 2013, it tumbled 28%. In 2017? Up 12.6%. But down 1.2% in 2018.
The same goes for longer time frames as well. Take the past decade, for example, and cut it in half. During the first five years ended April 15, 2016, gold prices fell about 16.5%. But since then? Gold is up more than 40% over the past five years.
7/10
Gold Isn't the Most Precious of Precious Metals
Gold is the most popular precious metal for investors, but it's not the most expensive. That title actually belongs to rhodium, which has soared to all-time highs in 2021 and currently fetches $26,200 an ounce.
Indeed, of the major precious metals, gold comes in fourth by price per ounce, behind rhodium, iridium and palladium, but ahead of platinum and silver.
8/10
Gold Funds Beat Physical Gold
As attractive as coins and bullion may be, funds are the easiest way for retail investors to get exposure to gold. They're becoming increasingly popular too. Gold ETFs enjoyed record inflows of $47.9 billion in 2020 – almost double the previous record set in 2016. In terms of tonnage, gold ETF demand rose 120% over 2019. Demand for bars and coins grew just 3% year-over-year.
No wonder: It's much easier to get gold exposure by holding a gold fund electronically in a brokerage account rather than receiving, storing and insuring the physical metal.
The SPDR Gold Shares (GLD (opens in new tab)), the world's largest gold-backed exchange-traded fund, has about $61.3 billion in assets. The ETF tracks the price of gold bullion. If you choose to invest this way, Kiplinger prefers the lower-cost iShares Gold Trust (IAU (opens in new tab)), which has annual expenses of 0.25%, compared with 0.40% for GLD.
You also can invest in numerous mutual funds and ETFs that invest in the stocks of gold-mining companies.
9/10
Hi Ho Silver?
Gold prices can be volatile, but they're nothing compared to silver. The market for silver is smaller than for gold.
Plus, silver has more industrial uses than gold, making the former's price more sensitive to the ups and downs of the economy. These two factors combine to make silver's price jumpier than gold's.
If you want a good night's sleep, go with gold investing, not silver.
10/10
The Biggest Gold Coin in History Is the Size of a Manhole Cover
The largest legal tender gold coin ever produced was struck by the Perth Mint in Western Australia in 2012.
The 2012 "Australian Kangaroo One Tonne Gold Coin" contains one metric tonne of 99.99% pure gold, and is approximately 80 centimeters in diameter by 12 centimeters thick.
The massive coin has a face value of $1 million Australian dollars but is estimated to be worth more than $50 million AUD.
Senior Investing Writer, Kiplinger.com
Dan Burrows is Kiplinger's senior investing writer, having joined the august publication full time in 2016.
A long-time financial journalist, Dan is a veteran of SmartMoney, MarketWatch, CBS MoneyWatch, InvestorPlace and DailyFinance. He has written for The Wall Street Journal, Bloomberg, Consumer Reports, Senior Executive and Boston magazine, and his stories have appeared in the New York Daily News, the San Jose Mercury News and Investor's Business Daily, among other publications. As a senior writer at AOL's DailyFinance, Dan reported market news from the floor of the New York Stock Exchange and hosted a weekly video segment on equities.
Once upon a time – before his days as a financial reporter and assistant financial editor at legendary fashion trade paper Women's Wear Daily – Dan worked for Spy magazine, scribbled away at Time Inc. and contributed to Maxim magazine back when lad mags were a thing. He's also written for Esquire magazine's Dubious Achievements Awards.
In his current role at Kiplinger, Dan writes about equities, fixed income, currencies, commodities, funds, macroeconomics and more.
Dan holds a bachelor's degree from Oberlin College and a master's degree from Columbia University.
Disclosure: Dan does not trade stocks or other securities. Rather, he dollar-cost averages into cheap funds and index funds and holds them forever in tax-advantaged accounts.