15 Ways to Save on Groceries Without Clipping Coupons
You've seen them parked in Aisle 2 at your favorite supermarket: The extreme couponers thumbing intently through a box of coupons to get 35 cents off of Cottonelle.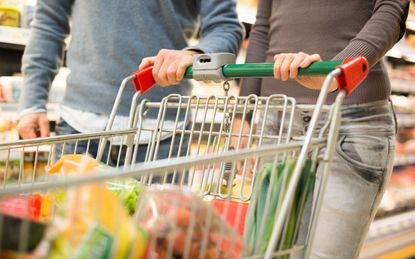 (Image credit: Thinkstock)
You've seen them parked in Aisle 2 at your favorite supermarket: The extreme couponers thumbing intently through a box of coupons to get 35 cents off of Cottonelle. You shake your head and move on because you are not an extreme couponer. Indeed, all the coupons you've ever clipped are expired when you finally remember to cart them to the grocery store.
But you want to save, too, and you'll never get your coupon-clipping groove on. No time. No interest. So for you, we offer a collection of ways you can save on groceries without coupons. Decide which strategies will work best for you.
Contributing writer Cameron Huddleston contributed to this story.
1/15
Choose the Right Store
We all want lower grocery bills, but it takes legwork to find the best supermarkets to get more bang for your buck. Let's pause to look at the big picture: If you're spending $200 a week on groceries, that's $10,400 a year, 10 times the cost for a big-screen TV – for which you'd likely compare prices before buying. So compare prices at supermarkets.
We recently did just that at Giant, Harris Teeter, Wegmans and Whole Foods locations in Northern Virginia. We compared regular (non-sale) prices on eight everyday store-branded items: a can of diced tomatoes, a jar of pasta sauce, a box of dried spaghetti, a can of tuna, a half-gallon of 1% milk, a large container of plain yogurt, a dozen Grade A eggs and a package of frozen corn.
The winner: Wegmans. Of the four stores, the basket of items costs the least at Wegmans ($14.62), followed by Giant ($15.03), Harris Teeter ($20.00) and Whole Foods ($21.13). Set aside time once to do price comparisons at supermarkets near you, and your efforts should pay off at checkout over and over again.
2/15
Stock Up During Sales
If your favorite grocery item has a fixed spot on your weekly shopping list, double- or triple-dip when it goes on sale.
"My No. 1 piece of advice is to make sure that shoppers purchase three months' worth of a product anytime they feel like they're getting a great deal," says Josh Elledge, founder of grocery savings website SavingsAngel.com. "Grocery stores typically put items at really great sale prices every 12 weeks or so. I want to make sure [shoppers] never pay full retail for anything just because they need it. Need-based shopping is the most expensive way to feed your family." As with all things you buy in bulk, be sure the items have a long shelf life. Check expiration dates, too. And if you're planning to freeze your surplus purchases, ensure there's enough room in the freezer before you stock up.
3/15
Find Alternatives to Pricey Items
The next time you go to the grocery store, hang on to your receipt and circle the most expensive items. Then, consider lower-cost alternatives for those items to rack up real savings on future shopping trips.
Take red meat, for instance. It doesn't come cheap. The average price per pound for sirloin steak is $8.52, according to recent figures from the U.S. Department of Agriculture. Spend less than half of that amount on your protein purchase by going with boneless chicken breasts instead ($3.21 per pound).
Organics are another budget-busters. Opt for cheaper store-brand organic items, such as Whole Foods' 365 brand or Walmart's Great Value brand, over premium organic brands. Also, consider buying organic only for produce that is most susceptible to pesticide residue (opens in new tab) such as strawberries, apples and spinach.
4/15
Skip Prepared Foods
It's tempting to let the supermarket do your slicing, dicing and chopping – but you'll pay a fortune for the convenience. On a recent trip through the produce section of a Giant supermarket, a 12-ounce package of store-chopped green pepper was selling for $6.99. Across the aisle, you could buy a 2-pound bag of whole green peppers for $4.99 or a single green pepper for 99 cents. Similarly, a 14-ounce package of store-chopped butternut squash was selling for $5.99, versus $1.99 for a whole butternut squash. Save by doing the work yourself.
Same goes for prepared meals. Those in-store buffets and prepackaged meals can put serious weight on your grocery bill. Wegmans, for example, offers fruit and salad bars as well as buffets featuring Indian, Asian, Italian, vegetarian and other cuisines. But those meals cost a steep $9.49 a pound (and there are no scales until you get to the checkout). Similarly, a 16-ounce container of hot soup at Giant costs $3.99. In the canned soup aisle, you can pick up an 18-ounce can of Progresso soup for $2.29.
One final tip: Don't go to the supermarket hungry. A full stomach makes it easier to resist the temptation of prepared foods.
5/15
Check Unit Prices
What's the better buy, the smaller package or the larger one? There's a simple way to check: Compare the unit prices displayed by most supermarkets, either on a shelf sticker or on the product packaging itself. Unit prices break down the cost by a specific measurement. Liquids might be measured in ounces, quarts or even gallons. Meats and seafood are often priced by the pound. For something like a pack of Huggies, the unit price is per diaper. However, unit prices aren't uniform -- and they're mandatory in just a few states -- so pay particular attention to the actual "unit" being used in the unit price.
Take beer, for example. I walked into a Giant supermarket to compare prices between a six-pack, a 12-pack and a case, assuming the unit price would be per can. I was wrong. It turned out the unit price for Miller Lite is measured by the quart. (There are 32 ounces in a quart, in case you were wondering.) A case of 24 12-ounce cans of Miller Lite was selling for $21.99, or $2.44 per quart. The price-per-quart went up as the quantity went down. A 12-pack was selling for $12.99, or $2.89 per quart; a 6-pack cost $7.99, or $3.55 per quart. The unit-price comparison happily confirmed my instinct: It's better to buy more beer.
6/15
Look Up … or Down
Name-brand items, which tend to be more expensive, usually are placed at eye level. So when you're grocery shopping, look up or down to find cheaper merchandise, including generics. Items on the top and bottom shelves often are several cents to several dollars cheaper than their strategically placed name-brand equivalents.
Product placement is just one of the tricks retailers use to get shoppers to spend more. Another marketing technique is smell: The scent of fresh bread, for example, draws you to the bakery. Overflowing produce displays convey a visual sense of bounty. And if you're a retailer's target customer, don't be surprised to hear the contemporary equivalent of music that was popular when you were 18 years old. The familiarity relaxes you and keeps you in the store longer.
7/15
Take Advantage of Holiday Sales
Some grocery items are at their lowest prices of the year around certain holidays. Use these opportunities to stock up.
For example, summer cookout staples including condiments, salad dressing, ground beef, hot dogs, chicken, chips, soda, beer and paper goods tend to be deeply discounted around Memorial Day, July Fourth and Labor Day. Come Thanksgiving, you can find sales on stock, stuffing, turkey, canned pumpkin and other canned goods, frozen pies and baking ingredients such as flour, yeast, sugar and chocolate chips. Winter is high time for teas, soups and cold remedies. Purchase low-calorie frozen meals and other diet items around New Year's Eve and into January – when everyone vows to lose weight and food manufacturers and grocers know it.
8/15
Buy in Bulk Selectively
You can pay a lot less for certain items such as batteries and rice when you buy in bulk at a warehouse club. You can also save money by purchasing big packages of meat, fish and poultry at the likes of Costco, BJ's or Sam's Club rather than in smaller quantities at the grocery store – as long as you eat it all or freeze the rest before the expiration date.
However, some savings gurus warn warehouse-club shoppers to tread carefully. "The unusually large sizes and warehouse-like atmosphere are disorienting for shoppers on a budget and seldom net a lower grocery bill," says Elledge of SavingsAngel.com.
Shop with a list to avoid impulse purchases. Elledge also recommends stocking up on common loss-leaders such as soda – loss-leaders are items sold at or below cost to lure shoppers into stores – during frequent sales at supermarkets. You'll come out ahead, even compared to club prices.
9/15
Beware Store Entrances
Some supermarkets adorn the entrances to their stores with an array of in-demand seasonal merchandise, from outdoor furniture to house plants. This is especially true of the higher-end chains such as Whole Foods. Resist the temptation. You're there to grocery shop, not decorate.
If you do yield to entryway impulse purchases, your checkout could get pretty expensive. A recent stop at a Wegmans found a five-piece wicker patio set selling for $379.99, a 60-quart Igloo Transformer roller cooler for $49.99, a $129.99 Barrone fire pit and cover, and decorative indoor-outdoor rugs for $39.99.
In general, the best time to buy many seasonal items including grills, fire pits and patio furniture is out of season, when prices and demand are lower.
10/15
Avoid the Seasonal Aisle
Along with the big-ticket seasonal merchandise pouring out of the front doors of supermarkets, most chains have seasonal aisles. Think back-to-school supplies in late summer and all-things-pumpkin in fall.
Sure, it's convenient to grab Halloween candy in October while you're doing your grocery shopping. But you shouldn't. You're better off picking up seasonal items when they go on sale – immediately after the holiday or season has passed. Stock up on fancy boxes of chocolate right after Valentine's Day; and bows, ribbon and wrapping paper right after Christmas. Store your marked-down merchandise in a bin until the holiday or season rolls around again. Dollar stores can be a great source of inexpensive seasonal items, too.
11/15
Steer Clear of the Housewares Aisle, Too
Do you so desperately need nautical-themed ceramic dinnerware, a crockpot, a blender or a buffet set that you're going to add the items to your grocery bill? If so, it could turn into an expensive stroll down the housewares aisle – and the tonier supermarket chains know it all too well.
But before you grab that Cuisinart Premiere Coffee Series four-cup coffeemaker and add it to your cart – jacking up your Wegmans grocery bill by $39.99 – take a step back. Is that what you came here for? Is it a necessity or an impulse purchase? And did you check to see if the item is less expensive elsewhere? I did. Amazon was selling the same coffeemaker for $34.99.
12/15
Warm Up to Frozen Produce
Fruits and vegetables often taste better when they're actually in season and locally grown. No surprise there. Enjoy the seasonal bounty when you can. At the right times of the year, you might even find produce at farmers' market and farm stands that's fresher and cheaper than what's in stock at supermarkets.
But when produce isn't in season, it can be quite expensive at the grocery store. That's when you should turn to frozen fruits and vegetables instead.
"Frozen produce is typically picked at peak ripeness for maximum nutrients," says Elledge. "Most importantly from my perspective, you can find amazing deals on frozen foods resulting in healthy eating for your family at a fraction of the cost. I can typically find bags of frozen veggies for up to 75% off."
13/15
Use Shopping Apps
You've got your smartphone with you and perhaps you're already using your favorite supermarket chain's app to download digital coupons. Good move. But shopping apps are good for more than coupons. Most supermarket apps let you peruse what's on sale and create shopping lists. Target's Cartwheel app goes a step further by letting you scan a product's bar code not only to see if it's on sale but also to see if there's a similar product from another manufacturer that's on sale. Generally speaking, retailers' apps are free and require registration or synching up with loyalty programs.
A handy comparison-shopping app is Quick Scan. Turn on the free app, point your camera at a product's bar code, and Quick Scan should come up with prices for the product at various online retailers.
14/15
Bring a List – and Stick to It
This is my well-intentioned attempt to shame impulse-buyers. You know who you are and what you're tempted to purchase. Those bars of candy at the register? Don't even think about it. They're placed there for a reason. You made it to the finish line. Resist the urge to add a Snickers to your cart. (Don't even get me started on that eyeglass repair kit you suddenly can't live without.)
There's no other way to say it: Stick. To. Your. List. Plan your meals for the week around what's on sale, and don't deviate from the plan. If you forget something, make do and add it to your next shopping list. The worst thing you can do is return to the store to pick up a single item.
"Single-item shopping nearly always results in expensive, unplanned purchases," says Elledge of SavingsAngel.com. "Additionally, when you are running to the store for that one missing ingredient, you will nearly always pay full retail."
15/15
Leave the Kids at Home
Shopping experts (and veteran parents) know all too well that bringing children with you to the grocery store will end up costing you time and money.
"Leave the kids at home whenever possible," says Elledge. "Shoppers who bring kids to the store spend more time moving up and down aisles. Here is a basic fact that all retailers know: For every extra minute you spend in a store, you spend an average of $2 more. It's better to have a list of the best deals you can quickly grab and check out before little hands grab for more things to put in the cart."
And remember those impulse buys next to the register? They're placed there for kids to use as a begging weapon against parents too worn out from them and the shopping trip. Some retailers do have pity on you: They offer no-candy checkout lanes.
Online Editor, Kiplinger.com
Bob is a Senior Online Editor at Kiplinger.com. He has more than 40 years of experience in online, print and visual journalism. Bob has worked as an award-winning writer and editor in the Washington, D.C., market as well as at news organizations in New York, Michigan and California. Bob joined Kiplinger in 2016, bringing a wealth of expertise covering retail, entertainment, and money-saving trends and topics. He was one of the first journalists at a daily news organization to aggressively cover retail as a specialty, and has been lauded in the retail industry for his expertise. Bob has also been an adjunct and associate professor of print, online and visual journalism at Syracuse University and Ithaca College. He has a master's degree from Syracuse University's S.I. Newhouse School of Public Communications and a bachelor's degree in communications and theater from Hope College.