12 Biggest Shopping Mistakes at the Supermarket
If you're like most Americans, your monthly grocery spending is eating up a big portion of your budget.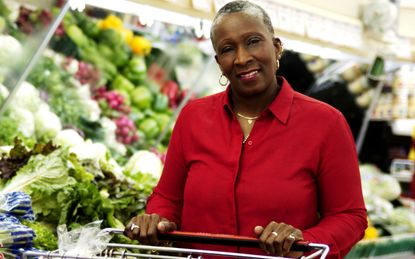 (Image credit: Thinkstock)
If you're like most Americans, your monthly grocery spending is eating up a big portion of your budget. Figures from the U.S. Department of Agriculture show that, on average, a family of four spends up to $1,300 a month on the food it consumes at home. Making matters worse, families may be spending more than they need to because of mistakes they make when shopping at the supermarket.
Here are a dozen reasons people overspend on groceries, according to the shopping experts we consulted. If you're guilty of any or all of these supermarket blunders, you can save big by mending your ways.
1/12
Buying Week to Week
When shoppers buy only their weekly needs, they are forced to pay full price for 50% to 80% of what goes in their carts, says Teri Gault, CEO of grocery savings Web site TheGroceryGame.com. The better way to shop is to stock up on items you know you will always use when they go on sale, assuming you have room in your freezer or pantry. And plan your weekly purchases of perishable items around what's on sale. Jessie Alonzo, founder of MoolaSavingMom.com and a deal expert for Savings.com, recommends checking stores' weekly sales flyers (which most supermarkets post online) or using an app such as Favado (opens in new tab) to see what's on sale at your local stores before you shop.
2/12
Letting a Recipe Dictate Your Purchases
A surefire way to spend more than necessary at the supermarket is to create a shopping list based on a particular recipe. On average, only two out of 10 items in a recipe will be on sale in a given week, Gault says. Instead, choose recipes and plan meals according to what you already have and what's on sale.
3/12
Falling for Store Marketing Tactics
Be aware that just because an item is on sale doesn't mean it's the best deal, Alonzo says. For example, she often sees people stocking up on half-gallons of milk when they go on sale at her local supermarket for $1.77. But the regular price of a gallon of milk is $2.99—55 cents less than two half-gallons at the sale price.
More tactics to watch out for: If a store has a "buy 10 for $10" promotion, you can just buy one for a buck. You don't need to buy 10 to get the sale price, Alonzo says. Be aware that convenience items, such as cocktail sauce sold in the seafood department, are usually the more-expensive brands. Cheaper bottles can be found in the sauce and condiments aisle. And items that are discounted and featured at the end of an aisle often are paired with other items that aren't on sale. For example, you might see deeply discounted cake mix displayed at the end cap of the baking aisle paired with frosting, but a cheaper brand of frosting likely is available in the middle of the aisle, Gault says. For more, see 5 Ways Supermarkets Trick Shoppers (opens in new tab).
4/12
Failing to Check Cost Per Unit
Most supermarkets provide cost per unit on tags displayed on shelves holding products. Checking unit pricing is an easy way to get a true comparison across brands and package sizes. For example, a container of brand-name orange juice might be on sale and appear to have a lower price than the store brand. But if the brand-name container is 59 ounces while the store brand is 64 ounces, the cost per unit can help you figure out which really is the better deal.
Price per unit isn't always listed in the produce section, so you might have to do the math quickly in your head or use a calculator. For example, Alonzo says she typically buys a five-pound bag of apples for $5.99. But when individual apples were on sale for 99 cents per pound, she recognized that she could save $1 by buying five pounds of the individual apples instead of the bagged apples.
5/12
Being Blind to Alternatives
Shoppers tend to buy the same products without checking to see if there's a cheaper alternative. It happens out of habit. Next time you're standing in the grocery aisle, rather than reaching for the familiar brand-name item that's strategically placed at eye-level, check the top and bottom shelves for store-brand items that will be several cents to several dollars cheaper. However, if you're already in the habit of buying generic, don't overlook the brand-name equivalents when they are sale because they can be a better deal, Alonzo says. This is an opportunity to stock up.
6/12
Purchasing Prepared Produce
Sure, bringing home packages of peeled, washed and cut fruits and vegetables is convenient—and expensive. Prepared produce can cost three to four times as much as produce that hasn't been packaged in a bag or container, Gault says. Plus, these items have a shorter shelf life. For example, peeled baby carrots in a bag cost twice as much as whole carrots yet don't remain fresh nearly as long, she says.
7/12
Mixing Up Your Meats
Gault says she often sees shoppers who think they're getting the meat that's on sale but inadvertently put the wrong packages in their carts. This can happen for several reasons: The sale meat might be next to a similarly labeled meat that's not on sale; the sale might apply only to certain package sizes; or other shoppers might have picked up meats and put them back in the wrong spot. To make sure she's getting the sale item, Gault says she will ask an employee in the butcher department where to find the marked-down meat and then double check the cost per pound to be sure she's receiving the advertised price.
8/12
Limiting Your Search to One Department
If you think the only place to find bread in the supermarket is the bread aisle, you're wrong. Gault says there typically are four places to find bread. In addition to the bread aisle, you'll also find this staple in the bakery, the frozen section and the refrigerated section.
The same goes for several other products. For example, you can find juice in the produce department, the refrigerated juice case and the frozen aisle. Cheese is available at the deli, in the cheese aisle and with gourmet items. So if you can't find items on sale in one section, check another.
9/12
Not Using the Store Loyalty Card
Most supermarkets have loyalty programs that are free to participate in and offer savings to members. Simply scanning your card at checkout can save you money if you've purchased items that are advertised as "on sale" for loyalty members. If you forget your card at home, most stores will let you enter your telephone number at the checkout to claim your savings, Alonzo says.
Some supermarket loyalty programs can help you save on gas in addition to groceries. For example, Kroger shoppers who use their "Plus" loyalty card earn one fuel point for every $1 spent. You can redeem points for discounts at Kroger fuel centers and participating Shell stations when you swipe your loyalty card or enter your alternate ID (phone number).
10/12
Missing Out on Personalized Deals
Supermarket apps often have personalized deals that can be claimed by linking your loyalty card to the app and clicking on the deals to add them to your card, Gault says. It's that simple, but many people aren't aware of this savings opportunity. For example, Gault says she saw a man buying asparagus for $4.99 per pound, but her personalized price was $1.99 per pound. She told him about the app and her price. "He found it, added it, and saw me later in another aisle and thanked me," she says.
11/12
Overlooking Coupons
You don't have to give up an entire weekend to clip coupons to use them. Many supermarkets' Web sites and apps let you load coupons directly to your loyalty card. The Favado app also lets you load coupons to your card. (However, Gault cautions that digital coupons don't always offer as big of a discount as paper ones.) And some products come with coupons attached to the packaging that can be used for discounts when you purchase them. Also check the Web sites and Facebook pages of your favorite brands for coupons and promotions, Alonzo says.
The biggest way to save with coupons, especially if you don't buy many packaged foods, is to use them for household and personal hygiene products, Alonzo says. Cutting the cost of these pricey items can make more room in your grocery budget for fresh produce and other perishable items.
12/12
Forgetting to Check Your Receipt
Gault recommends that you check your receipt before you leave the store to make sure you received the sale prices, coupon savings and instant rebates that you deserved. For example, sometimes scanners haven't been programmed for sales, so you get charged full price for an item that's supposed to be 50% off, she says. One study that looked at the accuracy of scanned prices at stores in Washington state over a 15-year period found that the error rate was more than 4%. If you notice a discrepancy, point it out to the cashier or visit the customer service desk to get a refund for the amount you overpaid.
Former Online Editor, Kiplinger.com
Huddleston wrote the daily "Kip Tips" column for Kiplinger.com. She joined Kiplinger in 2001 after graduating from American University with an MA in economic journalism.