6 Things You Can Get at Costco Without a Membership
If you're pinching pennies and don't want to fork over $60 to $120 to cover the cost of a Costco membership, you're in luck.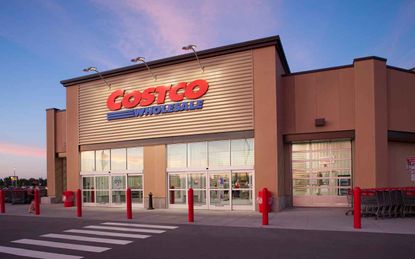 (Image credit: Getty Images)
If you're pinching pennies and don't want to fork over $60 to $120 to cover the cost of a Costco membership, you're in luck. You can still take advantage of a few of the warehouse club's popular member perks (hello, food court!) without having to officially join.
We highlighted several such Costco benefits that don't require a membership. Take a look.
1/7
Food Court Meals
If you're a diner on a budget, put Costco's food court on your list of places to try. Members have long enjoyed the good eats and super low prices. A mere $1.50 gets you a hot dog and 20-ounce soda (with refill). A whole 18-inch pizza costs $9.95; a slice will set you back just $1.99. A cheeseburger goes for $4.99. If you've got a sweet tooth, a twisted churro is just $1.
Non-members can treat themselves, too. However, only Costco food courts located outside are open to the general public. You'll need a membership (or accompany a member) to gain access to food courts inside the warehouse club.
2/7
Gas
Don't be surprised if you see a long line of cars waiting to fill up at a Costco gas station on any given Saturday. That's because the warehouse club's prices at the pump are hard to beat. At a D.C.-area Costco location with a gas station, regular unleaded gasoline cost $2.07 per gallon and premium unleaded was $2.55. At a nearby Shell gas station, regular unleaded gas was priced at $2.11 and premium unleaded cost $2.86, so the savings are more substantial if your vehicle runs on premium gasoline.
While this perk is supposed to be exclusive to Costco members, you can still take advantage even if you aren't one. Here's the trick: You'll need a Costco Cash Card, a reloadable gift card that a Costco member must purchase for you. Most Costco gas stations are self-service (except in Oregon and New Jersey, which are full service by law) with pay-at-the-pump technology. You need to insert the Costco Cash Card to activate the pump, but once you do you can opt to pay with a regular debit card or credit card.
3/7
Alcohol
Costco's Kirkland-branded beer, wine and liquor, as well as name brands, can be purchased by non-members, but only in states that legally require the warehouse club to do so. Local laws in some states prevent Costco (or any other membership-based club) from only selling alcohol to members.
We contacted Costco for a definitive list of the states that allow the general public to make such purchases, but we weren't given a definitive answer: "For [the sale of alcohol], membership rules vary from state-to-state according to local laws." However, it's been widely reported that non-members can purchase booze at Costco in the following states: Arizona, California, Colorado, Connecticut, Delaware, Hawaii, Indiana, Kentucky, Massachusetts, Michigan, Minnesota, New York, Texas and Vermont. (Readers, please let us know if we missed any!)
Before making the trek to your nearest Costco for the first time, call ahead. And if you're confident you should be able to make the purchase in your state, ask to speak to a manager if the employee checking memberships at the door turns you away.
4/7
Prescription Drugs
If you have a prescription that needs to be filled regularly, switching to Costco's pharmacy might help you save big. For example, the average retail price for 30 500-milligram capsules of the generic alternative of Amoxocilin is $17.03, according to GoodRx.com. At Costco, you'll only pay $12.88 for the commonly prescribed antibiotic -- about a 25% cost difference.
Even better, depending on where you live you can get your prescriptions filled at Costco without a membership. Just like alcohol-related purchases, there are local laws in certain states that require the warehouse club to make its pharmacy available to the general public. Again, your best bet is to call the store location nearest you to ensure that non-members can use the pharmacy.
5/7
Free Health Screenings
Costco pharmacies that are open to the general public offer a variety of health screenings free of charge to members and non-members alike. This includes osteoporosis, heart and diabetes screenings.
Stop by your local Costco to find out about upcoming screenings, or go to Costco.com and click on "Pharmacy" in the main menu. On that section of the website you'll find more information on Costco's Health & Wellness Clinics. (Here's the latest schedule of health screenings at Costco locations across the U.S.)
6/7
Just About Anything on Costco.com
Costco.com offers a wide range of products -- from groceries in bulk to power tools to a Whirlpool bathtub -- and you don't need a paid membership to shop. However, if you're a non-member you'll be hit with a 5% surcharge on top of the listed price on all items in your shopping cart (except prescription drugs).
It's also worth noting that certain products sold on the warehouse club's website are only available to members for purchase. For example, Costco.com recently had Apple MacBook Pro laptops for sale that non-members couldn't buy. You can also shop a limited inventory of Costco grocery items through InstaCart, an online grocery delivery service. Oh, and some of Costco's Kirkland Signature products are even sold on Amazon.com –- with some eligible for Prime shipping -- though the price markups are usually sizable.
7/7
How Much Does a Costco Membership Cost?
If you want access to all of the benefits of Costco, the warehouse club offers three annual membership options: Gold Star, Business and Executive. A Gold Star membership costs $60 and includes one household card. Anyone can sign up for this membership type and it can be used for personal purchases. A Business membership is also $60, but it is only available to verified business owners. It includes one household card and can be used for business, resale and personal purchases.
An Executive membership costs $120. The upgrade is available to anyone for personal use (Gold Star Executive) or resale use (Business Executive) and comes with an extra household card. Members at this level also can add additional people to their membership for $60 each. An added perk for Executive members is earning an annual 2% reward on qualifying purchases up to $1,000, which can be used for future purchases. Executive members also receive discounts on various Costco services including the warehouse club's auto and travel programs.
One final note: You can return your membership at any time for a full refund -- no questions asked. It's one of our 20 secrets to shopping at Costco.

Browne Taylor joined Kiplinger in 2011 and was a channel editor for Kiplinger.com covering living and family finance topics. She previously worked at the Washington Post as a Web producer in the Style section and prior to that covered the Jobs, Cars and Real Estate sections. She earned a BA in journalism from Howard University in Washington, D.C. She is Director of Member Services, at the National Association of Home Builders.