20 Secrets to Shopping at Costco
Here's what you need to know to get the most out of a Costco membership.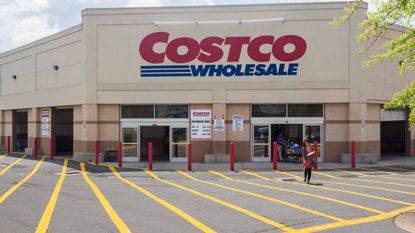 (Image credit: Getty Images)
A Costco membership opens doors, quite literally, to a vast selection of bulk-size groceries and household goods selling at discounted prices. And buying potato chips and batteries by the case is just the start. The warehouse club also stocks everything from tires and furniture to electronics and jewelry. With so many items to choose from, smart shopping expert Trae Bodge says it's critical to bring a list to avoid overspending, particularly on seasonal items the store loves to put right inside the front door.
List or no list, shoppers seem to like the savings and selection. Costco has 125 million members around the world, with a 90.5% renewal rate worldwide (92.6% in the U.S. and Canada). The chain ranks first in customer satisfaction among department and discount stores, according to the American Customer Satisfaction Index, edging out rivals Sam's Club, Target and BJ's Wholesale Club.
Thinking of taking the plunge with a Costco membership? Here's what you should know before investing at least $60 in an annual membership.
1/20
You don't actually need to be a member to shop
If you're not ready to commit to a membership, there's still ways you can shop at Costco. If you want to check out the selection and compare prices, ask a friend or family member with a membership if you can tag along, as members are allowed to bring children and up to two guests. See something you like? The Costco member will need to make the purchase for you — the cashiers look at membership cards at checkout — but afterward you can simply pay your friend back.
Alternatively, if you want to shop on your own without a membership, give that same friend or family member the money to purchase a Costco Shop Card for you. These cards are treated like cash and can be bought for as little as $25 (and go up to $2,000 in value). Non-members can use a Costco Shop Card to enter, shop and pay at any Costco location.
And if you prefer online shopping, anyone can make a purchase at Costco.com. However, the product selection is limited for non-members, and non-members also may face an additional surcharge on orders.
2/20
Membership fees will increase
Costco members will likely soon have to pay more to enjoy the perks of belonging to the warehouse club. During a quarterly earnings call on Sept. 28, Costco's chief financial officer, Richard Galanti, said that the question of a membership cost hike was a "matter of when, not if."
Costco's last price increase was in 2017, when they raised annual membership fees in the U.S. and Canada. Fees for all Gold Star and Business memberships rose to $60, a $5 increase, while the annual membership fee for Executive-level members increased $10, bringing it to $120.
3/20
You can get a good deal on a casket
Caskets are often the single most expensive item purchased for a traditional funeral service, according to the Federal Trade Commission. The average cost of a casket bought through a funeral home is more than $2,000, but depending on the finish, the price can climb as high as $10,000. Costco offers a cheaper alternative.
Members who may be planning a funeral can purchase a casket through Costco.com. The warehouse club's inventory is manufactured by Prime Caskets and prices range from $899.99 to $1,299.99. Before completing your purchase, you must call the casket provider at the number included with the product listing to confirm availability, pricing and shipping/delivery details. Once this has been completed, your order will be processed.
Standard shipping is included in the cost of the casket, but expedited shipping is available for an additional fee. Both the shipping address and the billing address must be in one of the 36 states (plus the District of Columbia) approved for casket sales.
4/20
The store return policy is generous (except on caskets)
There isn't a time limit on returns or exchanges on most products sold at Costco. However, big-ticket items such as televisions, appliances and smart phones must be returned within 90 days of purchase in order to receive a full refund.
That's still a much more lenient policy compared to other mass retailers that sell similar electronics. This includes Best Buy (most items must be returned within 15 days of purchase), Target (items must be returned within 30 days of purchase) and Walmart (most electronic items must be returned within 30 days of purchase).
Among the few exceptions are alcohol and tobacco, which can't be returned where prohibited by law. Diamonds over 1 carat must be authenticated before a refund is approved. As for the aforementioned caskets? All sales are final unless damage occurred during shipping.
5/20
You can even return your membership
Paid for a Costco membership and never use it? If, after joining Costco, you decide you aren't getting the best value on the products you buy or you simply don't shop enough to justify paying the annual fee, you can cancel your membership anytime and get your money back.
All you have to do is visit your local Costco, go to the membership desk and request to close your account. You can also call the Member Services Center at 1-800-774-2678. As part of Costco's "Risk-Free 100% Satisfaction Guarantee," your membership will be cancelled and you'll receive a full (not prorated) refund of the annual fee on the spot — no questions asked and no cancellation fee.
6/20
1 in 5 products are Costco's Kirkland Signature Brand
About 20% of the items found at Costco are from its Kirkland Signature private-label brand. The product line includes everything from home goods and apparel to food and liquor. You can even order a 72-pound wheel of Kirkland Signature cheese.
Costco strives to make its branded items as good as or better than national brands, sometimes manufacturing its products in the same factories used by national brands. According to smart shopping expert Bodge, you can often save a few bucks by opting for the Costco brand over a national brand. However, compare quality as well as price. In quality testing, Consumer Reports gave low marks to Kirkland Signature toilet paper and facial tissue.
We put prices on a few Kirkland Signature items found at a Washington, D.C., area Costco to the test against similar name-brand products. Here's what we found: A 30-roll pack of Kirkland Signature 2-Ply Toilet Tissue (380 sheets) cost $17.49, while a 30-roll pack of Charmin Ultra Soft 2-Ply Toilet Tissue (221 sheets) was $22.99. A 12-roll pack of Kirkland Signature Premium Paper Towels (160 sheets per roll) was $16.99, while the same size package of Bounty Paper Towels (135 sheets per roll) priced at $19.49.
7/20
Some Kirkland products are really good values
Many store-branded products appeal to shoppers because they are cheaper than national brands. But cheaper isn't always better. In an effort to identify some of the best Kirkland Signature products to buy at Costco, we homed in on items that are not only less expensive than national brands but also on par in terms of taste and quality. Here are a few of our favorite Kirkland products.
Kirkland Signature bacon, for example, bested top national brands including Oscar Mayer in testing by Consumer Reports. In a quality study of olive oils conducted by the University of California, Davis, Kirkland olive oil was one of only a few imported oils that met international and U.S. standards. Kirkland batteries might not last as long as name brands, but they're a better value once you factor in quality and price, according to Consumer Reports.
8/20
Buying in bulk isn't always a good deal
Buying household essentials in bulk seems like a no-brainer. Not only can you save money but you can also save time by avoiding frequent trips to the market. But unless you're shopping for a large family or group, paying to join a warehouse club solely to gain access to bulk-packaged products might backfire, says Jeanette Pavini, a savings expert for Coupons.com. If the items you purchase in bulk expire or spoil before you finish using them, that's money poorly spent.
There are several bulk staples to steer clear of at warehouse clubs. The two main reasons: Either they have a short shelf life or you can typically find better prices on them elsewhere. Examples of risky bulk purchases include liquid bleach (its effectiveness diminishes after six months), cereal (sale prices at traditional supermarkets are usually less per ounce) and skincare products (they lose effectiveness over time, plus the risk of contamination rises the longer a container has been open).
9/20
You can buy low-priced organic foods
Costco may not be top of mind for many shoppers when it comes to buying organic foods, but it should be. The warehouse club offers a variety of organic products including fresh produce, cooking oils and beverages at a lower price when you factor in the unit price.
We spot-checked Costco's prices on a few organic items. Here's what we found: A 16-ounce container of Earthbound Farm organic spring salad mix cost $5.49 (unit price: 34 cents per ounce) at Costco, while an 11-ounce container of Harris Teeter's store brand organic spring salad mix totaled $4.99 (45 cents per ounce) at a nearby location. A two-dozen carton of Costco's Kirkland Signature grade A organic brown eggs was $5.99 ($2.99 per dozen), while an 18-count carton of Harris Teeter's store brand grade A large organic brown eggs totaled $6.49 ($4.32 per dozen).
If you're buying staples such as organic milk on a weekly basis, it may make sense to buy it in bulk since organic milk lasts longer than regular milk. Costco had a three-pack of 64-ounce cartons of Kirkland Signature organic whole milk for $10.79 ($3.59 per carton), while at Harris Teeter a single 64-ounce carton of their store brand organic whole milk cost $3.99.
10/20
You can buy a car, too
Costco members in the market for a new ride can take advantage of the warehouse club's auto program, which includes an online car-buying service.
Here's how it works: You search Costcoauto.com for a new or certified pre-owned vehicle. Once you know the manufacturer's suggested retail price (MSRP) for your desired vehicle, you can then locate nearby dealers who sell it. You'll be prompted to input your membership information and then be connected with a participating dealer. The dealer will contact you directly to schedule an in-person meeting where they'll provide the Costco member price — no haggling required.
Costco's auto program also allows members to save 15% on automotive parts and services on any of their household vehicles at participating service centers.
11/20
You Can Fill Up Your New Car With Kirkland Signature Gasoline
A Costco membership can help you score lower prices at the pump. Select Costco locations have on-site gas stations for members that carry store-branded regular unleaded (87 octane) and premium unleaded (91 or 93 octane) gas.
Costco's gas stations are self-service, and there's only one way in and out to speed up transactions. Members can pay using a debit card or Costco credit card. Anyone including non-members can fill up and pay with a Costco Shop Card. Cash and checks are not accepted.
During a visit to a Washington, D.C., area Costco location equipped with a gas station, the price of regular unleaded was $2.21 per gallon. Premium unleaded totaled $2.76 per gallon. The cost of regular unleaded gas at a nearby Sunoco station was $2.45 (24 cents extra), while premium unleaded cost $3.29 (53 cents extra).
12/20
Leave the manufacturer coupons at home
Combining coupons from manufacturers with supermarket sales is a particularly effective strategy to lower your grocery bill, but it's also a strategy that won't work at Costco. The warehouse club doesn't accept manufacturer's coupons or discount coupons from outside retailers.
There is some consolation for Costco members: The company issues its own coupons, which can be found in a monthly printed booklet sent in the mail or on Costco.com. Costco's coupons also can be viewed and redeemed either in-store or online via the warehouse club's smartphone app.
13/20
Get groceries delivered to your doorstep
With a Costco membership, you can ever order groceries online thanks to CostcoGrocery. The online grocery delivery service offers both same-day and two-day delivery to stock up on essentials, like produce and household cleaning supplies. For same-day delivery, the order minimum is $35, and your order will be fulfilled by Instacart. If you choose to receive your items with Costco's two-day delivery, your order will be shipped and delivered like any other package, and there's no separate delivery fee for orders of $75 or more.
14/20
Non-members can use Costco's pharmacy
The warehouse club's pharmacy has long been lauded for its lower prices on many popular prescription medications compared to traditional pharmacies. For example, at the warehouse club you'll pay $8.84 (without insurance) for 30 500-mg capsules of amoxicillin, a generic antibiotic, versus $11.08 at Walgreens and $10.73 at CVS, according to GoodRx.com. Even better, non-members can take advantage of the deep discounts, too.
For non-members visiting a warehouse club location, simply let the door checker know that you're headed to the pharmacy and they'll direct you where to go, notes Kyle James, founder of Rather-Be-Shopping.com. For members and non-members alike, before you're able to fill prescriptions online, you'll need to register on Costco's website and create a patient profile. Once completed, you can place your order, as well as track your prescription's processing and delivery status.
15/20
Members get alerts about product recalls
Product recalls are no laughing matter. Undisclosed peanuts in a packaged food item can cause severe allergic reactions in some people, and defective car seats and cribs can put children at risk. If you want to stay up-to-date on the latest product recalls from your favorite retailers, chances are you'll have to do a bit of legwork to find them.
You either must go to the retailer's website and navigate your way to the product recall section or follow their social media accounts. Alternatively, you can sign up for e-mail alerts from various federal agencies that track product recalls.
However, Costco shoppers can rest easier. The warehouse club e-mails members directly whenever a product or food item they've purchased has been pulled from store shelves due to health or safety concerns. The e-mail will explain in detail why the item is being removed. It will also contain customer support information such as a phone number or e-mail address that you can contact to learn more about how to return the faulty product and how you can get a replacement item. Costco also maintains an online archive of all its food and product recalls.
16/20
Pay attention for price tags
On your next Costco shopping trip, be sure to examine the product price tags carefully as you're perusing the aisles. That's because the warehouse club has a price tag coding system that could help you score even bigger savings. For example, even though Costco doesn't widely publicize that it marks down items, there's an easy way to tell: Any item with a price that ends with ".97" is on clearance. Another price tag tip: If you spot an asterisk on the price tag, that means it's not going to be restocked, so you may want to stock up. There's also a good chance the product has been significantly discounted.
17/20
Getting married? Save on your big day at Costco
Paying for a wedding can get pricey — quick. The average cost for a wedding totaled $30,000, which is a $2,000 increase from last year's national average, according to a study by The Knot. If you're footing the bill for your big day on a tight budget, Costco can be a resource, suggests Rather-Be-Shopping.com's James. Brides- and grooms-to-be can find deep discounts on everything from wedding invitations to engagement and wedding rings to floral arrangements.
James also points out that if you're looking for budget-friendly inspiration, there are plenty of Costco wedding hacks available online. This includes a DIY tiered wedding cake made using two of their sheet cakes, as well as do-it-yourself wedding favors for guests. A simple Google search should steer you in the right direction.
18/20
Create a gift registry for a baby shower or wedding
If you're planning a wedding or baby shower, consider creating a gift registry at Costco instead of multiple department stores or specialty stores. The warehouse club, in partnership with MyGiftRegistry.com, allows members and non-members to create gift registries for free. You can access the registry both online and in-store, and you can add everything from bottle warmers to cookware to fitness equipment all in one place.
It's important to note that while non-members can create gift registries, select products are exclusive to Costco members. This means you can't add them to your online registry without a member login. Additionally, your guests also won't be able to purchase these products if they're non-members.
19/20
Free extended warranties, tech support on electronics
The warehouse club is known for its deals on hot-ticket items such as TVs, computers and major appliances. Even better, Costco Concierge Services extends the manufacturer's warranty on these items to two years from the date of purchase free of charge. All televisions, tuner-free displays and projectors qualify for the extended warranty coverage. Select computers and major appliances also qualify, but touchscreen tablets, refrigerators (above 10 cubic feet), freezers, range ovens, cooktop ovens, over-the-range microwaves, dishwashers, washers and dryers are excluded.
An added bonus: If you are a Costco Anywhere Visa cardmember and purchase one of these items using the card, you get an extra two years added to your already extended warranty. Costco Concierge Services also offers free technical support by phone to members for most electronics purchased at the warehouse club.
20/20
Score deals on travel
Planning your next vacation? Costco offers members who reside in the U.S. deep discounts on travel through its online travel services department. This includes brag-worthy bargains on vacation packages, hotels, theme parks and rental cars. Plus, the warehouse club promises members upfront pricing when booking travel: The price quote displayed throughout the transaction process includes all applicable taxes, so there are no surprises when it's time to pay.
Costco offers vacation packages for anywhere from Hawaii to Costa Rica to Italy, at a discounted price and with additional benefits. For example, the company includes a $400 London tour credit, as well as private airport transfers, with the limited-time London package.
Another bonus: If you aren't a seasoned traveler, don't fret. Costco makes it even easier to book your dream vacation by offering live chat access to travel specialists, says smart shopping expert Bodge. With this member perk, "you'll have someone who can help guide you through the process," she adds.

Browne Taylor joined Kiplinger in 2011 and was a channel editor for Kiplinger.com covering living and family finance topics. She previously worked at the Washington Post as a Web producer in the Style section and prior to that covered the Jobs, Cars and Real Estate sections. She earned a BA in journalism from Howard University in Washington, D.C. She is Director of Member Services, at the National Association of Home Builders.