10 Ways to Spend Less at Target
It happens to all of us: A quick trip to Target to pick up a few essentials somehow turns into a full-blown shopping spree complete with a cart full of impulse buys.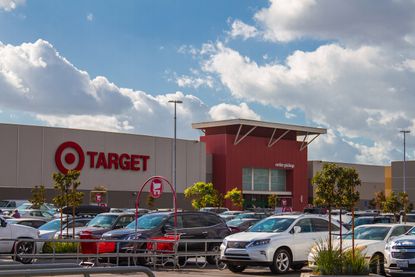 (Image credit: Getty Images)
It happens to all of us: A quick trip to Target to pick up a few essentials somehow turns into a full-blown shopping spree complete with a cart full of impulse buys. With your budget blown, you're left toting a dozen shopping bags to your car and wondering how you can prevent this from happening again.
With a bit of strategizing, it really is possible to shop at Target and not overspend. We talked with several shopping experts about smart ways consumers can save more every time they shop at the big-box retailer no matter what's in their cart. Here's what they had to say.
1/10
Sign Up for Target's REDCard
If you visit Target on a weekly basis, signing up for their REDcard could help unlock more savings on your purchases. You can set it up as a credit card and pay a monthly bill or as a debit card and link it to your bank account, notes Jeanette Pavini, a savings expert for Coupons.com. Money-saving perks for REDcard holders include a 5% discount on Target purchases (excluding prescriptions, gift cards and prepaid cards) in-store and online, free two-day shipping on Target.com orders and extended 30-day returns in-store and online. There's no annual fee.
If you opt for the credit card, remember that the 5% discount is only beneficial if you're able to pay the bill in full and on time each month, Pavini says. Otherwise the steep interest rate (24.65% APR) and late fees (up to $38) that get tacked onto your bill will negate any savings.
2/10
Buy in Bulk, Get a Free Gift Card
If you've got household staples, such as laundry detergent or paper towels, on your shopping list, it might pay off to buy those items in bulk at Target. Here's why: The retailer is known for its "free gift card with purchase" giveaways. Typically, you're required to buy at least two of a particular product in order to qualify for a free gift card, says Courtney Jespersen, a consumer savings expert for NerdWallet.com.
For example, we checked Target's weekly ad and found a promotion for Pampers and Babyganics diapers. Buy at least two packs of diapers from either brand and receive a free $10 gift card. Another promotion included various brands of laundry detergent. Buy three 100- or 120-ounce bottles and receive a free $10 gift card that's good toward a future purchase. If you don't want to wait until your next Target trip to use the gift card, Coupons.com's Pavini suggests paying for the qualifying items first to get the card, then use it to help pay the remaining items in your shopping cart.
A free gift card is an incentive that helps get shoppers to spend more, but before stocking up on a particular promo item make sure it's something you'll actually use, Jespersen adds. You don't want to end up with a bathroom cabinet full of body washes or lotions you decide you don't like. Also, be sure to remind cashiers at checkout that you've purchased items that qualify for a free gift card, advises Jen Smith, a personal finance expert for ThePennyHoarder.com, because they don't always remember which products are included in the promotion.
3/10
Shop the Endcaps of Aisles
Pro tip: Target often uses the ends of each in-store aisle (known as endcaps) to promote sale or clearance items, says smart shopping expert Trae Bodge. On your next "Tar-zhay" run, be sure to check both ends of the aisles while you're shopping.
We visited a Washington, D.C.-area Target store location to see what kinds of endcap deals were available. One example: The endcap display in the oral care aisle included a promotion for a six-ounce tube of Colgate Total Whitening toothpaste for $3. At a nearby CVS, the same size tube of toothpaste cost $4. That's an easy 25% savings.
4/10
Take Advantage of Price-Matching
Keep an eye out on competitor prices for items you've recently purchased from the big-box retailer, because Target offers a price-match guarantee. This can help you save in a big way, because Target will match the lower price on an identical item available through a competitor, Coupon.com's Pavini says.
You have to request a price-match within 14 days of purchase. It applies to in-store and Target.com purchases with a select list of competitors including Amazon and Walmart (you can see the full list of competitors here). To receive the price adjustment, you'll need to bring your receipt as well as proof of the competitor's lower price -- for example, a print ad -- to a store to get the credit. For online orders, you'll need to call Target.com's guest services hotline at 1-800-591-3869.
Price-matching also applies to price drops on products you've recently purchased from Target itself. For example, if you buy an item at full price and the price gets reduced within 14 days of your purchase date, bring your receipt to your local Target store location and they'll give back the difference.
5/10
Order Online, Pick-Up In-Store
Shopping at retailers like Target can be a gift and a curse. They carry everything from clothing to electronics to personal care products all under one roof. That can make it all too easy to get distracted and load up your cart with everything but what's actually on your shopping list.
To avoid being tempted into one impulse buy after another, order your essentials online and pick them up in-store later. The items will be bagged and waiting for you at the guest services area. With this shopping strategy, there's no need to wander the aisles.
To find out if an item is eligible for online order pickup, type in the product name in the search field on Target's website. Once the search results appear, in the "filter results" bar located on the left side of the page, scroll down to "shipping & pickup." Once there, click on the dropdown arrow to expand the tab. Then, check the "buy online & pickup" box. Your search results will automatically update to only show the products available for online order pick-up. It's important to note that perishable items and items containing hazardous materials are not eligible for pick-up.
6/10
Shop Seasonal and Holiday Clearance Sales
If you're a serious bargain shopper, hit Target's end-of-season and holiday clearance sales. Their recent Labor Day sale, for example, boasted savings of as much as 45% off on patio furniture and accessories. We spotted a Castille Three-Piece Brazilian Hardwood Patio Set marked down to $630 (30% off the original price of $900). But as part of the Labor Day sale, shoppers received an additional 15% off at checkout.
Immediately following major holidays (think: Christmas, Easter and Halloween), you can snag holiday-themed party decorations, candy, greeting cards and the like for as much as 70% off at Target, says Cindy Livesey, founder of LivingRichWithCoupons.com. To maximize the savings, be sure to look for products you can use all year long including napkins, paper plates, plastic storage bags and glass bowls, Livesey recommends. You may even find items such as throw blankets or woven baskets with subtle holiday-themed prints that can still be used throughout year, she notes.
7/10
Download Target's App
The retailer's free smartphone app gives you access to exclusive coupons and offers via the Cartwheel function. Cartwheel recommends coupons based on your shopping habits and allows you to save them for later use. You can find coupons yourself by searching a specific brand or product name in the search field. If you're in-store, you can scan a desired item's barcode into the app to see if there are any coupons or special offers available. When you're ready to check out, simply present your phone to the cashier so he or she can scan your personalized app barcode. The coupons you saved will then get applied to the transaction.
Another notable app feature is that you can map out your shopping trip by aisle at your local Target store. You're able to pinpoint exactly where each item is located ahead of time. This can save time and help to cut out impulse purchases.
8/10
Bring Your Own Shopping Bags
While it's more about saving the environment than saving money, Target offers its customers a small discount incentive for bringing their own reusable shopping bags. You'll get five cents off your total purchase for each reusable shopping bag you bring and use in-store.
Target also recycles a variety of items for free, ranging from cell phones and ink cartridges to plastic bags and glass bottles. Look for the colorful recycling bins inside stores.
9/10
Hit the Dollar Spot
Formerly known as the Dollar Spot, Target has rebranded its special discount section located at the front of the store as Bullseye's Playground. It's filled with seasonal and specialty items -- from party supplies to small home décor goods -- ranging in price from $1 to $5. We recently spotted lots of back-to-school themed items including composition books in colorful prints, packs of pencils and pens, stickers, as well as storage containers in varying sizes at the store location we visited.
You can now also purchase items from the Bullseye's Playground online. However, the items are only available in bulk quantities. Online bulk product offerings range in price from $8 to $24.
10/10
Plan Ahead for Major Purchases
If you're planning to make a pricey purchase, say a big-screen TV or a major kitchen appliance, it's best to wait until a long holiday shopping weekend -- especially, if you're looking to cut costs, NerdWallet.com's Jespersen recommends. You're much more likely to find deep discounts on products from name brands during Black Friday, Labor Day or Memorial Day sales compared to other times of the year.
Last year during Black Friday, for example, Target had a 65-inch 4K Ultra HDTV by Samsung marked down to $850 from $1,300. A KitchenAid Ultra Power Plus 4.5-quart stand mixer was on sale for $250 (originally $350) during the weekend-long promotion.
Keep in mind that you'll be one of many other bargain shoppers looking to score deals in-store or online during major holiday shopping weekends. Be prepared to act fast when purchasing online or arrive early at the store to ensure a coveted item is still in stock.

Browne Taylor joined Kiplinger in 2011 and was a channel editor for Kiplinger.com covering living and family finance topics. She previously worked at the Washington Post as a Web producer in the Style section and prior to that covered the Jobs, Cars and Real Estate sections. She earned a BA in journalism from Howard University in Washington, D.C. She is Director of Member Services, at the National Association of Home Builders.