50 Quick and Easy Tips to Make and Keep More Money
Follow these smart moves to keep more cash in your household instead of flowing out.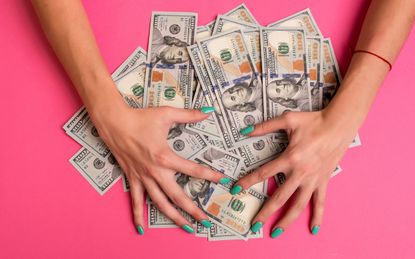 (Image credit: Getty Images)
The end of summer, when job and school routines kick back in, is a great time to kick your financial life into gear, too.
We've made it easy with our roster of quick financial tips designed to save you money, get you on track to reach a goal or simplify your life. The suggestions run the gamut from automating investments to setting up a budget to thwarting identity thieves. Each tip will take only 15 or 30 or — max — 60 minutes.
1/50
Size Up Your Portfolio Risk
After years of bull-market gains, you might have more of your assets in stocks than you should. Find out by visiting Personal Capital (www.personalcapital.com), an online advisory firm that will manage your portfolio for a fee but also provides free tools for do-it-yourselfers. Link your investment, bank and credit accounts and the site will give you a broad view of your finances. Under the Planning tab, click on "Investment Checkup." After you answer some simple questions about your investing goals, the site will suggest a target allocation, which you can compare with what you currently have.
2/50
Keep a Lid on Fund Fees
Once you've linked your accounts on Personal Capital, go back to the Investment Checkup tool and click "Costs." You'll see what you pay in fund fees as a percentage of assets, broken down by investment account (at any firm) or for your entire portfolio. For comparison, the average expense ratio for a typical diversified U.S. stock ETF is 0.38%, and it's 1.10% for the typical actively managed diversified U.S. stock fund.
3/50
Get Paid Like Clockwork
Dividend-paying companies often disburse payments every three months—which can lead to dry spells for income investors when different stocks pay out on the same schedule. Some brokerages, including E-Trade, Merrill Edge and Schwab, have a tool that maps out your next 12 months of dividends. Otherwise, go to www.nasdaq.com and enter your stock holdings. If you want to add stocks that pay out in months that look sparse, see 7 Top Monthly Dividend Stocks and Funds to Buy. You can check payout dates for most U.S. stocks at www.nasdaq.com/dividend-stocks/dividend-calendar.aspx.
4/50
Invest Your Spare Change
Investing app Acorns helps you reach your financial goals using the money you would otherwise toss in your coin jar. Link a credit or debit account, and every time you make a purchase on that card, Acorns will round your purchase up to the next dollar and invest the difference in a portfolio of ETFs consistent with your investing style and needs. You can also make automatic contributions from linked bank accounts. A typical user invests $50 to $60 per month, including rounded-up and automatic investments, says CEO Noah Kerner. Acorns charges $1 per month but waives the fee for students who set up an account with an "edu" e-mail address.
5/50
Monitor the Markets
Keep up with the day's stock market moves at Finviz. You'll see a heat map of stocks in Standard & Poor's 500-stock index, arranged by sector. Green stocks are up, red are down, with the ticker symbol and percentage change displayed. You can also choose to view world stock markets or exchange-traded funds. Click on "News" to see the latest business news and selected blogs, too.
6/50
Stay Alert
With the bull market in its 10th year, the market is rife with attractive stocks—if only their shares were a bit cheaper. But investors looking to "buy the dip" needn't eye the market constantly. Most major brokerages will allow you to create watch lists and set alerts for your favorite stocks. Fidelity investors, for instance, can receive alerts via e-mail or text when a stock on their watch list moves up or down by a certain percentage or advances above or falls below a certain price. If you're looking to lighten up rather than buy, take some profits when a stock hits your target price.
7/50
Automate Your Investments
Even if you can spare only a small amount of cash each month, having regular, automatic transfers from your checking account to your investment account will put you on the path to achieving your goals. Plus, you'll hardly miss the money if you pay yourself first—that is, shave it from the top of your paycheck. Log in to your brokerage firm's website and look for instructions on setting up transfers; you'll need to enter your bank's routing number, your checking account number, and the amount and frequency of each transfer. (You can also go to your checking account to set up the transfer—but watch out for fees the bank may charge for external transfers.)
8/50
Organize Your Tax Records
You should hold on to your tax returns indefinitely, but you can shred W-2 and 1099 forms plus canceled checks and receipts for charitable contributions after three years. If you're self-employed, you can shred receipts for business income and expenses after six years. Keep home purchase documents for three years after you've sold your home. To convert paper documents to electronic files, use a scanner; the IRS accepts digital copies. And while you're getting organized, track down documents you may need later, such as Form 5498 from your financial institution, which shows nondeductible contributions to your IRA. Otherwise, you could end up paying taxes on those contributions when you take withdrawals.
9/50
Check Your Withholding
Thanks to the new tax law, the amount of money your employer withholds from your paycheck may no longer line up with how much you owe the IRS. You could be paying more than you should now, or you could be paying too little and end up with an unexpected tax bill next spring. Gather your most recent pay stub and your 2017 tax return and run your numbers through the withholding calculator at www.irs.gov. If you need to make adjustments to your withholding, file a new W-4 form with your employer.
10/50
Set Up a Household Budget
Couples can budget as a team using You Need a Budget ($84 per year). Start by syncing your bank and credit accounts (or entering the balances manually) and deciding how to allocate your dollars over the course of the month using YNAB's categories or your own. YNAB aims to distribute all of your income between monthly expenses and longer-term goals (including savings), so you can handle large, unexpected expenses more easily. Or link all your financial accounts to Mint (free) to track both your budget and upcoming bills. Your bank or credit union may also offer free budgeting tools.
11/50
Change Your Bill Due Dates
To ensure that you have enough in the bank to cover your monthly bills—and to avoid cluttering your calendar with multiple due dates—call each biller and ask whether you can change the due date to best align with your cash flow.
12/50
Find a Financial Planner
Whether you want assistance with a specific task or a full-fledged strategy for your money, a financial planner can help you get on track. At www.napfa.org, you can search for fee-only advisers in your area and filter by specialty, such as high-net-worth clients or tax planning. If you want a one-time checkup, look for fee-only certified financial planners at www.garrettplanningnetwork.com, whose members charge by the hour. Choose three or four planners and make appointments with each so you find the best fit.
13/50
Slim Down Your Wallet
Loading your payment cards onto a digital wallet will lighten your leather one—or provide a handy backup if you accidentally leave your plastic cards at home. Tap and pay at the store with apps such as Apple Pay, Google Pay and Samsung Pay. With Apple Pay or Google Pay, the payment terminal must have near field communication (NFC) technology, but Samsung Pay works with most magnetic-stripe readers as well as NFC terminals. You can also use Google Pay, Samsung Pay and Apple's Wallet apps to store and use loyalty cards, or try a separate app such as Stocard or Key Ring.
14/50
Find Unclaimed Money
At MissingMoney.com, see whether assets such as old bank accounts, stocks and bonds, utility deposits, or insurance policies have been turned over to the state. (If your state does not participate with MissingMoney.com, go to www.unclaimed.org for a link to your state's web page for unclaimed property.) Search in states where you've previously resided and under former surnames, too, as well as for the names and states of your family members.
15/50
Update Your Beneficiaries
Recheck the beneficiaries on your retirement, savings and investing accounts, life insurance policies, and health savings accounts to make sure your assets go where you want them to. With most accounts, you can accomplish this online: Log in to your account provider's website and poke around to find the beneficiaries tab (most likely in the account settings or profile section). For your brokerage account, you may need to search for a "transfer on death" form to print and sign. If your spouse isn't your retirement account beneficiary, he or she may need to sign a consent waiver. If you're updating beneficiaries for a pension or group life insurance policy, ask the human resources department if this info can be updated online.
16/50
Create a Health Care Proxy and Living Will
A living will lets your medical providers—and your loved ones—know your wishes at the end of your life, and a health care proxy designates the family member or friend who can make decisions in a medical emergency if you aren't able to. These two documents go hand in hand. The American Bar Association has resources to help with a health care proxy, and so does www.caringinfo.org, which has state-specific forms. Sign the health care proxy and living will and give the documents to your health care providers.
17/50
Redeem Paper Savings Bonds
Ask all of the banks you do business with whether they will redeem your savings bonds; many banks require you to be a customer for at least six months. Or you can mail them to the Treasury Retail Securities Site, P.O. Box 214, Minneapolis, MN 55480 (see the factsheet at TreasuryDirect.gov for information about the procedures). To make the process easier in the future, convert your savings bonds to electronic bonds. That way you can redeem them online when you're ready.
18/50
Split the Tab with Less Hassle
Head off haggling over who owes what after dinners out with friends. With Splitwise (free online or as an app for Apple and Android phones), you can split expenses, track IOUs and balances, and settle up anytime using PayPal or Venmo (you can also record cash payments). Create a group, enter a bill and select the people involved; Splitwise will do the math. It keeps a running total, so you can pay what you owe in one big payment instead of several small ones.
19/50
Fight Bank Fees
If your bank covers a checking-account overdraft, you could pay a fee of $35 or more. Instead, set up an automatic transfer from a linked savings account to your checking account in case you overdraw. If you must pay a transfer fee, it'll likely be $5 to $15. And rather than pay up to $3 to transfer money from your account to an account outside the bank, sign up for a free peer-to-peer payment app. With Zelle, for example, you can send money from your bank account to recipients at other banks in minutes. (At least one member of the transaction must have an account with a bank or credit union that is a Zelle participant.)
20/50
Open a Health Savings Account
If you have a high-deductible health insurance policy, you can likely tap the triple tax benefits of a health savings account: Your contributions are tax-deductible (or pretax if made through your employer), the money grows tax-deferred, and it can be used tax-free for out-of-pocket medical expenses—now or in the future. If your policy has a deductible of at least $1,350 for self-only coverage or $2,700 for family coverage, you can contribute up to $3,450 a year to an HSA for individual coverage or $6,900 for family coverage in 2018, plus an extra $1,000 if you're 55 or older. You can't contribute after you're on Medicare, but you can use the HSA money tax-free to pay Medicare Part B, Part D and Medicare Advantage premiums after age 65, in addition to other medical expenses. If your employer doesn't offer a plan, check HSASearch.com for a list of HSA administrators. Look for a plan that has low fees and lets you invest HSA money in mutual funds for the long run, which will give you the biggest tax benefits.
21/50
Check Your Credit Score and Take Steps to Improve It
Your credit card issuer may provide a free credit score (see 10 Little-Known Perks). Or you can use a free online tool such as CreditKarma.com or FreeCreditScore.com. To help nudge that number upward, reduce your credit utilization ratio—the amount you owe on your credit cards compared with the total limit. Ask your credit card issuer to raise your limit (either by phone or by filling out a request form on the issuer's website). You may need to supply your income and other details, such as your occupation or your monthly housing payment. Most decisions are instantaneous.
22/50
Monitor Your Credit Files
Retrieve your credit reports from the three major credit agencies (Equifax, Experian and TransUnion) free once per year at www.annualcreditreport.com. Review each report for errors or signs of identity theft, such as a loan you never opened. Then sign up for services that regularly scan your credit reports for changes that may indicate identity theft and that send you alerts of those changes through a mobile app or e-mail. Among free services, Credit Karma monitors your Equifax and Trans­Union reports, and Experian's tool at www.freecreditscore.com keeps tabs on your Experian report. For paid services that offer more-robust monitoring, see These Services Alert You to Identity Theft. Are They Worth It?
23/50
Ask Your Card Issuer for a Break
Rather than accept a late-payment penalty or fee, call your credit card issuer and ask for forgiveness. A 2018 poll from CreditCards.com found that 84% of those surveyed who asked for a break had a late fee waived, 70% had an annual fee waived or lowered, and 56% received a lower interest rate when they asked their issuer. Point out your consistent payment history, frequent use of the card or anything else that may help your case.
24/50
Apply for a More-Rewarding Rewards Card
You could be missing out on lucrative rewards and initial bonuses. A couple of our favorites: Citi Double Cash offers 2% cash back on all purchases (1% when you buy and 1% when you pay the bill), and Chase Sapphire Preferred ($95 annual fee, waived the first year) pays back two points per dollar spent on travel and dining and one point on everything else, with flexible options to redeem points for travel and other Purchases. (For more top picks, go to The Best Rewards Credit Cards, 2018.)
25/50
Set Up Credit Card Payment Alerts
Log in to your online credit card account to turn on payment reminders via text or e-mail so you don't miss your due date. While you're at it, look for other alerts that may be useful to track your activity and curb overspending, such as notifications when your balance exceeds a certain amount or a purchase goes through.
26/50
Secure Your Home Wi-Fi
Run a checkup on your home wireless network to keep hackers at bay; consult the router's manual or go to the manufacturer's website to get instructions. Turn on network encryption and the firewall, and change the router's default network name and password. If you use a smart device—say, an Amazon Echo or Google Home speaker or a Wi-Fi-connected home-security system—create a second network for it that's separate from the one you use for your PCs and laptops. If snoops crack into the device on the second network, they'll have a harder time seeing activity on your computers.
27/50
Lock Down Your Social Media Accounts
Review the settings and security pages for each of your social media accounts to limit how widely you share your information with friends, the public and advertisers. On Facebook, you can use options on the settings menu to share information only with specific people, exclude your profile from search engine results outside of Facebook, opt out of facial recognition and put the kibosh on ads served up based on your online activity. For more on how to protect your Facebook data, see Take Steps to Protect Your Facebook Data.
28/50
Organize Your Loyalty Points and Miles
On the AwardWallet app or at www.awardwallet.com, enter your log-in information for each account, including credit cards, retail stores, hotels, airlines and other travel carriers. (With Delta Air Lines, United Airlines or Southwest Airlines, you can only have e-mail statements from the programs automatically forwarded to AwardWallet.) You can view your points or miles balance for each program at a glance on the Accounts screen. AwardWallet alerts you when rewards are about to expire or when balances change.
29/50
Freeze Your Credit Reports
A credit freeze, which blocks new lenders from viewing your credit reports, is the most effective way to prevent thieves from opening new credit accounts in your name. And by September 21, the credit agencies must allow you to place and lift a freeze free. You have to contact each agency to set up a freeze; for step-by-step instructions, see Freeze Your Credit in 3 Steps.
30/50
Get Free TV with Your Wireless Plan
Now that its merger with Time Warner is complete, AT&T is offering unlimited wireless plans that include free access to more than 30 channels of live TV, including CNN, TBS and AMC, as well as 15,000 shows and movies on demand. Customers with other wireless plans can pay for the service, called WatchTV, for $15 a month, which makes it the cheapest streaming service available.
31/50
Speed Up Your Searches
If web pages load at a crawl and videos keep buffering, measure your internet connection's download and upload speeds at www.speedtest.net. If you aren't getting the speed you pay for, contact your service provider to troubleshoot the connection. While you're on the line, ask whether you qualify for any promotional deals.
32/50
Manage Passwords
End the frustrating cycle of resetting forgotten passwords—and foil ID thieves—by setting up a password manager, such as LastPass. The service will help you create strong, unique passwords for each account, then store them behind a single, ultra-secure master password. When you're browsing the web, LastPass will automatically fill in your credentials. The service's free version works across multiple devices, but the premium offering ($24 a year) adds multifactor authentication and 1 gigabyte of encrypted storage.
33/50
Clean up Your Online Footprint
Sign into accounts that you no longer use (check old e-mail messages to jog your memory), then visit AccountKiller.com and Backgroundchecks.org for instructions on how to remove accounts from popular sites, including AOL, Facebook, HotMail and MySpace.
34/50
Back Up Digital Photos
To protect your photos and videos from hackers, a virus, a technical glitch or other mishap, redundancy is key. Keep photos on your phone or PC if you'd like, but store backup copies on an external hard drive or "gold" quality CDs—as well as in the cloud with a service such as Google Drive or iCloud Drive. If you use your smartphone to snap pictures that you don't want to lose, check your phone's settings to make sure you've scheduled automatic cloud backups that include your images.
35/50
Stop Renting Your Router and Modem
Instead of spending $10 to $15 a month to rent an all-in-one modem and router from your internet service provider, buy your own setup. You'll generally spend $100 to $200 and recoup the cost in one to two years. Look for a combination modem and router that's on your provider's list of approved devices (usually on its website). After setting up your new device, contact your internet provider and ask how to return the modem and router you rented.
36/50
Contest Your Property Tax Assessment
Start by checking the property record card at your assessor's office, which may be available online. If you find an obvious error, such as the wrong number of bathrooms, your assessor may agree to reduce your assessment—and your tax bill—immediately. If there isn't an obvious error but you still believe your assessed value is too high, you can appeal. The process typically takes a couple of months, and you'll need evidence to back up your case, such as data on comparable properties. But a lower assessment is worth the effort, especially if you live in an area with high property taxes.
37/50
Cut Your Energy Bills
Try an online home energy audit, such as the Home Energy Saver, developed by the Lawrence Berkeley National Laboratory. Provide your zip code and answer questions about your home—its features, heating and cooling system, appliances, and lighting—and current energy costs. You'll receive recommendations for making home energy upgrades that are ranked by payback time.
38/50
Make a Home Inventory
Use your smartphone to photograph every room in your home, as well as the contents of closets and drawers, then upload the photos for safekeeping with the free UPHelp Home Inventory App, developed by consumer advocate United Policyholders. You'll have a visual record of your belongings to jog your memory if you have to itemize possessions for an insurance claim. You can also add detailed information, such as receipts, appraisals and serial numbers.
39/50
See if Going Solar Pays Off
Plug your address into the Solar Calculator at www.energysage.com and it will use a satellite view of your roof and property to estimate your potential savings and break-even point for installing a solar power system. (The actual results will vary with your roof's characteristics and the hardware and financing that you choose.) You can also get competing, apples-to-apples estimates from participating local solar installers.
40/50
Set a Savings Goal
Visit SavingforCollege.com and use the World's Simplest College Cost Calculator to estimate the future cost of a private or public college or a specific school. Enter your child's age, the type of college, your income and your current savings. The calculator estimates the grants and scholarships your future student will receive and shows the gap between the cost of attendance and your current savings. Revise your monthly savings goal to see how saving more will help close the gap.
41/50
Start a 529 College-Savings Plan
If your state offers a tax deduction for 529 contributions, it generally makes sense to invest in your state's plan. But if your state doesn't offer a tax break—or you live in Arizona, Kansas, Missouri, Montana or Pennsylvania, which offer a tax break no matter where you invest—look for a plan with no or low annual maintenance fees and an array of investment choices with low expenses, such as New York's 529 College Savings Program. Contributions will grow tax-free, and the earnings escape tax completely if you use the withdrawals for qualified education expenses.
42/50
Apply for Financial Aid
The Free Application for Federal Student Aid is the ticket to financial aid for college, and filing season begins October 1 for the 2019–20 academic year. To apply, go to FAFSA.gov. You'll need your 2017 tax return and other financial information.
43/50
Lower Student-Loan Payments
To pick a federal student-loan repayment plan that fits your budget, visit Studentloans.gov and click on "Use the Repayment Estimator." Enter the balance and interest rates of each of your federal loans and your income information to see what your monthly payments would be for each repayment plan. The longer the repayment period, the more you will pay in interest, so you'll usually want to pick the plan with the highest payment you can afford.
44/50
Set Up an Online Account with Social Security
Even if you're years from retirement, registering yourself with Social Security will prevent identity thieves from creating a fraudulent account and applying for benefits in your name. In addition, you can make sure your earnings record, which is used to calculate your benefits, is accurate.
If you've put a credit freeze on your credit records, you'll need to lift the freeze before you apply online, because Social Security uses your credit reports to confirm your identity. Or you can apply in person at a Social Security office.
45/50
Open a Roth IRA
You contribute after-tax money, which grows tax-free, and withdrawals in retirement are tax-free, too. A Roth is a great idea for young workers and kids with part-time or summer jobs because the longer investments in the account grow, the bigger the tax advantage. You can contribute up to the amount of your earnings from work, or a maximum of $5,500 for 2018 (or $6,500 if you're 50 or older), as long as your modified adjusted gross income is less than $135,000 for singles or $199,000 for married joint filers. Fidelity and TD Ameritrade offer Roth accounts with no minimum investment or maintenance fees. (For a minor child, you'll need to open a custodial Roth account.) Charles Schwab has a $100 minimum investment for a custodial IRA but no maintenance fees.
46/50
If You're Self-Employed, Open a Solo 401(k)
You can put in up to $18,500 in 2018 ($24,500 if you're 50 or older), plus as much as 20% of your net self-employment income, up to a total of $55,000 (or $61,000 if you are 50 or older)—or the amount of freelance income for the year, whichever is less. Your contributions are tax-deductible, and they grow tax-deferred until you take withdrawals in retirement. Fidelity, Schwab and several other financial institutions offer low-cost solo 401(k)s.
47/50
See How Much Lifetime Income an Annuity Can Provide
Run your numbers at www.immediateannuities.com. The site can calculate the income you'd receive from a lump sum or what you'd have to invest to get the income you need.
48/50
Do a 401(k) Fee Checkup
You can get a breakdown of the fees you pay by using Ameritrade's free 401(k) Fee Analyzer. You'll need to type in your fund information or provide your 401(k) account login credentials to allow read-only access to your account.
49/50
Save Money on Car Insurance
It's a good idea to reshop your coverage every few years, especially if you are adding teen drivers or have major life changes, such as retirement. Ask your insurer or agent for a list of discounts, and make sure you're getting all the breaks you deserve. See if you can reduce your rate some more by bundling auto with home or renters insurance, signing up for a data-tracking program or taking a defensive-driving course. Raising your deductible to $500 or $1,000 will trim your premiums and deter you from filing small claims that could lead to a rate hike.
50/50
Give Yourself a Home Insurance Checkup
See whether the coverage in your policy has kept up with the cost of labor and materials so you'll be able to rebuild your home and replace your possessions should disaster strike. The insurer should calculate the rebuilding cost based on the square footage of your home and the current, local per-square-foot cost to rebuild. Mention any home improvements that might boost the replacement cost. Ask about gaps in coverage you could fill—such as by adding an inexpensive sewage backup rider or getting special coverage for valuables.