Best Places to Check Your Credit Reports and Credit Scores for Free
You can say goodbye to year-long waits and high fees to check your credit thanks to these trusted free resources.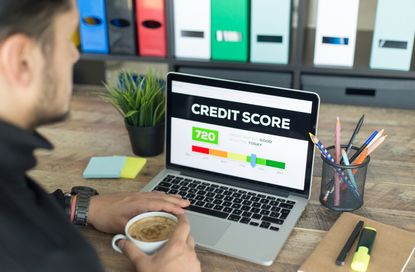 (Image credit: cnythzl)
The days of paying $20 for a peek at your credit score or waiting a year to order a new batch of credit reports through AnnualCreditReport.com are over. Now you can visit a number of websites to get your FICO or VantageScore credit score free. And you can get at least one of your credit reports from the three major bureaus, updated on a weekly or monthly basis, whenever you want. On top of that, some of these sites will monitor your reports for suspicious activity and ping you via e-mail as soon as changes appear.
To join an online service that grants access to your scores and reports, you'll have to enter a few personal details, including the last four digits of your Social Security number, and answer questions to verify your identity. Because you're handing over personal information, stick to reputable, well-known sites (we trust the sites listed below). Be sure to enter the URL exactly, to avoid ending up on a "copycat" website that lures you into paying for these products. One dead giveaway that you're at the wrong website: It asks for a credit card number in order to see basic credit information. The site is probably trying to sell you information that you can find free elsewhere.
In exchange for these freebies, some services will send you occasional e-mails promoting credit card, insurance and mortgage offers tailored to your profile. If you apply for a product, the website will earn a commission from the lender. But you can opt out of marketing e-mails and still enjoy the complimentary credit services.
Subscribe to Kiplinger's Personal Finance
Be a smarter, better informed investor.
Save up to 74%
Sign up for Kiplinger's Free E-Newsletters
Profit and prosper with the best of expert advice on investing, taxes, retirement, personal finance and more - straight to your e-mail.
Profit and prosper with the best of expert advice - straight to your e-mail.
Here are our picks for the best places to access your credit score and credit reports for free.
FREE CREDIT SCORES
Several banks and credit unions, including Bank of America, Citi and Pentagon Federal, allow some or all cardholders to view free FICO scores. Or you can sign up for Credit Scorecard from Discover for a look, even if you don't have a Discover card. The site uses information gathered from Experian. Experian offers similar information at www.freecreditscore.com, plus a free credit report. Most other services show you your VantageScore, based on information in your TransUnion report, though Credit Karma displays scores from both Equifax and TransUnion.
Many of these services graph the history of your score, grade you on elements that make up your score, and offer personalized suggestions on how to improve your credit. On top of that, CreditWise from Capital One, Credit Journey from Chase and NerdWallet provide "simulators" that calculate how your score could change if you pay off debt, increase your credit limit, open a new card, let one account slip into delinquency and more. NerdWallet has the most robust list of situations in its simulator. WalletHub shows how your score stacks up against national and state averages, and Discover's Credit Scorecard shows where you fall compared with various age groups.
Most online services supply either a VantageScore or a FICO score. FICO is still dominant among lenders, but your VantageScore can be just as valuable to you. (Both your VantageScore and FICO score can vary based on the scoring model and which bureau's report the data comes from.) Both take payment history, utilization and length of credit history into account, among other things. "Pepsi and Coke are both soft drinks," says credit expert John Ulzheimer, who finds different credit scores tend to differ by a maximum of 20 points. "Filing a bankruptcy is still really bad for all scores," he says.
Eric Rosenberg, author of PersonalProfitability.com, a finance blog, says it's more important to understand the top and bottom of your score's range and to benchmark yourself over time. Rather than tracking multiple scores for yourself, choose one or two sites with educational tools you like. Log in once a month or so, or before applying for new credit, to stay on top of your score.
FREE CREDIT REPORTS
The only place to get a free, complete report from all three major credit bureaus each year is through www.annualcreditreport.com. But the dense text and multitude of detail can be off-putting.
You can keep tabs on a more regular basis with the gussied-up, more user-friendly versions of your credit report available through several websites. They highlight key information and provide analysis in plain language. Be aware of the difference between full reports and summaries, though. Credit.com and Credit Sesame offer "snapshots" of your report, with the most pertinent information only, which are fine for a quick checkup. For a deeper dive, stick with a site that shows you the same content as your full report, minus "soft" or promotional inquiries and some of the oldest or month-by-month details. "I've found mistakes on my reports by looking at these sites," says Rosenberg.
Credit Karma is the most comprehensive, serving up both your Equifax and TransUnion reports on a weekly basis (most other sites only offer TransUnion reports). Bankrate lets you line up two reports side-by-side to pinpoint differences. If you do spot an error, you can (and should) take steps to correct it with the lenders and bureau (See Take Charge of Your Credit for more). But for some extra help, CreditWise from Capital One will lay out which steps to follow for a dispute, tailored to the type of error, and Credit Karma will help you submit a dispute directly from the site. If you suspect your error is a result of identity theft, contact the Identity Theft Resource Center for assistance.
FREE CREDIT MONITORING
Several services, including Credit Journey, CreditWise, Credit Karma and WalletHub, send e-mail alerts if new information pops up in your report, whether it's an account, a public record, an inquiry or even an address change. Credit Sesame goes a step further by offering $50,000 worth of identity theft insurance (reimbursing certain expenses and legal costs in the event of fraud or theft of financial data) and live support at no cost to members.
How useful is credit monitoring? Most of these services track one report only, which is "like locking one of three doors to your house," says Ulzheimer. And while such alerts can help you tackle mistakes – or worse, identity theft – quicker, they won't prevent it from happening in the first place. If you're worried about fraud, pay the fee (typically $10) to freeze your credit reports instead.

Associate Editor, Kiplinger's Personal Finance
Miriam lived in Toronto, Canada, before joining Kiplinger's Personal Finance in November 2012. Prior to that, she freelanced as a fact-checker for several Canadian publications, including Reader's Digest Canada, Style at Home and Air Canada's enRoute. She received a BA from the University of Toronto with a major in English literature and completed a certificate in Magazine and Web Publishing at Ryerson University.