Unlock 11 Secrets of Home Improvement Shopping at Lowe's
Here's the lowdown on everything Lowe's for those who like to DIY.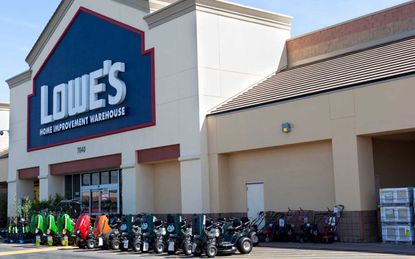 (Image credit: iStock)
There are people who like the convenience of their neighborhood Home Depot. And there are those who will drive right by just to reach the nearest Lowe's home improvement center. Me? I'm a Lowe's person, and not just because it's closer to my house. My experience has been that customer service is better at Lowe's. However, both home-improvement retailers offer a massive selection. Lowe's has fewer stores nationwide than Home Depot. But Lowe's fans are drawn to its differing product lines, selection and service.
Whether you're a Lowe's or Home Depot fan, don't be a tool. Here are 11 ways I've learned to find the best deals and save money at Lowe's.
1/11
Go Online First
Deals experts say it's best to check Lowes.com before you leave the house. Or you can find daily deals by following @lowes on Twitter. I like the Lowe's "savings" webpage. For example, a recent deal on that page featured 41% off a Sharp stainless-steel countertop microwave oven, on sale for $99, slashed from $169.
The website will even tell you if the merchandise is available at your favorite Lowe's (in my case, there were two microwaves; the website even told me where they were in the store: Aisle 33, Bay 1).
I did a comparison. The price for the same microwave at Best Buy was $170.
While you're in the store, check online prices on your smartphone. Do you see a lower price for a particular item on Lowe's website? No worries. The store will match the Lowe's website price.
2/11
Get Discounts or Rebates When You Purchase Product Clusters
Major retailers often get better deals from major manufacturers because of their bulk-buying capacity, then they pass those savings on to customers. Lowe's is no exception.
Confession: I wish I had done this a couple of years ago when we upgraded our kitchen with a new suite of GE Profile stainless-steel appliances—a refrigerator, a dishwasher, a stove and a built-in microwave. We got a good deal at a high-end regional appliance store chain; we might have gotten a better deal at Lowe's, says Brent Shelton, of the deals site FatWallet.
Lowe's is currently offering rebates of $400 to $1,200 on four or more qualifying GE Profile appliances or select other GE appliances. You can apply for that rebate check at Lowes.com's "current rebates" page.
3/11
Buy Like a Contractor
You don't need to be a contractor to get pro prices at Lowe's. I saved big time when I decided to replace all of the electrical outlets and wall light switches on the main level of my house (the old ones had been painted over by a previous homeowner. Yuck).
Typically, a DIYer might go to Lowe's to buy just one switch or outlet. I needed 13, and I started off with a "contractor"-size bulk pack of 10 Legrand 15-amp, 125-volt outlets for $10, saving 16% over what I would have paid if I'd purchased them individually.
Other contractor-pack items include furnace filters, painting supplies, light bulbs and more.
And while you're at it, head over to the Pro Desk, near the checkout in the lumber area, where most contractors pay and load up. Ask if you can get contractor discounts on items.
"I get pro discounts all the time," says Saeed Darabi, of the money-saving website MoneyPantry. How? He asks for them.
See. It doesn't hurt to ask.
4/11
Surprising Deals in Household Cleaning Supplies
Did you ever wander down the aisle of a big-box retail store featuring household cleaning supplies and wonder: Am I missing something? Are these prices really that good?
At Lowe's, yes—they're better than at Target, as I discovered in late January, when on assignment for Kiplinger.com, I scouted 15 randomly chosen everyday household cleaning supplies. Note: These were full prices and didn't reflect any sales or manufacturers' coupons, which Target accepts. In some cases, packaging sizes were different, so we compared per-unit prices.
For nine of the 15 items, Lowe's prices were lower; usually not by much, but a penny saved is a penny earned. Some examples: A 24-pack of Duracell AA batteries sold for $14.67 (or 61 cents per battery) at Lowe's, versus 70 cents per battery for a 20-pack at Target. On the other hand, Target scored by selling Dawn 34.2-fluid-ounce dishwashing liquid for $4.09, while Lowe's was selling it for $4.78.
5/11
Haggle for a Lower Price
The Lowe's store team has pretty wide latitude for negotiating lower prices with customers, especially on open boxes, damaged boxes and slightly damaged products, as well as floor models. Check shelf tags, or corral one of the nearby red-vested Lowe's employees to see if you can get a lower price on an item in a box that is clearly damaged or open, or a floor-model appliance or other product with dents or scratches.
Just ask an employee, who may have to reach out to a manager. Some floor models are marked for discount to make room for newer lines. Other floor models aren't marked for discount, but you may still get one.
6/11
Don't Forget Military Discounts
Current service members, retired veterans (with 20 years' experience) and their immediate families, as well as recipients of Veterans Administration benefits, can score 10% off most items at Lowe's. (There are exceptions, so check with an employee first before getting frustrated at checkout.)
Veterans with fewer than 20 years racked up can still get that military discount on Memorial Day, July 4 and Veterans Day.
7/11
Watch for Special "Sidewalk" Sales
This is a clever promotional tool that lets consumers score some big savings, says MoneyPantry's Darabi.
Lowe's has sidewalk sales several times a year, usually on the first or last Saturday of a month. Here you'll find huge discounts on closeout items and returns.
8/11
To Everything There is a Season
Both Lowe's and Home Depot play to their fan base with seasonal pricing. When is home improvement season? Benjamin Glaser, of the deals site DealNews, says the period from May through August sees the most consumer interest in remodeling and fixing up the old homestead. "That's when we see the most discounts, coinciding with good weather," he says.
9/11
Price-Match
Even if Lowe's is your favorite, don't forget that Home Depot, True Value, Sears and other retailers want your business, too. If you find a coupon on an item from a competing company, Lowe's policy is to match the competition – per a manager's approval. Hey, a deal's a deal, and you don't have to make multiple trips.
Lowe's will also price-match its big box rivals on non-coupon items, says MoneyPantry's Darabi. After all, one of Lowe's' mottos is "Nobody beats our prices. Nobody." Bring your smartphone or a print ad to prove there's a better deal at a competitor.
Want more? Not only will Lowe's price-match, they'll beat that price by 10%.
Give this a try with Amazon and other online retailers, too (the caveat is that shipping and handling costs must be factored into that competitor's price).
10/11
Go to the Post Office, Score 10% Off at Lowe's
Here's an unusual twist: Some U.S. post office locations are stocked with change-of-address or mover's guides that contain Lowe's discount coupons for 10% off. Some of the coupons must be registered online to use.
I picked up one of these at my local post office. The packet had a coupon good for a 10% discount on blinds and shades. Other deals experts have told me they've obtained Lowe's coupons that were not product-specific.
The change-of-address/mover's guide I picked up from my local post office also had a 25% off "items for your home" Kohl's coupon, plus assorted others. Reddit frugal shoppers have posted online that the coupons may vary by packet, even from the same post office.
11/11
Become a Lowe's E-mail Subscriber
I know, you're already flooded with retailer e-mails and spend a good part of your day deleting. But you may be deleting some bargains.
For example, Lowe's every now and then e-mails coupons good for three days. I recently received one that gave me $10 off a purchase of $50 or more. Good timing-- my refrigerator had just run out of ice because I needed a new water filter. Those items are expensive-- $52 on Amazon, around $54 at Lowe's and Home Depot. With that $10 coupon, I could buy the filter cartridge for $44. No wait—and no more thirst.
Online Editor, Kiplinger.com
Bob is a Senior Online Editor at Kiplinger.com. He has more than 40 years of experience in online, print and visual journalism. Bob has worked as an award-winning writer and editor in the Washington, D.C., market as well as at news organizations in New York, Michigan and California. Bob joined Kiplinger in 2016, bringing a wealth of expertise covering retail, entertainment, and money-saving trends and topics. He was one of the first journalists at a daily news organization to aggressively cover retail as a specialty, and has been lauded in the retail industry for his expertise. Bob has also been an adjunct and associate professor of print, online and visual journalism at Syracuse University and Ithaca College. He has a master's degree from Syracuse University's S.I. Newhouse School of Public Communications and a bachelor's degree in communications and theater from Hope College.