5 Things Home Improvement Reality TV Shows Don't Tell You
You start off your Saturday morning ready to tackle your to-do list, but somehow you end up on the couch, flipping through TV channels.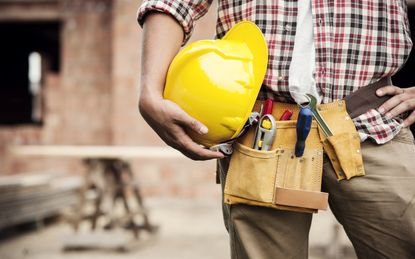 (Image credit: Thinkstock)
You start off your Saturday morning ready to tackle your to-do list, but somehow you end up on the couch, flipping through TV channels. Then you land on your favorite home improvement station. Six hour-long episodes of home-buying/selling/renovation reality TV shows later, you're now a self-proclaimed expert.
Not so fast. While having the viewing experience might seem helpful, it can be misleading if you are actually looking to remodel or buy a home.
This year, the value of home remodeling saw its largest increase since 2005, returning an average of 66.1% of the amount invested, according to Remodeling magazine's 2014 Cost vs. Value report. And Kiplinger forecasts that new- and existing-home sales will accelerate by year's end. So as homeowners see larger returns on their renovation investments and as more buyers are actively searching for new homes, homeowners and buyers alike may watch these shows before hiring a contractor or realtor thinking they are realistic. And in many cases, they are not.
In a statement to Kiplinger, HGTV, which produces several popular shows, including "House Hunters" and "Love It or List It," had the following to say when asked about the behind-the-scenes quirks that aren't disclosed to viewers:
"Our goal is to respect the home-buying, selling or renovation process, while still creating fun and entertaining programming for viewers. When we're telling a real estate or renovation story for television, we may abridge and adjust timelines to help manage production and time constraints. In some cases, a program is a competition series or a crazy experiment designed to play out the 'what if' fantasy of our viewers. Today's viewers are savvier than ever and know that the development of an entertaining program does require the occasional use of a creative license."
We talked with several remodeling and real estate experts, as well as people who've appeared on some of these shows, to find out what some of the biggest misconceptions are -- and to get advice on how homeowners and buyers can set more realistic expectations. Take a look.
1/5
Remodel Time Frames Are Often Rushed
If you've ever watched a home renovation reality show and thought a three-day turnaround on a master bathroom remodel sounded too good to be true, it is, says Patrick Hurst, owner of Hurst Design-Building-Remodeling, in Middleburg Heights, Ohio. In 2011, his company appeared on the DIY Network's "House Crashers" series, which finds homeowners at home-improvement stores and follows them home to tackle a renovation project on the spot.
Hurst's team participated in a three-day remodel that converted a historic butcher shop into a livable space for a young family. Under normal circumstances, that type of project, which involved revamping a gutted storefront, would've taken about six weeks to complete, he says. There are various stages of the remodeling process that typically aren't done all at once. Painting, for example, which might involve having to apply a primer or sealer in addition to the paint itself, can take multiple days to finish because each product needs to dry fully before the next can be applied, he adds.
When you see a large project get finished quickly on television, what you don't see is all of the scrambling that goes on behind the scenes to get the job done on time, Hurst notes. Oftentimes contractors are working around the clock, which is not common practice. "On screen, they show you three or five people working, but it's really like 30 people in the background working."
Another factor that compresses the time frame on television: Contractors are limited in the materials they're able to use. "Essentially, you are stuck using products that allow for quick installation, which may not necessarily look the best," Hurst says. This includes using laminate wood flooring instead of real hardwood flooring.
2/5
Renovation Budgets Aren't Realistic
It's a formula you see played out on home renovation reality shows over and over again: An owner has a long list of must-haves (which can quickly add up) and a very tight budget. Yet, somehow, the remodeling team is able to deliver the home of their dreams. Before you dial up your contractor demanding prices that aren't realistic for the scope of work you want done or your location, know that the project budgets you see on TV are just that -- made for TV.
Networks often partner with advertisers that provide free materials, and some contractors that appear on these shows will work at discounted rates in exchange for the free publicity. Rich Carl, project manager for iKitchens Etc., in Falmouth, Mass., knows firsthand because his company was invited to appear on a remodeling reality show in 2010, but declined because the pay was significantly lower than what they'd usually charge. "We priced out the job for a cabinet installation using our standard rates. The general contractor [who'd been hired by the show's producer] came back and offered about half [that amount], saying that we should give a lower rate for 'promotional considerations,' Carl recalls.
Homeowners should be prepared to pay higher prices than what they see on TV for renovation work, he advises. On an episode of DIY Network's "I Hate My Kitchen," for example, the cost of a kitchen remodel in a Tudor-style home, which included installing quartz countertops, a glass tile backsplash, hardwood floors, new appliances and updated cabinetry, as well as removing a wall, totaled $24,000. The episode didn't specify whether the space had been tested for lead paint or asbestos in the existing floors, which is standard procedure for older homes. Carl says that could have increased the overall project cost by several thousand dollars.
3/5
Home-Buying Is Never as Easy as on TV
Many of the shows about home-buying and selling, such as HGTV's "Property Brothers," don't emphasize how long it takes to find and close on a new home. What seems like a day, thanks to the magic of television editing, actually takes 60 to 90 days at minimum, says Michael Espersen, a Metairie, La.-based realtor with Coldwell Banker.
One of the biggest hurdles for many would-be buyers is getting approved for a mortgage loan (see mortgage rates in your area). There's a significant amount of paperwork involved, Espersen says. This includes having a loan officer review your recent tax returns and banking statements, and possibly having to clear up any mishaps on your credit report. What you won't usually see on camera is "someone struggling for 60 days to get [approved for] a loan, only to be turned down because the criteria have changed," he adds.
If you're considering purchasing a new home, here's Espersen's advice: "Get your financial ducks in a row before you start looking." This includes determining how much home you can afford, boosting your credit score and saving for a down payment (see Financial Steps to Take Before Buying a First Home).
4/5
Flipping a House Is NOT a Cakewalk
The plethora of programming that focuses on flipping homes -- A&E's "Flipping Boston" and "Flipping Vegas," as well as HGTV's "Flip or Flop" and "Flip It to Win It" -- might lead would-be investors to believe there's easy money to be made. That's simply not the case, says Paul Sullivan, founder and president of the Sullivan Company, a Newton, Mass., remodeling and custom-building firm.
Long gone are the days of real estate price run-ups, when investors flocked to housing auctions to snatch up properties. In fact, fewer investors are flipping houses. In the second quarter of this year, just 31,000 single-family homes were flipped, according to RealtyTrac.com's U.S. Home Flipping Report. That's down nearly 2% compared to the same period in 2013. Profits are also dwindling. Investors made an average gross profit of more than $46,000 in the second quarter, which amounts to a 21% gross return on initial investment, RealtyTrac.com says. Just a year ago, the average gross return was 31%.
In today's housing market, every dollar counts. Sullivan reminds would-be investors that there are a number of factors to consider before pursuing a house flip, starting with location and thorough knowledge of the property. "Just because it's cheap doesn't make it a good deal," he warns. One plus to look for: curb appeal really does help to sell homes. You'll need to determine the fine line between investing too much in a property and not doing enough, Sullivan advises. Finally, you'll want to get the project done quickly because your carrying costs will grow and could potentially wipe out your profits, he adds. Some carrying costs include financing, insurance, taxes, and maintenance.
5/5
Storylines Are Embellished for TV
Perhaps one of the biggest draws for viewers of home-buying and -improvement reality shows is the opportunity to live vicariously through the participants. While you may not be looking for a new home or starting a remodeling project, it's still entertaining to watch others go through the process. Remember, however, that not every story you see played out on the small screen is true.
Bobi Jensen appeared on an episode of HGTV's "House Hunters" in 2006 along with her husband and children. Jensen says there were a few things that let her know the show wasn't exactly as it seems on TV before filming on her episode even began. She recalls being told by producers that they typically select people who've already closed on a property. If you've ever watched the show, you know that the episodes center around a couple who are supposedly looking for a place to buy.
At the time, Jensen's family was living in a 1,300-square-foot, three-bedroom, 2½-bath home they owned in San Antonio, and they were looking to buy a new house so they could convert their existing dwelling into a rental property. This is what she told the show's producers. Once they selected their new home, a house with 2,400 square feet, four bedrooms and 2½ baths, and had been chosen to appear on the show, they were told they needed a better storyline. So Jensen and her husband finally agreed to go with the angle that they were looking for a larger home to better accommodate their family. Producers also played up the fact that Jensen's husband was a realtor, so their episode focused heavily on her being his toughest client.
While she enjoyed the experience of filming for TV, Jensen says she was uncomfortable with the end result: "I wasn't thinking this is something that's going to be seen by other people as my real life," she says. "It wasn't until I actually watched the episode . . . that I realized I was preaching to the world about the necessity of more space when I hadn't even lived that way myself." Jensen says this was not her intent, especially because her family has lived in much smaller places since then. In fact, about a year after appearing on "House Hunters," they moved to a 1,200-square-foot, 2-bedroom, 2½-bath townhome, and a few years later, an 800-square-foot townhome.

Browne Taylor joined Kiplinger in 2011 and was a channel editor for Kiplinger.com covering living and family finance topics. She previously worked at the Washington Post as a Web producer in the Style section and prior to that covered the Jobs, Cars and Real Estate sections. She earned a BA in journalism from Howard University in Washington, D.C. She is Director of Member Services, at the National Association of Home Builders.