33 Super Deals and Discounts for 2018
We found 33 super deals and discounts on everything from travel to tech to exchange-traded funds.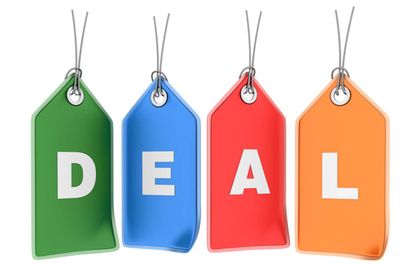 (Image credit: porcorex)
Shopping
Get the real deal for less
To buy luxury goods for at least one-third less than their estimated retail value, visit The Real Real (www.therealreal.com (opens in new tab)), where you'll find consigned men's, women's and children's clothing, plus jewelry, watches, handbags, home décor and more, representing a multitude of designers. Recent offerings included a vintage Rolex Oyster Perpetual watch, with an estimated retail price of $6,300, listed for $2,825; a Burberry trench coat ($1,895/$375); a Givenchy dress ($1,795/$545); Tiffany gold-and-diamond earrings ($5,400/$2,495); and a Coach shoulder bag ($395/$207). All items are evaluated for authenticity and condition (and rated good to pristine) by the site's team of experts, including certified gemologists.
Sign up to start shopping and you'll receive an instant credit of $25 toward your first purchase. On certain items, look for an additional 20%-off coupon code or a 30% markdown. During the end-of-the-month "Real Big Sale," prices are marked down more, but sales are final and nonrefundable. If you have your eye on something but aren't ready to pull the trigger, add it to your "Obsessions" page to have the site send you an e-mail when it's marked down. However, the site says most items sell within three days.
Best bets for grocery deliveries
We picked the best deals for home delivery of groceries given three scenarios:
Subscribe to Kiplinger's Personal Finance
Be a smarter, better informed investor.
Save up to 74%
Sign up for Kiplinger's Free E-Newsletters
Profit and prosper with the best of expert advice on investing, taxes, retirement, personal finance and more - straight to your e-mail.
Profit and prosper with the best of expert advice - straight to your e-mail.
You want to restock staples or household items: On orders of $35 or more, Walmart offers millions of items with free, two-day delivery in the contiguous U.S. (look for the "2-Day Shipping" flag). If you can wait a little longer, Walmart offers additional items with free three- to five-day shipping.
You need quick delivery of fresh or frozen items: You can get your groceries delivered within one hour with Instacart, but you can also schedule delivery up to five days in advance. The service partners with more than 190 retailers, including national and local chains, and is widely available throughout the U.S. (except in Montana, South Dakota and Wyoming). You'll pay a $10 fee on orders of less than $35, or a $6 fee on orders of $35 or more. Instacart also offers a membership plan: If you pay $49 for the first year and $99 a year thereafter, you get unlimited deliveries for orders of $35 or more—worth considering if you place orders a couple of times a month.
Amazon Prime Pantry (for Amazon.com Prime members) charges a monthly fee of $4.99 (after a 30-day free trial) for free delivery of orders worth $40 or more, or a flat $7.99 per order. If you get at least two deliveries a month, the monthly fee can be worth paying. Delivery takes one to four days.
You are a warehouse club member: Costco offers free same-day delivery via Instacart to its members on orders of $35 or more (prices will be marked up, however). Costco also offers two-day delivery of non-perishable and household supplies in most states through its own service. There's no minimum order and no fee on orders of $75 or more, but the service isn't available on weekends.
Disrupter deal
Instant Pot
Instant Pot is a pressure cooker/slow cooker/rice maker/steamer/sauté pot that claims to cook food 70% faster than other methods. Instant Pot has spawned copycat multi-cookers—some of which are cheaper and come with a nonstick inner pot—but buying the original entitles you to join the legions of home cooks and foodie fans who call themselves Potheads and use social media to proselytize to the uninitiated, share recipes and provide support.
The base model 6-in-1 V3 Instant Pot ($79.95 for the six-quart version, which feeds four to six people) comes with 12 built-in programs (say, for rice and meat/stew) and will bake a cake and cook eggs, too. Order directly at www.instantpot.com (opens in new tab), where you'll get free shipping and can download a free app with more than 450 recipes. Other large retailers generally charge at least the manufacturer's suggested retail price. Amazon.com sells the most models and sizes with free shipping.
Tech
Summer bargains
We asked Lindsay Sakraida, of bargain-hunting website DealNews.com (opens in new tab), where to find the best bargains in tech this summer.
Laptops. Look for deals on mid-tier laptops with newer CPUs. Prices on models with up to 4 gigabytes of RAM and 1 terabyte of storage hover around $400. Basic, budget-friendly PCs with less power and storage will run about $200.
TVs. This summer, you'll spot name-brand 55-inch models with 4K resolution for as little as $400. Even budget options are typically 4K these days; you likely won't save much with a 1080p model.
Tablets. August can be a good time to get discounts on Apple iPads as stores anticipate the arrival of the new-generation models. The fifth-generation 9.7-inch iPad, for example, recently sold for $229. Meanwhile, the Surface Pro 12-inch tablet should sell for about $500.
Smartphones. Watch for deals on Samsung's latest flagship phone, the Galaxy S9. You'll find the unlocked base model for about $550 and deals on the S9+ starting at a little more than $600. For a deal on an Apple iPhone, you'll have to buy a refurbished model.
Smart watches. Stunning discounts on Apple watches are likely to continue, says Sakraida. You should be able to get a Series 1 watch for $150 to $180 and a Series 3 model starting at $280.
Refurbished and open-box deals
Save up to 50% on small appliances and electronics by buying certified refurbished items through manufacturers or authorized dealers. Returned or overstock items are often inspected, serviced, tested and repackaged, then sold at a discount with warranties of 90 days to a year. You'll find the biggest savings on older models, but you can save about 30% on current-generation items.
Your safest bet is to buy directly from the manufacturer, according to DealNews.com. You may not get the lowest price, but you'll have the security of a manufacturer-backed warranty. Also worth checking out: Amazon (opens in new tab), Crutchfield (opens in new tab), eBay (opens in new tab) or Newegg (opens in new tab). Best Buy Outlet sells clearance, open-box, refurbished and preowned items at BestBuy.com (opens in new tab) and at outlet and warehouse locations. Open-box appliances are typically up to half-off list price, and you can get refurbished tech products—including smartphones, smart watches and smart speakers—for up to 30% off.
Low-cost cloud storage
Free and cheap cloud storage is widely available, but Google Drive stands out for its 15GB of free storage for users who have a Google account. Drive can serve as a storage shed for your files or for backing up your device—but it's also a workbench, allowing you to edit documents, spreadsheets and other files on the go and share them with others.
If you want more space—say, to store large files or back up your computer's hard drive—Google Drive is still a deal. For example, 1TB of space costs $10 a month. Apple users should consider iCloud Drive. You'll get 5GB of free storage, and a 2TB storage plan costs $10 a month and can be shared with your family.
Disrupter Deal
No-strings streaming
Fees for cable and streaming subscription services can add up. But many public libraries are branching out, partnering with streaming and other digital media services to offer library-card holders free access to tons of movies, TV shows, music and e-books. For example, Kanopy.com (opens in new tab) partners with more than 4,000 libraries and features more than 30,000 films. Its selection focuses on indie flicks and educational titles rather than blockbuster productions, but unlike most other free streaming services, Kanopy doesn't show ads. And Hoopla (opens in new tab) offers patrons of more than 1,500 libraries free access, without ads, to movies, music, audiobooks, e-books and television shows.
Money
Free trades on low-cost funds
Index mutual funds and exchange-traded funds are investors' go-to low-cost investments—and Charles Schwab has a lock on the best deals these days. More than 250 ETFs trade commission-free at Schwab. The list covers all major asset classes and many industry sector funds. All Schwab-brand ETFs make the list, naturally, including Schwab US Dividend Equity (symbol SCHD (opens in new tab)), a member of the Kiplinger ETF 20, the list of our favorite ETFs. Others hail from SPDR, Invesco and WisdomTree.
Schwab also offers 11 of its index mutual funds with no minimum initial investment and no transaction fee, as well as its suite of index-based target-date portfolios. Some of the funds charge annual fees that are as low as Schwab's ETFs. Schwab S&P 500 Index fund (SWPPX), for instance, costs 0.03% per year. That's cheaper than the Admiral share class of the Vanguard 500 Index fund, which requires $10,000 to start an account and charges 0.04% in annual expenses.
Skip the sales tax
Summertime brings sales galore, and if you time your back-to-school purchases right, you may be able to grab them sales-tax-free. Fifteen states have back-to-school sales tax holidays in late July through August this year, with items ranging from computers to backpacks to clothing exempt from state sales tax. Exemptions vary by state, but generally, items of clothing that cost less than $100 qualify. Among states that offer an exemption on computers, the upper limit ranges from $750 to $1,500.
We've compiled a state-by-state look at sales tax breaks. See if your state offers savings.
Sale on consumer staples stocks
Consumer staples stocks are supposed to be bastions of stability, regardless of economic conditions. But over the past year, as Standard & Poor's 500-stock index rose 16.5%, staples stocks within the index surrendered 6.3%.
Like many dividend-paying stocks, staples stocks tend to sag when interest rates rise and bond yields become more attractive. Staples are also getting pressure from online retailers that offer substitutes for longtime brand favorites. And growing consumer preference for cheaper, fresher food has challenged packaged-food producers. Contrarian investors might find the values tempting. These are among the better-positioned companies within the sector:
McCormick & Co. (MKC (opens in new tab), $106, yield 2.0%) claims roughly 20% of global sales of spices and seasonings. Analysts at Credit Suisse say McCormick's ability to raise prices without compromising demand is unparalleled. They rate the stock among the firm's top U.S. investing ideas. Shares of snack giant Mondelez International (MDLZ (opens in new tab), $41, 2.2%) have flagged as grocery customers flock to the fresh-food aisles. Analysts at investment research firm CFRA expect a new CEO to implement aggressive strategies to boost sales; the firm rates the stock a "buy." Pharmacy chain Walgreens Boots Alliance (WBA (opens in new tab), $66, 2.4%) acquired Rite Aid in March, adding 1,932 stores plus more clout to negotiate lower prices for the drugs it buys. A projected $300 million in annual cost savings by 2020 as a result of the merger is achievable, according to CFRA, which recommends the stock. Walgreens is replacing General Electric in the Dow Jones industrial average.
Disrupter deal
Trade stocks commission-free
The 4 million customers of online and mobile brokerage Robinhood don't receive the investment research or portfolio tools offered by more-established brokerages. And no, the brokerage's app doesn't let you steal from the rich to give to the poor. But Robinhood does offer no-commission and no-fee trades for all U.S.-listed stocks and ETFs. There's also a free options trading service and, in some states, cryptocurrency trading. (Robinhood's revenue comes from selling premium subscriptions that allow after-hours trading and margin trades.) There's no minimum to invest. Just sign up, link your bank account and enjoy the savings.
Travel
Hot savings on flights to Hawaii
Footage from Hawaii of molten lava destroying everything in its path might deter you from planning a vacation in the Aloha State. Travel website Travelzoo (opens in new tab) said searches for Hawaii were down 21% in May compared with a year earlier. Add a spate of trip cancellations post-eruption and pressure from Southwest Airlines' recently anounced expansion into the Hawaii market. Result: a slew of airfare bargains this year.
Karen Cooper, a Hawaii specialist with travel agency Connoisseur Travel, has already seen fares for less than $1,000 from the East Coast. Recently, she noticed a round-trip flight from Washington, D.C., to Maui in October for $900. Tracy Stewart, senior editor of travel site Airfarewatchdog.com (opens in new tab), says if you're patient and persistent, you can find flights from the East Coast for less than $400. She recently came across a round-trip flight from Atlanta to Honolulu for $394 on American Airlines, and United and Delta have similarly priced flights. "These fares are unadvertised and seem to reappear every few weeks," Stewart says. Check airlines' sites regularly, and sign up for travel alerts through Airfarewatchdog.
West Coasters can find even better deals, says Scott Keyes, of Scott's Cheap Flights newsletter, who has seen round-trip, nonstop flights from Pacific states for as low as $177.
Get a free hotel room
A number of hotel rewards credit cards throw in a free night's stay for cardholders each year. The catch: All of the cards charge an annual fee, and the room may be at a lower- or mid-tier property. Participants include Starwood Preferred Guest from American Express (annual fee: $95), Marriott Rewards Premier Plus ($95), IHG Rewards Club Premier ($89) and Hyatt Credit Card ($75). The Citi Prestige card carries an annual fee of $450, but cardholders have unlimited use of their "fourth night free" benefit by booking a stay of four consecutive nights at almost any hotel by phone through the Citi Prestige "concierge" or at www.thankyou.com (opens in new tab).
RVs for a dollar a day
Las Vegas may be famous for The Strip, but it's also home to some sweet travel deals—if covering hundreds of miles in an RV is your thing. You can book a three- to five-day relocation RV trip for as little as $1 a day on Imoova.com (opens in new tab), Apollorv.com (opens in new tab) and Jucyusa.com (opens in new tab).
Relocations redistribute RVs to locations with the most demand. Among the most popular routes are Las Vegas to Denver, San Francisco or Los Angeles. You can also start in Los Angeles and head to the Bay Area or Seattle. The deals are usually posted about a month in advance on the websites and may come with other perks, such as an additional travel allowance or gas reimbursement. You're typically allowed three to five travel days, depending on the route, and you will be charged 45 cents per extra mile if you decide to take any detours.
Disrupter deal
TWO-IN-ONE TRIPS
You can visit two destinations for the price of one if the airline you're taking to your final destination allows free "stopovers" at its hub cities. For example, you can arrange a stopover in Lisbon or Porto for up to five nights when flying on TAP Portugal. The deal includes discounts on hotels and other perks, such as a free bottle of wine in partner restaurants. Another possibility is the Azores archipelago in the Atlantic Ocean for up to seven nights when you fly to destinations in Europe on Azores Airlines from Boston; Oakland, Calif.; or Providence, R.I. Or spend a night in Montreal, Toronto or Vancouver when your Air Canada connection exceeds six hours.