9 Smart Ways to Spend $10,000
Jeanette Brown knows how tough it can be for twenty- and thirtysomethings to afford a first home.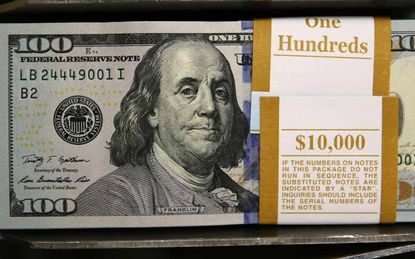 (Image credit: Getty Images)
Jeanette Brown knows how tough it can be for twenty- and thirtysomethings to afford a first home. Brown is a real estate agent in Denver, where home prices have steadily increased over the past several years and the pickings are slim—especially at the entry level. So when each of Brown's adult children wanted to buy a home, she tapped her savings to help. In May, she gave $8,750 to her daughter, Shanon BrownMiller, for a down payment on the $250,000 home that she bought with her wife, Amy BrownMiller. Then in November, she gave $8,900 to her son, Scott, and his wife, Marilyn, for the closing costs on a $318,000 home. "It's really difficult for young buyers to own their own home without assistance from somebody, and as a parent, I was in the best position to help," says Brown. She offered the money without being asked because, she says, her children were ready to make a long-term financial commitment.
Helping first-time home buyers is among the 9 ideas you'll find on the following pages for what to do with a stash of cash. Our suggestions run the gamut from timely investments to tempting splurges, as well as ways to give to a good cause.
1/9
Buy a Ready-Made Portfolio
Assembling a diversified collection of tech stocks is challenging, especially when some industry titans trade for more than $1,000 per share. But the Ready-to-Go Technology portfolio at brokerage Folio Investing gets you actual shares in 30 firms, including Alphabet (GOOGL), Apple (AAPL), and Facebook (FB), as well as Chinese internet firm Baidu (BIDU). Folio's Technology portfolio returned 16.1% annualized over the past five years (through December 8), compared with a 15.7% gain in Standard & Poor's 500-stock index.
A $10,000 investment may not buy a full share of every stock in the portfolio, but Folio pools customers' orders, allowing it to sell you fractional shares. You can also choose from more than 160 other ready-to-go portfolios, or build your own. Folio's Conservative portfolioconsists of 30 large-company stocks with below-average volatility. Among fixed-income offerings, Folio's Corporate Bond portfolio holds four low-cost ETFs that focus on high-quality debt of varying maturities.
For a one-year payment of $290 (or $29 monthly), you can trade any stock, exchange-traded fund or mutual fund, with no transaction fee. Folio executes trades twice a day; to place a market order that will be executed immediately, you pay $3 per trade.
2/9
Go Solar
Installing solar panels on your roof will cut your electric bills. In 2017, you could buy an average-size, 5-kilowatt system for $10,045 to $13,475 after taking the federal solar tax credit. The credit reduces your income taxes dollar for dollar for up to 30% of the cost of a system you install on your primary or secondary home. Some states, local governments and utilities also offer incentives. Plus, your electric utility may pay you for any power that your system makes but you don't use. In general, if your goal is to maximize your savings and increase your home's value, and if you can take full advantage of the tax credit, you'll do best if you buy your system instead of leasing it.
Use the Solar Calculator at EnergySage.com, an online marketplace where you can also get quotes from prescreened installers in 35 states and the District of Columbia.
3/9
Pay Their Down Payment
That can pave the way to a home purchase if your child has enough income to qualify for the mortgage but not much in savings. Mortgages backed by Freddie Mac or Fannie Mae require a minimum down payment of 3% of the purchase price, or $10,000 down on a $333,333 home. An FHA loan requires a minimum of 3.5% down, or $10,000 on a $285,700 home. Lenders will require that you write a letter stating that the money you give is a gift, not a loan. To document the source of the gift, they'll ask you for two months of statements for the account from which you withdraw the funds, and they'll ask you to document the source of any deposits during that time.
4/9
Collect a Classic Car
Sleek Camaros and Mustangs from the '60s may be out of your budget, but "there are plenty of cool older cars that can be had for around $10,000," says Brian Moody, executive editor at Autotrader.com. Up-and-coming models that are likely to increase in value, he says, include mid 1970s to mid 1980s Chevrolet and GMC pickups, 1960s-era Buicks or Oldsmobiles, or Japanese vehicles from the 1970s and 1980s. For example, a 1965 Buick Skylark, with a rebuilt engine and original radio, was recently listed onAutoTrader Classics for $7,495. A 1979 Datsun 280ZX, with an original engine and accident-free record, listed for $9,495.
5/9
Wow Them With a Wine Collection
Start with a place to store your wine, where your collection can be refrigerated at 55 degrees or so. Custom-built wine cellars cost about $25,000, but you can buy some high-end wine refrigerators, from brands such as EuroCave and SubZero, that hold 150 to a few hundred bottles for as little as $8,000. Then focus on the fun stuff. If your collection is for drinking, make half of it everyday wine, about one-third of it Saturday-night wine and the rest special-occasion wine, says Al Spoler, co-host of Cellar Notes on WYPR in Baltimore. Everyday wines are so good now it's hard to go wrong, he says, especially at his price point of about $20 a bottle. For Saturday, Spoler suggests $25 to $40 wines, such as Penfold's Bin 28 Shiraz and Calera Mt. Harlan Chardonnay. For special occasions, he recommends $60 to $80 bottles, such as Fattoria dei Barbi Brunello, Louis Latour Montrachet white burgundy and, for dessert, Chateau Rieussec Sauternes.
6/9
Install a Storm Shelter
If you live in an area prone to tornadoes or hurricanes, a storm shelter can protect your family (and your prized possessions) from the elements. With more than 77 square feet of space, the Fortress Safe Room from Tornado Alley Armor ($7,295), for example, is approved by the National Storm Shelter Association for meeting International Code Council standards and Federal Emergency Management Agency guidelines (see this list of compliant manufacturers. For an additional $1,200, you'll get custom professional installation if you'd like to fit the room into, say, the basement or a closet; basic installation ($800) is for more easily acces­sible places, such as a garage or workshop. Space, ventilation and flooding specifications differ between tornado and hurricane shelters (some shelters are designed for both types of storms), says Ernst Kiesling, executive director of the NSSA. See whether your state offers a rebate program for installing a residential safe room, and check whether you need a permit from your locality.
7/9
See the Finals at Wimbledon or Catch the Winter Olympics
Grand Slam Tennis Tours offers a three-night stay at the swanky Hari Hotel London and centre court tickets to the men's and women's final matches at the intimate All England Club. Extras include the use of Hospitality House, a short walk from the club, where you'll eat brunch, sip afternoon tea and enjoy evening drinks after the matches. The cost is per person, and flights to London are not included. Rather spend $10,000 for two? Watch the tournament's early-round matches instead, and both of you can enjoy all of the aforementioned boons.
Catch the 2018 Winter Olympics. Even on short notice, you can go to the games in South Korea, including the flight to Seoul, for less than $10,000—especially if you're not picky about which events you attend and where you sit. For example, tickets to the men's 50-kilometer mass-start classic cross-country ski race recently cost as little as $23 apiece through CoSport, the authorized Olympic ticket reseller for the U.S. Expect to pay at least $400 for a ticket to a figure skating event. Splurging on a hospitality package for the men's hockey gold medal game, which includes exclusive seating and hours of lounge access, recently cost $3,096 per person.
Staying in or near Gangneung, where the speed skating oval, ice arena and more are located, costs an average of $231 a night between February 8 and 26, according to Expedia. You can find round-trip flights from major U.S. cities to Seoul for less than a grand.
Or make things easy for yourself by booking a hotel-and-ticket package through CoSport. One recent bundle ($4,990 each for two people sharing a double room, or $7,870 for one person) covered four nights at the four-star Ramada Gangwon Sokcho hotel, daily breakfast and four tickets to events of your choice.
8/9
Get More Than a Tote Bag
Pick the right organization and make a $10,000 donation and you can enjoy some great perks. The Whitney Museumin New York City gives art enthusiasts a chance to rub elbows with the avant-garde. You can take advantage of talks, tours and studio visits with artists. At the Perez Art Museum Miami, you can get an invitation to a private artist dinner and opportunities to travel to view private collections around the world. Many college sports teams also have special benefits for those who give 10 grand. For example, a donation to the Florida State basketball program comes with two courtside season tickets and a road trip for two with the team to an away game.
9/9
Run for Office
Bump up your campaign coffers and your options expand. You could contend for a seat in a small state's legislature—think Montana or Vermont—or a city council position in a medium-size municipality (population of less than 100,000). To reach more voters, you'll have to spend more money on direct mail, which can account for as much as 70% of campaign expenses.