7 Smart Ways to Spend $100,000
Sitting on a significant stash of cash?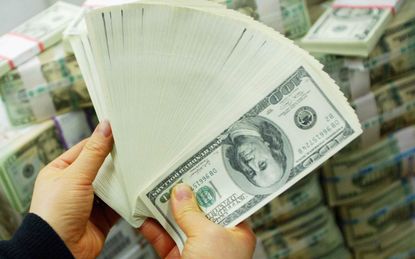 (Image credit: Getty Images)
Sitting on a significant stash of cash? Maybe you've won the lottery, or inherited a small fortune, or sold a home or business for more money than you imagined. We suggest how to invest, spend and splurge with that money, plus ways to give back with it. Take a look.
1/7
Open an IRA, Get a Bonus
Move your IRA or open a new one and get an instant return on your money. If you open an IRA at TD Ameritrade and fund it with $100,000 within 60 days, you'll get a $300 cash bonus (the offer is valid through March). Merrill Edge is giving out a slightly smaller bonus of $250 for a $100,000 IRA funded within 45 days of opening the account; there is no expiration date on the offer.
2/7
Retire Early
Perhaps you have more in your retirement accounts than you counted on after the nearly nine-year bull market, or maybe you received an unexpected windfall when a relative passed away. An extra $100,000 may be enough to let you retire a year earlier than you originally planned without jeopardizing your retirement security. Estimate how much you'll need for living expenses, such as food and utilities, and put enough money to cover those costs for a year in a savings account. That will allow you to postpone claiming Social Security benefits. You can file for benefits as early as age 62, but your payments will be reduced if you claim them before full retirement age, which is 66 for people born between 1943 and 1954.
Keep in mind that if you retire before age 65, you'll need health insurance until you're eligible for Medicare. Under COBRA, you may be able to continue coverage under your employer's health insurance plan for up to 18 months if you pay the full cost of your coverage.
3/7
Help the Kids Buy a Home
If your child can't qualify for a mortgage on his or her own, you could apply jointly for a mortgage as a "nonoccupant co-borrower" with an interest in the property. With a Fannie- or Freddie-backed mortgage, you and your child must put down at least 20% of the home's purchase price; if you put down less, your child must ante up the first 5% from his or her own funds. But remember, if your child fails to pay the mortgage, property taxes or insurance on time, that could ding your credit history and result in a lien against the property. (If you exceed the gift-tax limit of $15,000 in 2018, you must file a gift-tax return.)
4/7
Buy a Camper Van
If you're looking for adventure with a touch of luxury, $100,000 will get you a Mercedes Sprinter conversion van to serve as your home away from home. At Sportsmobile the oldest van conversion company in the U.S., you can get a 23-foot, high-roof Sprinter with a 6-cylinder diesel engine and all-wheel drive ($54,960).
The van gets 20 to 24 miles per gallon and is nimble enough to run errands around town. The standard plan for conversion costs about $46,000 and includes utility hookups for electricity and wastewater, a dinette that transforms into a queen-size bed or two twins, a bathroom, a galley kitchen and storage cabinets. You can select a layout that works best for you.
5/7
Buy an Off-the-Grid Cabin
You may not feel the need to prepare for a terrorist attack or socioeconomic collapse, but owning a retreat that's off the beaten track—without electrical or cell-phone service or even plumbing—could serve either as a safe retreat during a natural disaster or as a rustic vacation getaway. In Montana's Flathead Valley, you may find a small cabin on about an acre for $100,000, says Nikki Frizzell, an agent with Glacier Sotheby's International Realty, in Bigfork.
6/7
Charter a Yacht
Forget packing your family onto a cruise with hundreds of other passengers. Instead, round up a group of friends or relatives (and share the cost) for a week aboard your own private yacht. You could book a boat that sleeps eight to 10 guests from Nicholson Yacht Charters & Services for a weeklong roam around Antigua for $65,000 to $70,000, including crew. My Zehava (from about $82,000), from Fraser, a yacht brokerage, sleeps 10 and focuses on the western Mediterranean.
7/7
Run for Public Office
According to campaign finance data from the National Institute on Money in State Politics, 100 grand could pay for a city council bid in a large city. Besides voter files and mailers, you'll have to buy digital and radio ads. If you attract enough contributions, you may be able to hire a pro to help for the campaign's final push. An experienced campaign manager can cost as much as $20,000 a month.