13 Smart Ways to Spend $1,000 or More
We offer up several ways to get the most bang for your buck whether investing in yourself or others.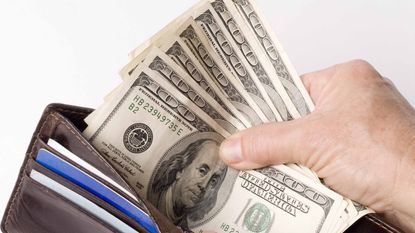 (Image credit: Getty Images)
Got a little extra cash sitting in your bank account? Consider some timely ideas for putting it to good use. On our list: financial gifts for family, contributions to charity, sprucing up your home and buying a new bike.
Got even more cash on hand? We offer up four additional suggestions for how to spend between $3,000 and $10,000 — from upgrading to an e-bike to taking a luxury RV vacation.
Take a look.
1/15
$1,000: Fund a 529 College Savings Account
Over the course of a few years, the cost of higher education typically tops six figures. Funding a 529 college-savings account is a smart strategy to set aside money for your child's future college expenses. Your contributions grow tax-free, and withdrawals are not taxed if you use them for qualified college expenses, including tuition, room and board, books, and computers. In most states, you can also take out up to $10,000 a year tax-free to pay school tuition for kindergarten through 12th grade. If you withdraw from a 529 for nonqualified expenses, you'll owe income tax and a 10% penalty on investment earnings (but not contributions).
Nearly all states sponsor at least one 529 plan. If your state offers a tax deduction or credit to residents who invest in its plan, using your state's 529 may be the best bet. If your state has no tax break or provides a break no matter which state's plan you pick, explore your options from other states, too. You may find a plan with lower fees or more-desirable investment choices. Usually, direct-sold plans come with lower fees than those from brokers. At www.savingforcollege.com, you can find information about your state's plans, compare plans side by side and see listings of the site's top-rated 529s from around the country.
2/15
$1,000: Pay Down Student Loan Debt
Earlier this year, the stim­ulus package Congress passed in response to the coronavirus crisis automatically suspended payments and interest accrual on most federal student loans for about six months, ending on September 30. Then, in August, President Trump issued an executive order that extends the payment-and-interest suspension through the end of 2020. (Note that any further congressional action could override the executive order.)
If your child or grandchild has federal student loans, now may be an especially good time to give him or her cash to put toward loan payments because the full payment will go toward principal during the period that interest is waived. That reduces the overall time line to retire the loan.
Even if the borrower has private student loans, an extra $1,000 can make a dent. If a borrower is two years into repaying a loan with an original five-year term, a $10,000 balance and a 6% interest rate, a one-time, $1,000 payment would decrease total interest paid by about $176 and shorten the time line to repay the loan by six months.
3/15
$1,000: Start a Roth IRA for Your Child or Grandchild
If your kid or grandkid is still in high school, saving for retirement probably isn't on his or her priority list just yet. But stashing money for retirement while you're young pays off. If you sock away $1,000 in a retirement account when you're 16, make no more contributions and get an 8% annual return on your investment, you'll have about $50,650 when you're 67. Making a $100 contribution each month drastically increases total savings by age 67, to nearly $800,000.
To be eligible to con­tribute to a Roth IRA, your child must earn income—from a summer job, for example. You can open a custodial Roth IRA for a child younger than 18 or 21, depending on the state, and put in money on his or her behalf, as long as total contributions to the account don't exceed the amount the child earns. For 2020, the annual IRA contribution limit is $6,000 for those younger than 50.
A nice perk is that although a Roth IRA is designed for retirement savings, you can withdraw contributions (but not investment earnings) anytime without paying taxes or penalties. That could be useful if your child eventually needs cash to cover an emergency expense or make a down payment on a home purchase. After age 59½, withdrawals of both earnings and contributions are free of taxes and penalties.
4/15
$1,000: Help Your Child or Grandchild Furnish a New Home
If your kids or grandkids are taking the plunge into homeownership, they may be prepared for the major up-front expenses, such as funding a down payment and covering closing costs. But once they move in, they'll appreciate help buying other necessities.
If they're moving from a rental to a single-family house, they will probably need some equipment for yard work. At Home Depot, for example, you could recently buy a Honda self-propelled, gas-powered push lawn mower for $409 and a DeWalt trimmer and leaf blower combo set for $299. That leaves a few hundred dollars more for garden tools, a hose, and other odds and ends. Or, for those in colder climates, invest in a snowblower. A Cub Cadet two-stage gas snowblower recently sold for $999 at Home Depot.
For a larger home, they may need new furnishings. Window treatments, lamps and end tables are touches that could fit into a $1,000 budget. Or help pay for paint to freshen up the walls and trim. For those not inclined to do the work themselves, you may be able to hire someone to paint a room or two for less than $1,000.
5/15
$1,000: Donate to Charity
Contribute to your community. Ask your friends, neighbors and coworkers or search online for nonprofit organizations that serve a need close to home. Chances are that nonprofits, like other small businesses, have exhausted the government support provided earlier in the pandemic, so your contribution may, say, help pay workers. (If you donate to a 501(c)(3) nonprofit organization, what you give is tax deductible.) Or consider donating to a local charity that supports children's access to education. With the rise in distance learning, some kids still need laptops and other online educational tools.
Contribute to coronavirus relief. A number of COVID-19 charities are supporting relief efforts. Direct Relief, for instance, offers general relief and aid and provides critical noncash items and protective gear for doctors. Project HOPE's mission is similar. GlobalGiving funds other organizations to provide relief and aid, medical services, assistance for children and relief supplies. For a list of accredited COVID-19 relief charities, visit VanguardCharitable.org's Giving Matters blog.
6/15
$1,000: Become a Patron of the Arts
Museums and galleries are slowly reopening, but most are limiting the number of visitors, which puts a big dent in revenues. Becoming a "member" of such an organization usually comes with perks, such as ticket packages, meet and greets with artists, and cocktail hours (when it's safe to do so again), and it's likely some organizations will add on membership perks to attract more donors.
7/15
$1,000: Spruce Up Your Home
You could use $1,000 and the extra time you're spending at home to do a few small home projects. Kerrie Kelly, chair-elect of the American Society of Interior Designers and creative director of Kerrie Kelly Design Lab in Sacramento, Calif., says these tasks don't require a lot of money but make a big impact.
Glam up a room. Upgrade a living or dining room with decorative molding at the crown or baseboard (roughly $20 for an 8-foot-long piece; a 10-by-12-foot room will need at least six). The catch is you must cut the corners at exactly 45-degree angles with a miter saw. Says Kelly: "If you can't wrap a present beautifully, you probably shouldn't be cutting molding." After it's installed, you'll have to paint it. Stick with a semigloss.
Let there be light. Consider buying a "statement" chandelier for your dining room, says Kelly, that can also serve as artwork of a sort. Pay attention to size: A chandelier should be proportional to the table (use a measuring tape to visually assess how the fixture will fit in the space), and the bottom of it should hang between 30 and 36 inches above the tabletop.
Give the bath some color. Painting your bathroom cabinets, especially if they look dated, can be done inside of a week for less than half the cost of replacing them. White or a light neutral tone in a semigloss or high-gloss finish can make a space look and feel more open. With unpainted wood cabinets, first sand off the burnished finish, which can take time, then paint. "If you see the grain now, you'll see the grain after you paint it," says Kelly. With cabinets that are already painted, first "paint a test spot with primer and a coat of semigloss paint to see how it shakes out," she advises.
Punch up your front door. A gallon of paint—budget roughly $30 to $80—and one afternoon is probably all you need to give your entrance a facelift and improve your home's curb appeal. Consider a high-gloss red, lime green, navy or black, depending on your home's architecture, says Kelly.
8/15
$1,000: Get a New Laptop
If your child is taking classes from the dining room table this fall, or you've discovered your computer can't handle the rigors of your job, you may be in the market for a new laptop. The trouble is, so is everybody else. The uptick in folks working (or schooling) from home has created a spike in demand for laptops, says DealNews senior staff writer Julie Ramhold. Particularly scarce: Chromebooks—basic laptops that run on Google's Chrome operating system and are popular choices for school-age children.
Start by finding a few different models that you're comfortable with, and set up alerts through retailers' websites to notify you when the items come back in stock. Don't limit your search to Amazon and Best Buy; retailers such as B&H Photo Video, Staples and Office Depot may have what you're looking for in stock, Ramhold says.
If you're having trouble finding a new Chromebook for the kids, keep your eye out for refurbished models, says Louis Ramirez, deals editor at tech review site Tom's Guide. Models sold and shipped by Amazon (rather than a third party) are usually reliable and typically come with a 90-day warranty, he says. For a grown-up laptop, Ramirez recommends a machine with a new-generation CPU (such as Intel's 10th Gen processor), a 1080p display and 256 gigabytes of SSD storage. One such model, Dell's XPS 13 Touch laptop, currently goes for $699.99 on the company's site.
9/15
$1,000: Go on a Camping Trip
Americans who want to get away (but aren't hopping on a plane anytime soon) are headed to the great outdoors in droves. For less than $1,000, you can cover most camping essentials for the whole family.
A budget tent that sleeps four costs about $100, says Linda Romero, director of outdoors blog Bearfoot Theory. Tents in higher price ranges tend to be lighter and allow for more ventilation, she says. Outside magazine gear director Will Taylor recommends the Big Agnes Doghouse ($350), which is breezy, easy to set up and sleeps six. Both experts recommended the REI Co-op Groundbreaker 30 sleeping bag ($60 to $70), which will keep you warm in temperatures as low as 30 degrees. Sleeping pads, such as the Groundbreaker inflatable models from REI, will run you about $42 apiece and make sleeping on the ground more comfortable, says Romero. Or, if you're looking for something softer, bring an air mattress, which will run you about $100.
You may be looking forward to roasting marshmallows and hot dogs over an open fire, but many camping areas impose restrictions on fires, Romero says. Come prepared with a camping stove—perfect for scrambled eggs and hot coffee in the morning. You can get a Coleman portable propane stove with two gas burners at Walmart for $44.
You likely have other stuff you need around the house. One thing you can probably leave behind: your old flashlight. Instead, try headlamps, such as the REI Black Diamond Astro Headlamp ($15), which keeps your hands free to cook, read and gesticulate while telling ghost stories.
10/15
$1,000: Buy a New Bike
Time was, $1,000 bought you a whole lot of bicycle, and you could find a solid ride for half of that. But that time is not now. It's not so much that bicycles got more expensive—it's that the pandemic caused a run on affordable bikes as both a form of recreation and a substitute for mass transit.
The surge in bicycle shopping has cleaned out many chain stores, and local bi­cycle shops (which is otherwise where we'd urge you to look first) are struggling to meet demand and often have only higher-end models still in stock. Many have waiting lists. Bike manufacturers are pumping out 2021 models but are wary of investing in more production facilities, lest the bicycle mania turn out to be a fad.
But while spending four figures on a bicycle might give many folks pause, rest assured that the value equation still holds: $1,000 worth of bicycle will get you a quality frame, good components, and an effective warranty (which is not the case with a typical big-box store purchase).
So, what bike? Exactly $1,000 would put you on the Cannondale Quick 2 from REI, which offers a nice compromise of a flat, mountain-bike style handlebar for upright comfort with skinny (but not too skinny) tires for speed and city agility. But it sold out as we were researching, which gives you a sense of the scarcity out there. For a bit more ($1,189), you can still get on the Co-Op Cycles ADV 3.1. It's billed as a "gravel bicycle," which is the bike world's latest effort to niche market, but really it will take you everywhere from city streets to, yes, back roads.
Even online vendors like BikesDirect are largely cleaned out, but they're promising they'll soon be shipping new inventory. If you're willing to play that game, check out the 2021 SRAM APEX 1X11 ($1,100—for now!). Those numbers on the end of the model indicate the gearing: one chainring in front, 11 gears out back. If you'd gotten used to bicycles having 24 or 27 gears, don't be misled into thinking this is worse. You'll still have a wide range of gears to get you up steep hills. It also has a carbon fiber frame and hydraulic disc brakes.
11/15
$1,000: Invest in a New Set of Tires for Your Vehicle
Putting on a new set of tires before the old set is worn out is a smart way to spend $1,000. And now, before winter's precipitation falls, is a good time to make sure you drive on the road and not into the ditch.
You may have heard of the test that involves putting a penny in between the tire treads. If the very top of Abe's head is visible, time for new tires. Safer to use a quarter. If you can see the top of George's pate, you have 4/32 of an inch of tread left, giving you time to shop and get a good price.
For a few recommendations, we turned to online vendor The Tire Rack. Here are three, matched to vehicle type. (We haven't included prices, because they depend on size. But as an example of the high end, a set of Michelin CrossClimate SUVs for a 2020 GMC Terrain AWD Denali, listed below, would run about $825, and installation costs about $40 per wheel.)
Cars and small crossovers. Bridgestone Turanza Quiet­Track. "A surprisingly ca­pable year-round option," says T.J. Campbell, Tire Rack's tire information and testing manager. "It has been a favorite with our testers and consumers alike."
Larger crossovers and SUVs. Tire Rack recommends the Michelin CrossClimate SUV. This tire sports a little symbol called the three-peak mountain snowflake brand. It indicates a tire that has enhanced snow traction, making this a "solid choice for almost any climate," says Campbell. If you noticed the almost qualifying his sentence, that's because the Tire Rack recommends, as we do, that people who live in (or drive to) places with lots of snow and ice buy a separate set of dedicated winter tires.
Light trucks. Continental TerrainContact H/T. In Tire Rack's recent test of highway all-season tires (that means not knobby off-road rubber), the TerrainContact H/T was the runaway favorite, says Campbell. "It's controlled and comfortable on the road, and the wet traction led our test by a significant margin."
12/15
$3,000: Upgrade to an E-Bike
The COVID-based impulses that have driven bicycle sales have also boosted e-bike sales. These devices, which sport a battery-and-motor combination powerful enough to flatten small hills but weak enough to ensure they're classified as bicycles rather than motorcycles, have huge appeal to people who'd like to get places with a bit less sweat.
Like bicycles, they're scarce (you will wait for your order). Unlike bicycles, $1,000 doesn't get you much. We'd recommend prioritizing quality rather than features, as the bottom end of the market has plenty of sketchy products that look as if the builder wired the batteries from an exploding hoverboard to a 50-pound beach cruiser bike.
Buying from a well-established bicycle brand (think Specialized, Giant, Cannondale) is one way to ensure quality and get warranty support, but there are also some e-bike specialists worth considering. The Pedego Boomerang Plus has a frame that you can literally step through—no crossbar to swing a leg over ($2,995–$3,695), along with a five-year warranty. Rad Power Bikes' cheapest model, the RadMission 1, lists at our $1,000 threshold and includes 500 watts of power on a conventional bicycle frame (with disc brakes to control the whoa). But you'll need to get on a waiting list, with no shipping date specified.
13/15
$5,000: Start a Donor-Advised Fund
A great way to support charities you care about is to contribute to a donor-advised fund. These funds allow you to invest money for tax-free growth and then make grants to virtually any IRS-qualified public charity later, and you are generally eligible to take an immediate tax deduction. You can contribute cash, securities or appreciated assets. Plus, you can do so with the help of an adviser. The minimum contribution to seed a Fidelity Charitable or Schwab Charitable donor-advised fund is $5,000. Some community foundations that offer donor-advised funds have lower minimums.
14/15
$10,000: Contribute to a Mortgage Down Payment
With mortgage rates hovering at historic lows, now is an opportune time to buy a home for those who can swing the financing. If your child or grandchild has a strong enough income to qualify for a mortgage but is low on savings, consider kicking in all or a portion of the down payment. With a conventional mortgage backed by Fannie Mae or Freddie Mac, qualifying borrowers may put down as little as 3% of the purchase price. With $10,000, you could fund the full down payment for a home selling for as much as about $333,300. For those with a credit score of at least 580, Federal Housing Administration loans allow a down payment as low as 3.5% of the purchase price; $10,000 would cover the full down payment with a sale price of up to about $285,700.
Keep in mind that you'll usually need a down payment of at least 20% of the purchase price to avoid private mortgage insurance on a conventional loan. If the borrower already has some savings, a $10,000 contribution from you could push the down payment to the 20% threshold. PMI may cost about 0.5% to 2% of the loan amount per year. After the borrower pays off enough of the loan to gain 20% equity in the home, PMI is no longer required.
You'll have to write the mortgage lender a letter stating that the money is a gift and that you expect no repayment from the borrower. The lender will also want to confirm the gift's source, so you may have to provide a couple of recent statements for the bank account from which you withdraw the funds and document the source of any deposits during that period.
15/15
$10,000: Splurge on a Luxury RV Vacation
Many Americans taking to the road to explore the outdoors have been choosing RVs. Experts anticipate that 2021 will break all records for RV travel. "It's suddenly not just a funny little niche in the travel world," says Dan Wulfman, founder and president of Tracks and Trails, an RV vacation planning company.
There's a limited supply of national park campsites and RV rentals, says Wulfman, so if you decide to use a vacation planning company, it's wise to book a year in advance. A two-week trip to Yellowstone, Grand Teton and Glacier (starting from either Billings or Bozeman) next summer starts at $9,400. Or, starting at $5,200, you can go on a nine-day trip to Banff and Jasper, Canada (starting from Calgary). You can also book trips for the fall of 2021, such as an RV vacation to Yosemite (starting at Las Vegas or San Francisco), ranging from $5,500 to $9,540. Tracks and Trails reserves all of your campsites for you. You will have to book transportation to your starting point.
If you go on your own, you'll still have to plan well in advance because campsites at national parks are filling up fast. The National Park Service allows reservations at most parks starting six months ahead of time.