Get Your Car on the Cheap
Want to spend less on transportation? Step 1 is a car that's used, but not used up.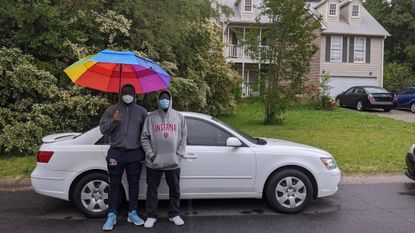 (Image credit: Courtesy Steven Lang)
Enough about new and nearly new cars, some of you have told us. Stop goading people to waste money on fancy sheet metal. This advice is usually followed by a few lines about how you've gotten 10 years and 200,000-plus miles out of your Chrysler Town & Country or Toyota Avalon.
Your thrift is admirable. We'll discuss how people can emulate it to get wheels for less. But first, a bit of defense for those snapping up late-model cars: What might look like the profligate pursuit of flash might instead be putting safety first. Although different models' safety-test results vary (and size still counts), newer is generally safer.
Case in point: We have in the fleet a low-mileage 2007 Toyota Corolla that belonged to my mother. It performs all the basic car functions just fine. But it lacks all sorts of safety features—not just the latest tech, such as automatic emergency braking and blind-spot warning systems, but also antilock brakes and side-curtain airbags. Plus, in actual crash testing it lags way behind the 2019 VW Golf (a used Hertz rental car) I just picked up for the kids to drive.
Subscribe to Kiplinger's Personal Finance
Be a smarter, better informed investor.
Save up to 74%
Sign up for Kiplinger's Free E-Newsletters
Profit and prosper with the best of expert advice on investing, taxes, retirement, personal finance and more - straight to your e-mail.
Profit and prosper with the best of expert advice - straight to your e-mail.
That said, spending less doesn't necessitate putting yourself in a death trap. For one thing, all cars made since 2012 have stability control and ABS as standard equipment. And you can check test results for many years back at the Insurance Institute for Highway Safety.
On Facebook, I'm friends with a guy named Steven Lang, who lives and breathes used cars of this type. He buys and sells them, too. In a recent post, I thought he nailed the go-cheap strategy:
"I think the sweet spot for the non-enthusiast is buying a seven- to 11-year-old car that has been conservatively driven and has an excellent maintenance history. Get it inspected by a qualified mechanic and that's it." Expect to pay less than $7,000 and to keep it for about five to seven years, he adds. "Sell it for $2,000 to $3,500 during tax season, and repeat the cycle."
"Spending $2,000 to $3,500 every five to seven years for your transportation beats the living daylights out of a $30,000 loss over 84 months," he adds (it's depreciation he's talking about). "Or, a $15,000 lease loss every three years."
Pushback. Well, bingo!—with real savings spelled out. A bonus was the social media discussion that followed. Lang writes about cars for a number of outlets, and he counts among his friends fellow commentators and car industry people who largely endorse this strategy.
But he also got some pushback. Safety (discussed above) was an issue. So was reliability and repairs for an older car. Even a well-kept car of that vintage is going to have greater needs.
Ivan Drury is senior manager of insights for Edmunds.com, and while both a practitioner and advocate of the cheap-car approach, he notes it's not for everyone. "It really depends on how risk-averse the buyer is. Are they comfortable buying something that may need future repairs? If they're not, then automatically, it's out of the question."
So, it's important to do your research on two things: the reliability of the model you're considering and the repair and maintenance history of the particular one you might buy. Consumer Reports is, of course, a well-known source for reliability data, but you might also want to take a look at a site Lang built called Dashboard-Light.com, which rates cars based on repair data from wholesale auctions. (The site includes a lot of useful used-car shopping guidance, too.) Dashboard-Light will also reveal that while you could certainly buy a Toyota and call it a day, that's not the only brand worth considering.
Once you've narrowed your choice to one model, checking out the one you're looking at requires a history report (such as one from Carfax); service records; and an inspection by a mechanic you trust. When it comes to the first two, you need to know a bit of what to look for in that documentation. Carfax includes FAQs to help you decode its reports; for service records, you can look up any model's factory maintenance schedule online (to check that the work was done on the example you're considering). Or, have your mechanic help explain the records.
Where to find a car that fits these parameters? We'd suggest looking for a private seller via Craigslist or another online marketplace. This gives you the opportunity to meet the prior owner (well, at least, the most recent) and get a sense of how they treated the car. Prices should be lower than at a used-car lot as well (though if you're buying someone's pampered baby, they may demand a premium).
Edmunds' Drury has an interesting suggestion, too: independent car repair shops that take in a car that a customer can't afford to fix and do a labor-intensive repair (like a replacement headgasket) on their own time. These "mechanic's specials" can be a good value, but demand transparency in records and repair.

Former Senior Online Editor
In his former role as Senior Online Editor, David edited and wrote a wide range of content for Kiplinger.com. With more than 20 years of experience with Kiplinger, David worked on numerous Kiplinger publications, including The Kiplinger Letter and Kiplinger's Personal Finance magazine. He co-hosted Your Money's Worth, Kiplinger's podcast and helped develop the Economic Forecasts feature.