Watch Out for Flood-Damaged Cars from Hurricane Ian
Even if Hurricane Ian passed you by unharmed, pay attention if you're in the market for a vehicle. And be prepared to pay even more.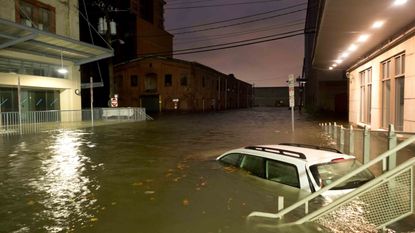 (Image credit: Getty Images)
Among the destruction caused by Hurricane Ian, both across Florida and in areas of the East Coast that suffered its wrath: flooded vehicles. While this is a common outcome of cyclonic storms and their heavy rain and storm surge, Hurricane Ian struck in the middle of an already stressed car market.

You've probably heard about how an ongoing semiconductor shortage has led to a shortage of new cars; that in turn has raised demand (and prices on) used cars.

Just how many vehicles Hurricane Ian damaged will be assessed in the weeks to come, but if past is prologue, take a look at what Category 4 Atlantic Hurricane Ida did in 2021: It caused water damage to 212,000 cars, according to an estimate from CarFax.

Consumers having to replace hundreds of thousands of cars is about the last thing this market needed. But also: what happens to the flooded vehicles? Because water, whether salt or fresh, is so damaging to vehicles, many are written off as total losses, which means their owner (assuming they have comprehensive coverage on the vehicle) gets a check and is on their own to find a new car. But a portion of those flood damaged vehicles will be repaired and put back into service. That's where car shoppers need to pay attention.

"CarFax estimates there are currently about 400,000 vehicles on the road with prior flood damage," said Emilie Voss, public relations director for CarFax. "That's up 6% from 2021 and those numbers are before Ian."
Experts warn consumers shopping for used cars to be wary of the possibility of storm-damaged vehicles making their way into this tight market in 2023.
Subscribe to Kiplinger's Personal Finance
Be a smarter, better informed investor.
Save up to 74%
Sign up for Kiplinger's Free E-Newsletters
Profit and prosper with the best of expert advice on investing, taxes, retirement, personal finance and more - straight to your e-mail.
Profit and prosper with the best of expert advice - straight to your e-mail.
Hiding Flood Damage Is Against the Law
When cars are flooded, bodies can rust prematurely, wiring can become brittle, and both electrical and mechanical systems can be affected – pricey computer modules mounted under the seats are a frequent victim.
Cars that are declared to be total losses are usually retitled with their state's department of motor vehicles, and the new titles will disclose that the vehicles have been flood-damaged. In many cases, those cars will be sold to companies that dismantle them and resell usable parts. But sometimes people try to sell these cars without revealing the flood damage, which could create big risks for the buyers.
CarFax and the National Insurance Crime Bureau warn potential buyers to expect people with storm-damaged cars who don't have comprehensive coverage insurance that covers flooding to try to clean up damaged cars and sell them to unsuspecting buyers.
"Many times, con men move these vehicles damaged in hurricanes from states like Florida and Texas, to states where flood damaged vehicles may not be top of mind, like Ohio and Connecticut," said CarFax's Voss. "Texas and Florida have the most flood cars on the road but we saw the biggest increases in New York and New Jersey last year, likely tied to Ida.
How to Avoid Buying a Flood-Damaged Car
If you're buying a used car—especially one a few months after a major flooding event—be sure to take a close look. Your own eyes (and nose!) can help. Signs experts say you should look for include water stains, mildew and sand or salt inside vehicles, under the carpets and in luggage and engine compartments. You may need to open access panels to see areas where water would have accumulated. Of course, a mechanic's inspection is always a good idea when buying a car, and if you suspect unreported flood damage, ask them to look for that as well as part of their process.
But documentation is important, too. Experts also advise using a service, such as CarFax, AutoCheck's free VIN (or license plate) search tool and the National Insurance Crime Bureau's free VINCheck to check vehicles' histories for red flags. CarFax's free Flood Check reports whether a car has a flood or salvage title from the state DMV, was declared a total loss by the insurance company, or was reported as flooded by repair shops. And Experian's AutoCheck's free flood risk check will show if the vehicle has been titled/registered 12 months prior in a county that has been identified as requiring public and individual assistance (FEMA categories A and B) for a FEMA-declared major disaster.
These services aren't foolproof. Flooded vehicles won't show up in the databases if they weren't fully insured, or if repairs were done without a claim being filed. Also, sometimes crooks take the autos to different states, switch the VINs and retitle the cars, so the damage won't show up in a search, in a process called title washing.
Most of the time it's against the law to pass off a flood-damaged vehicle to an unsuspecting buyer. "Regulations vary by state, but in general vehicles 'totaled out' by insurers because they have received a certain amount of damage are issued a salvage vehicle certificate, or salvage title," said Tully Lehman, public affairs manager for the National Insurance Crime Bureau. "Some states take an additional step and add a title brand to the title for the reason why it was damaged. In other words, if damaged in flooding that would be marked as such in some states."
But private sales aren't as regulated, according to Lehman. "A private seller is not supposed to lie. If purchasing a vehicle from a private seller, get everything in writing as you may have some recourse should anything turn out to be false," said Lehman.
When purchasing a used car, you should always check the VIN to be sure it matches what you're being told by the seller.
For example, a VIN can provide vehicle history, but also make, model, year, color and engine. So alarm bells should sound if you're told the car you're buying is a blue 2006 Honda Accord, but when you look up the VIN it says it's a 2004 or that its color is black.
"It could be an honest mistake by the seller, or perhaps not," Lehman said. "In this case, best to walk away."
Senior Retirement Editor, Kiplinger.com
Elaine Silvestrini has had an extensive career as a newspaper and online journalist, primarily covering legal issues at the Tampa Tribune and the Asbury Park Press in New Jersey. In more recent years, she's written for several marketing, legal and financial websites, including Annuity.org and LegalExaminer.com, and the newsletters Auto Insurance Report and Property Insurance Report.