How to Borrow Money at Today's Low Rates
Rates on everything from home mortgages to car loans are at record lows. We'll tell you how to qualify for the best rates.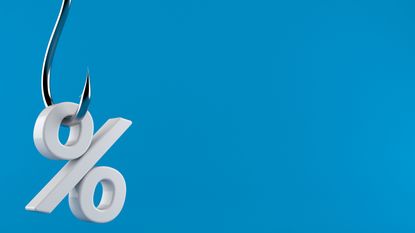 (Image credit: Getty Images)
If you want to buy a house, refinance your mortgage or buy a car, record-low interest rates may have you convinced that the world of borrowing is your oyster. But this oyster is increasingly difficult to crack.
The average interest rate for a 30-year fixed-rate mortgage, for example, has hovered around 3% for weeks, an astonishing development for anyone who remembers double-digit rates from the '80s and early '90s. Not surprisingly, many people are eager to take advantage of low rates to buy a home or refinance an existing mortgage.
But even if you have a secure job, taking advantage of these bargain rates may prove more difficult than you anticipated. The sharp economic downturn and continued uncertainty induced by the coronavirus pandemic has made lenders extremely cautious, says Matthew Speakman, economist at the real estate firm Zillow. "Borrowers are being scrutinized right up until the deal is closed," he says. In addition, high demand for loans means lenders can afford to be particular, says Speakman. "Even with these tight lending standards, there are enough interested buyers to maintain activity in the housing market," he says.
Subscribe to Kiplinger's Personal Finance
Be a smarter, better informed investor.
Save up to 74%
Sign up for Kiplinger's Free E-Newsletters
Profit and prosper with the best of expert advice on investing, taxes, retirement, personal finance and more - straight to your e-mail.
Profit and prosper with the best of expert advice - straight to your e-mail.
That doesn't mean you should abandon your pursuit of your dream house. Similarly, refinancing a mortgage could save you some serious money if your current rate is at least one percentage point higher than the new rate—or in some cases, even less. But prepare to demonstrate that you're a good credit risk. With the outlook for the economy cloudy at best, lenders want assurance that you have the long-term wherewithal to repay the loan. Plan to provide plenty of documentation, particularly if you're self-employed. And make sure your credit record is in good shape well before you start applying for a loan (see Give Your Credit a Boost).
Home inventory is low, so if you're house hunting, keep in mind that you may be competing against numerous other buyers. To improve your chances, "make your offer as clean as possible," says Glenn Brunker, a mortgage executive with Ally Bank. Make sure you're preapproved before you make an offer. If you can afford it, a sizable down payment will help too, he says. If a seller has an offer from a buyer who wants to put 5% down and one from a buyer who can put 25% down, the seller will choose the latter "because it appears to be from a stronger buyer," he says.
Time for a new car? The average interest rate for a 60-month new-car loan is 4.25%, according to Bankrate.com, but plenty of dealers are offering rates as low as 0.9%, or even 0%, on select models. Again, you usually need excellent credit to qualify, but standards vary among dealers, says Ivan Drury, senior manager, insights, for Edmunds.com, a consumer website.
It's usually a good idea to check with your bank or credit union first to see what kind of car loan rates it offers. But in this economic environment, car dealers are eager to move inventory and may offer a better deal on financing, Drury says.
Credit cards are harder to get. Even if you have no plans to buy a home or a car, you may be interested in applying for a new credit card. But here, too, credit standards have tightened. The number of new cards that customers opened fell by 65% between mid April and mid May compared with the same period a year earlier, and the average credit limit dropped by 35%, according to CompareCards.com. "I don't expect it to get easier to get a card anytime soon," says Matt Schulz, chief industry analyst for CompareCards. You'll likely need a credit score of at least 700—and in some cases 720 to 740—and a steady income to qualify.
Rates on credit cards have fallen along with other consumer rates, but the average rate sits at a hefty 15.78%, according to the Federal Reserve. And 0% balance transfer offers, which provide a way to manage high-interest debt, are much harder to find, says Ted Rossman, industry analyst for CreditCards.com. American Express, for example, has done away with all balance transfer offers for the time being. To get the Chase Slate card, which has a 0% rate for 15 months (then 14.99% to 23.75%) and no transfer fee on balance transfers made within 60 days of opening the account, you currently can't apply online—you have to go to a Chase branch.
Still, if you have strong credit, you may be able to snag a 0% introductory offer on purchases or balance transfers. The no-interest window for the U.S. Bank Visa Platinum card stretches for 20 months (after that you'll pay 13.99% to 23.99% on unpaid balances), and the balance transfer fee is 3% of the transfer amount.
To boost the odds of having your card application approved, consider applying for one from a financial institution with which you already have a bank account, credit card, mortgage or other relationship—you may have a better shot if you've shown that you're a good customer. You may have luck with a local bank or credit union, too.

Senior Editor, Kiplinger's Personal Finance
Block joined Kiplinger in June 2012 from USA Today, where she was a reporter and personal finance columnist for more than 15 years. Prior to that, she worked for the Akron Beacon-Journal and Dow Jones Newswires. In 1993, she was a Knight-Bagehot fellow in economics and business journalism at the Columbia University Graduate School of Journalism. She has a BA in communications from Bethany College in Bethany, W.Va.