10 Worst Things to Buy at a Yard Sale
You can find everything but the kitchen sink at a yard sale.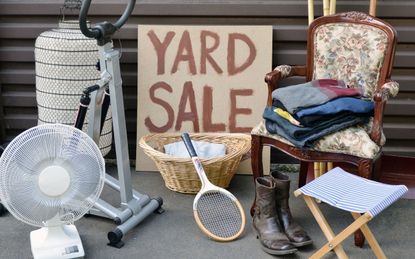 (Image credit: Getty Images)
You can find everything but the kitchen sink at a yard sale. Heck, you might even find a kitchen sink for sale. And prices are usually rock-bottom. Affordability is a key appeal of yard sales, after all, along with the opportunity to unearth hidden treasures. That's why yard sale pros always do two things: Arrive early and haggle often.
No matter what you find, it's important to remember that some items aren't worth buying at any price. Certain things for sale at yard sales should be avoided for safety reasons, while others are simply unsanitary to buy used. Still other items might not last long -- or work at all -- by the time you get them home.
So if you're planning to hit up a couple of yard sales this weekend, read on before you do. We talked with several consumer experts to compile a list of the worst items to buy at a yard sale. Here's what they recommend avoiding and why.
1/10
Electronics
If you're looking for the latest electronics -- LED televisions, wireless surround-sound systems or Blu-ray disc players -- a yard sale won't be the place you'll find them. What you'll likely turn up at yard sales are outdated electronics that owners no longer want, such as discontinued plasma-screen TVs, says Jen Smith, a personal finance expert for ThePennyHoarder.com. In addition to being dated, "the laptops, televisions and digital cameras you'll come across will likely run slow and have very little storage compared to a brand-new version," she notes.
Also, keep in mind that yard sales are held outside, so there probably won't be a way for you to plug in that stereo system that's up for grabs to see if it still works properly. As such, you run the risk of buying an item that may not even function once you get it home.
2/10
Child Car Seats
Many new parents underestimate the thousands of dollars they'll need to spend on baby gear including car seats, according to a NerdWallet study. Even with the hefty price tags, these are products that you shouldn't skimp on and buy at a yard sale due to safety concerns.
There's no guarantee that any baby product you find at a yard sale, from car seats and cribs to high chairs and strollers, will meet current safety standards set by the Consumer Product Safety Commission. This is true even if the item doesn't look very old. "Car seats have an expiration date that many people don't pay attention to," says Chris Heiska, owner of the YardSaleQueen.com, a consumer advice website for all things related to yard sales. If you do choose to buy a car seat (or other similar baby product such as a bassinet) at a yard sale, at least be sure to call the manufacturer's toll-free number when you get home to find out if there were any recalls, she advises.
Another caution: There's no way to tell if a car seat has been previously involved in an accident -- and that's a risk not worth taking with your little one.
3/10
Pet Carriers
People hosting yard sales are usually trying to get rid of unwanted items that have been taking up space in their homes for years. In addition to yard sale staples, such as clothes and kids' toys, you may even stumble across a few pet-related items, such as indoor pet cages and pet carriers.
These are items you want to steer clear of, because they could potentially harbor bacteria that cause disease in cats and dogs, warns Lisa Lee Freeman, a consumer expert and co-host of the Hot Shopping Tips podcast. Also, older pet cages and pet carriers may have been constructed from materials that are now considered unsafe for animals, she adds.
4/10
Vacuum Cleaners
A new vacuum can be expensive. Prices on Dyson cordless stick and upright models run into the hundreds of dollars. So it may be very tempting to take home a used vacuum that costs a fraction of retail. But the savings you'll get on a secondhand vacuum cleaner at a yard sale won't amount to much if the vacuum stops working soon after you get it home. "Most people don't sell perfectly well-running vacuum cleaners," YardSaleQueen.com's Heiska notes.
If the seller allows it and the vacuum is charged or plugged in, you can at least check to be sure it turns on and off. But even if it operates, when it comes time to actually clean your rug or floor, you may discover it doesn't work very well, she adds.
5/10
Mattresses
If the thought of buying a used mattress at a yard sale grosses you out, it should. Top of the list: You could be transporting bed bugs into your home -- and once you do getting rid of them isn't as simple as throwing out the mattress, ThePennyHoarder.com's Smith warns. "You'll have to hire an exterminator, deep clean your entire house multiple times and possibly have to get rid of some of your favorite things depending on how bad the infestation is," she says.
No matter what the seller tells you, you'll never know how clean the mattress really is (or isn't). Dead skin cells, dust mites, body oils and other bodily fluids can seep into the mattress and accelerate deterioration, which can go undetected by a surface-level inspection, according to mattress maker Serta.
6/10
Computer Printers
Just like televisions and digital cameras, the computer printers you'll find at yard sales will likely be several years old. They won't come with the latest technology, such as wireless capabilities, or print as fast as current models, says YardSaleQueen.com's Heiska.
There's also the hassle of trying to get an older model printer to work with newer computer software. Plus, you may end up with a printer that has an old, dried-up ink cartridge still in it that you'll need to clean out and replace, she adds.
7/10
Athletic Footwear
Yard sales are known for having all manner of secondhand clothing that'll allow you to dress from head to toe on the cheap. But when it comes to shoes, ThePennyHoarder.com's Smith recommends steering clear of athletic footwear, such as running shoes and basketball sneakers.
For starters, there's the natural yuck factor. You have no idea if the shoes were worn without socks, which could potentially expose you to a fungal infection such as athlete's foot. Also, after extended use the stability and traction of athletic shoes begin to wear down, Smith notes, which can make them unsafe to wear while playing sports.
8/10
Vintage Toy Chests
The charming and seemingly innocuous vintage toy chests you'll sometimes spy at yard sales come with hidden dangers to children, warns Heiska. Case in point: A toy chest can cause serious injury if the lid slams down on a child's fingers, she says. They've also been linked to several deaths over the years as the result of a child getting stuck inside and suffocating due to the latch locking on its own. Additionally, many older cedar toy chests don't have hinges on the lid to prevent them from closing suddenly and strangling a child who may be looking inside one.
However, if you still insist on buying one because you love how it looks, the Consumer Product Safety Commission strongly recommends removing the latch lock so the toy chest can't automatically lock itself.
9/10
Kids' Clothing With Drawstrings
A yard sale can be a good place to stock up on secondhand clothing for the entire family. However, if you see children's tops or outwear that have hood or neck drawstrings, you should leave them behind, YardSaleQueen.com's Heiska recommends. That's because the Consumer Product Safety Commission has deemed any children's clothing with hood or neck strings in sizes 2T to 12 a strangulation hazard.
While many of the children's clothing manufacturers in the U.S. have stopped making these types of garments, you'll still see some older items pop up at yard sales, Heiska says.
10/10
Jigsaw Puzzles
Jigsaw puzzles can be fun gifts, especially for kids. Or, a puzzle can be used as a budget-friendly way to decorate your home -- for example, displaying a completed puzzle that's been sealed on your coffee table.
However, buying a jigsaw puzzle at a yard sale can backfire if you end up with one that's missing pieces, Smith of ThePennyHoarder.com notes. Unless the puzzle box is unopened, or you come across a puzzle that's already assembled, there's no convenient way to know for sure.

Browne Taylor joined Kiplinger in 2011 and was a channel editor for Kiplinger.com covering living and family finance topics. She previously worked at the Washington Post as a Web producer in the Style section and prior to that covered the Jobs, Cars and Real Estate sections. She earned a BA in journalism from Howard University in Washington, D.C. She is Director of Member Services, at the National Association of Home Builders.