13 Luxury Goods That Are Cheaper at Costco
You could be missing out on huge savings: Costco sells a limited selection of luxury goods at discounted prices, both in-store and online.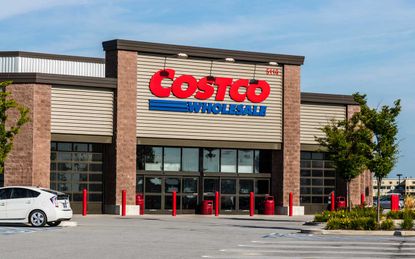 (Image credit: Getty Images)
When you think about shopping at Costco, bulk groceries and household supplies typically come to mind. You don't necessarily think about making a run to the warehouse club if you're looking to buy a designer watch or you need to re-up your stash of high-end skin cream. You could be missing out on huge savings: Costco sells a limited selection of luxury goods at discounted prices, both in-store and online.
We scoured the luxury goods available to members on Costco.com, then compared the warehouse club's price on selected items against the manufacturer's suggested retail price, as well as the price being offered at competitor retailers. Take a look at our surprising list of high-end items that are cheaper at Costco.
1/14
First, a Word About Luxury Goods' Quality and Authenticity
From fake Rolexes to knockoff Manolo Blahniks, counterfeit merchandise has long been the scourge of the luxury-goods market. Costco guarantees the authenticity of all the products it sells, a spokesperson confirmed, including luxury goods. The warehouse club also offers a "100% satisfaction guarantee," though Costco's return policy varies on items such as high-end electronics and diamonds. As with any retailer, it's important to understand the return policy before committing to a major purchase.
As for the quality of Costco's luxury products, the warehouse club isn't an authorized reseller for certain high-end products such as designer handbags and fragrances. Those goods end up on Costco's shelves via the supply chain's "gray market" that's filled with surplus merchandise or items with minor blemishes or subtle quality variations that upscale boutiques don't want. Pay careful attention to the quality and condition of luxury goods you can inspect in-store at Costco, says Trae Bodge, a smart shopping expert at TrueTrae.com. And the manufacturer's warranty may not apply to your product if Costco isn't an authorized reseller.
2/14
Designer Watches
Featured Deal: Salvatore Ferragamo F-80 Chronograph Two-Tone Men's Watch
Costco shoppers can browse designer watches for men and women from high-end brands such as Versace, Gucci and Omega. If shopping in-store, look near the entrance for an enclosed glass case filled with designer timepieces. When shopping online, you can find even more brands and product styles not available at brick-and-mortar locations.
For example, we spotted a silver-and-gold-tone Salvatore Ferragamo F-80 Chronograph Two-Tone Men's Watch selling for $689.99 on Costco.com. That same watch in a silver-and-black tone costs $1,695 at high-end department store Bergdorf Goodman -- an extra $1,005.
Even at Costco's deep discount, you're still paying a lot for your designer watch. Before you hand over your credit card to buy any luxury item, RetailMeNot.com's shopping and trends expert Sara Skirboll recommends checking the product warranty. Is it the original manufacturer's warranty? If not, is the store warranty comparable? Also, does your credit card extend the warranty? Be sure your pricey purchase is protected.
3/14
Cookware Sets
Featured Deal: All-Clad Copper Core 14-Piece Cookware Set
If you prefer cooking at home instead of dining out, buying a quality cookware set can be worth the investment. The warehouse club sells a number of cookware brands at varying price points. But if you're looking for something that can handle the constant wear and tear of your experimental recipe sessions, consider Costco's inventory of high-end cookware.
All-Clad is a top-tier cookware brand you'll typically find in upscale department stores. It was chosen as the best cookware set for 2020 by the New York Times' Wirecutter consumer product review site. (The brand also made our roundup of 13 Expensive Products Worth Every Penny.) Look at Costco for the All-Clad Copper Core 14-Piece Cookware Set, which costs $1,399.99. That's pricey, but still a bargain compared to the $1,999.99 you'll pay buying direct from the manufacturer.
This cookware set doesn't come with a manufacturer's warranty, since the warehouse club isn't an authorized reseller of All-Clad products. However, it is covered by Costco's guarantee. So you can return it at any time to a store location for a full refund if you're not satisfied with the purchase.
4/14
Designer Handbags
Featured Deal: Burberry Medium Leather Belt Bag
Even the well-off can appreciate a good bargain on a designer find, and if you've got an affinity for designer handbags don't overlook the warehouse club. Costco carries a rotating inventory of designer handbags and wallets, from Yves Saint Laurent to Bottega Veneta, on its website that are only available to members. The selection is limited, so if you see something you like you'll need to act fast or risk the item being sold out the next time you visit the site.
We recently found a Burberry Medium Leather Belt Bag (available in only one color) selling for $1,499.99 on Costco.com. If you can already afford to buy from the luxury brand at full retail, then you know the warehouse club's price is a steal. You'll pay $2,290 for the same bag (available in multiple color options) from the manufacturer's website. That's $790 more.
Costco is not an authorized reseller of Burberry handbags, so it doesn't come with the manufacturer's warranty. It is protected under the warehouse club's guarantee. Should you decide to return it, you can only take it to Costco and not an actual Burberry boutique or authorized reseller.
5/14
Noise-Cancelling Headphones
Featured Deal: Bose Noise-Cancelling Wireless Headphones
A quality set of wireless headphones can come in handy in a variety of scenarios. For example, when you need to focus on work and want to drown out distracting noises nearby -- or while at the gym to help you stay amped up by listening to a high-energy playlist. Consider adding Costco to your list of go-to retailers for top-notch electronics accessories. The warehouse club carries products from Beats by Dre, Apple and Bose. Their current inventory includes the Bose Noise-Cancelling Wireless Headphones, which cost $269.99 and were dubbed the most comfortable wireless headphone set in CNet.com's roundup of the best noise-cancelling headphones for 2020. They come with a carrying case, USB cable and a 3.5mm audio cable. You'll spend an extra $30 for the exact same thing if you purchase from Bose.com, where they're priced at $299.95.
Note: Costco often enforces a purchase limit on certain luxury or high-end products that are hot-ticket items, says TrueTrae.com's Bodge. That's the case with the Bose headphones. If you plan to buy them as gifts, say for Father's Day, you'll only be allowed to purchase five. (Non-members can also buy these headphones at Costco.com for an additional 5% surcharge.)
6/14
Sunglasses
Featured Deal: Ray-Ban RB4440NF Blue Demishiny Sunglasses
Ray-Ban sunglasses have been a longtime style staple in Hollywood, having been worn by the likes of Will Smith and Tommy Lee Jones in the blockbuster "Men in Black" films and by Tom Cruise in the cult classic "Risky Business." If you're a Costco member, you can channel your inner film star for much less.
A pair of Ray-Ban RB4440NF Blue Demishiny Sunglasses sells for $94 (shipping and handling included) on Costco.com. You'll pay double that price on Amazon where the same sunglass style starts at $188. (Note: If they're available in-store, these sunglasses may be cheaper at your local Costco location.)
7/14
Skincare Products
Featured Deal: Chanel Sublimage La Creme
The last place you might think to look for luxury skincare products is Costco. However, you're probably spending way too much if you only purchase your must-have products from specialty beauty or department stores. The warehouse club carries beauty-counter staples from top-tier brands including La Mer and SK-II. You can even purchase Chanel luxury skincare products, which you'll often see in the pages of VOGUE and Harper's Bazaar, for a fraction of the retail price.
We spotted a 1.7-ounce bottle of Chanel's Sublimage La Creme face cream selling for $314.99 (shipping and handling included) on Costco.com, although the warehouse club is not an authorized reseller. By comparison, the same size bottle of cream totals $400 on Chanel's e-commerce site. You'll spend an extra $85 buying direct from the manufacturer.
Chanel skincare products aren't sold in bulk quantities at Costco, but you can purchase as many as five individual bottles at one time. Skincare products -- especially those containing SPF -- tend to have a short shelf life. Whether you buy one or five bottles of this face cream, be sure you'll be able to use it all up before it expires. Otherwise, that deep discount ends up being money wasted.
8/14
Designer Fragrances
Featured Deal: Tom Ford Black Orchid Eau de Parfum
With all of the luxury and high-end products available at Costco for cheaper prices, you may not want to set foot into a department store again. You can even buy designer fragrances and colognes at the warehouse club. For example, a 1.7-ounce bottle of Tom Ford Black Orchid Eau de Parfum sells for $74.99 on Costco.com and includes shipping and handling. Meanwhile, you'll pay $128 for the same-size bottle at specialty beauty retailer Sephora. That's about 40% more than at the warehouse club. A 3.4-ounce bottle of Hermès Terre d'Hermès Eau de Toilette is $69.99 on the warehouse club's site, while the same-size bottle costs $124 on Hermes.com -- an extra $54.
You can also find designer fragrance options in-store, but the inventory is limited compared to what you'll find online. Costco may even repackage some of these products since their stores aren't authorized resellers for many of the luxury brands it sells. During a previous visit to a brick-and-mortar location, we found a bin full of designer fragrances that had been repackaged and were labeled with the following disclaimer: "This product has been repackaged under the direction of Costco Wholesale Corporation, which is not related to the manufacturer."
9/14
Home Appliances
Featured Deal: LG WiFi-Enabled Top Load Washer and Electric Dryer Combo
Costco is known for its can't-miss deals on major appliances from top brands. Club members will often find deep discounts on everything from refrigerators to dishwashers, making it hard for budget-conscious shoppers to purchase these items elsewhere.
A noteworthy bargain we came across on Costco.com was the LG 5.5-cubic feet WiFi-enabled top loading washing machine and the matching 7.3-cubic feet WiFi-enabled electric dryer for $1,499.99. That price includes delivery and basic hook-up and the removal of your old washer/dryer in select areas. The set also comes with a two-year manufacturer's warranty. The washer operates using LG's turbowash 3D technology, which uses side-to-side dynamic waves to ensure your clothes receive a thorough cleaning, as well as a water jet spray for a faster rinse cycle. The dryer uses a sensor system that measures the level of moisture with each load and adjusts the drying time accordingly. The WiFi capability that comes with both allows you to start and monitor a cycle remotely -- how fancy!
The manufacturer's suggested retail price for the same washer and dryer is $832.99 each. That's $1,665.98 for the set -- an extra $165.99 compared to Costco's price.
10/14
Air Purifiers
Featured Deal: Dyson Pure Cool Link, Air Purifier and Fan TP02
With allergy season in full swing, you may feel an increased need to make sure the air you're breathing while in your home is free of allergens. While air purifiers are available at a range of price points (as little as $35 on Lowes.com), you can expect to pay top dollar for a quality version with high customer ratings and reviews. That's the case with the Dyson Pure Cool Link, Air Purifier and Fan TP02 model, which is available at Costco for $399.99. The brand's air purifiers frequently appear on best product lists. This version comes with free shipping if you opt to buy it from Costco.com versus in-store.
This is another example of why it's smart to comparison-shop before you buy direct from the manufacturer. You may be able to find the exact same product being sold by another retailer at a discounted price. On Dyson.com, this air purifier sells for $499.99. That's $100 more than at the warehouse club.
11/14
Champagne
Featured Deal: Dom Perignon Champagne and Rose Duet With Riedel Glasses
Costco doesn't offer liquor at all of its brick-and-mortar locations or online in many areas due to state regulations. If you are able to purchase wine and spirits at your local warehouse club or on Costco.com, you'll find a variety of options that beat the rival price points you'll find at a traditional liquor store. In some cases, you might even be able to score deep discounts on top-shelf liquor labels such as Dom Perignon.
We spotted this Dom Perignon Champagne and Rosé Duet, which comes with a pair of Riedel glasses in a gift box for $469.99 on Costco.com (UPS 2-day air shipping is included in the price; California residents only). The champagne is a vintage 2008 Brut, and the Rosé is vintage 2006. The accompanying champagne glasses are Riedel's "Ouverture" style. If you were to buy each of these items separately, you'd pay $189.97 for the Brut and $379.97 for the Rosé from Wine.com, plus $29.90 for the pair of glasses at Riedel.com. That's a grand total of $599.84 -- $130 more than at Costco.
You'll want to be sure this set is something you know you'll use and won't want to return later. That's because alcohol is not eligible for the warehouse club's 100% risk-free customer satisfaction guarantee. So if you buy it and have a change of heart later, you won't be able to get a refund.
12/14
High-End Hair Dryers
Featured Deal: T3 Featherweight 3i Hair Dryer
The warehouse club also carries a limited inventory of high-end hair tools and accessories. This includes T3's Featherweight 3i Hair Dryer, which is available to members only for $74.99 on Costco.com. This brand's line of hair dryers has been lauded in national print and online publications, such as Today.com and ELLE, for giving salon-quality results when going the DIY route with your blow-out styles. Costco's price is a bargain compared to the $250 you'll pay when purchasing from T3's e-commerce site. That's a 70% cost difference.
13/14
Cutlery
Featured Deal: Zwilling J.A. Henckels Pro 5-Piece Starter Set
We've previously reported that some manufacturers -- even upscale ones -- will create products exclusively for warehouse clubs. This makes it harder to comparison-shop for a desired item, because it won't likely be available at another big box retailer. That seems to be the case with this Zwilling J.A. Henckels Pro 5-Piece Starter Cutlery Set, which costs $199.99 on Costco.com. It comes with a six-inch traditional chef's knife, a five-inch serrated utility knife, a four-inch paring knife, kitchen shears and a bamboo cutting board.
We checked the manufacturer's website and couldn't find this set available for purchase or on any other retailer sites. The closest thing we came across was a three-piece set from this brand, which included an eight-inch chef's knife, a five-inch serrated utility knife and a four-inch paring knife, on Macys.com for $249.99. Considering that you get two additional cooking tools for $50 less at Costco, this deal is a no-brainer.
14/14
Smartwatches
Featured Deal: Apple Watch Series 5 GPS
Smartwatches remain a hot-ticket item, and Apple continues to be one of the most in-demand brands. Last year, PCMag.com named the Apple Watch Series 5 one of its editor's picks having received a 4 out of 5-star product rating. The site praised the watch's overall performance, in addition to its fitness tracking and heart monitoring accuracy. For Costco members who've been on the hunt for one, you can score an Apple Watch Series 5 GPS with a sports band for $384.99 on the warehouse club's website.
If you're shopping around -- as a budget-savvy consumer should -- you'll notice that the watch is selling for $399 ($14 more) on Apple.com. You may be able to purchase the smartwatch at an even lower price if it's available in-store at your local Costco store.

Browne Taylor joined Kiplinger in 2011 and was a channel editor for Kiplinger.com covering living and family finance topics. She previously worked at the Washington Post as a Web producer in the Style section and prior to that covered the Jobs, Cars and Real Estate sections. She earned a BA in journalism from Howard University in Washington, D.C. She is Director of Member Services, at the National Association of Home Builders.