9 Great Deals You'll Find Only on Costco.com
Costco is well-known for its rock-bottom prices on bulk volumes of groceries and household items -- a great way to stock up to reduce the frequency of shopping trips that can expose you to the deadly coronavirus.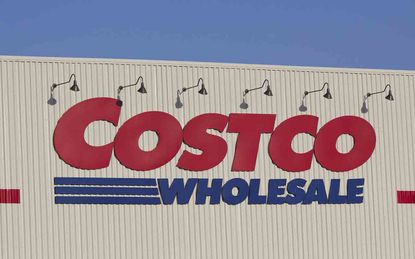 (Image credit: Getty Images)
Costco is well-known for its rock-bottom prices on bulk volumes of groceries and household items -- a great way to stock up to reduce the frequency of shopping trips that can expose you to the deadly coronavirus. And if you want to avoid stores entirely these days, you can shop Costco.com for many of the same items you'd find in-store and have them delivered directly to your home or business.
Even non-members can shop Costco.com. To buy groceries online as a non-member, you'll have to register directly on Instacart.com. You'll pay higher, non-member prices on most groceries, a delivery fee, and a $2 service fee. When buying non-perishable food and household items on Costco.com, non-members will pay a 5% surcharge on goods.
Most items that are available in-store at Costco will cost a few dollars more online -- even for Costco members. That's because Costco.com bakes shipping fees into the price of each item. You're paying for the convenience.
You'll find a larger variety of product options at Costco.com than you will in-store -- including entire categories of goods available only online. After all, even at Costco's massive brick-and-mortar warehouse club locations, space is limited.
We interviewed smart shopping experts to uncover surprising deals across Costco.com. Take a look.
1/9
Costco Grocery Items
The warehouse club has a partnership with online grocery delivery service Instacart.com whereby customers can have food delivered to their home within a selected one-hour window. You can purchase a wide variety of goods, including fresh seafood, organic produce and bakery items.
What makes Costco.com's grocery service especially appealing is the selection of gourmet items, such as caviar and truffle mushrooms, that can't be found in-store.
2/9
Costco Electronics Deals With Extended Warranties
Costco.com is a great destination for low prices on an array of electronics, says Kyle James, founder of Rather-Be-Shopping.com. The site offers member-exclusive sales on everything from Samsung 75-inch UHD 4K LCD TVs to Google Nest Smart Speaker systems. Non-members should keep an eye out for products designated as "member-only items" in the listing, James notes. It's usually located near the product title.
Costco even offers a generous 90-day return policy on select electronics including televisions, computers, smart watches and touchscreen tablets. If you buy a television or computer on Costco.com, the warehouse club's Concierge Services Technical Support will extend the manufacturer's warranty to two years from the date of purchase. Even better, if you use Costco's Anywhere Citibank Visa Card to make the purchase, you'll get an additional two years, which bumps up the coverage to four years total. (Touchscreen tablets don't qualify for additional warranty coverage.)
Note: Many models of electronics items are exclusive to Costco, so you won't be able to compare prices with other big-box retailers to see if the price listed is truly a deal.
3/9
Office Supplies
Costco's online-only Business Center lets small-business owners (and those of us stocking up our home offices as we work remotely) purchase a variety of office-related products -- Post-It notes, notebooks, pens, desk calendars and the like -- in bulk at lower prices, says Kristin McGrath, editor and shopping expert for Offers.com. Many products available on Costco's Business Center site simply aren't available in-store.
We compared prices on items available on Costco's Business Center site, Walmart.com and Staples.com. Here's what we found: A 12-pack of Sharpie Accent Chisel Tip Pocket Highlighter Markers costs $6.69 at Costco's site. At Walmart, that same pack of markers is $7.38 -- an extra 39 cents. One Scotch Magic Tape Dispenser (including 6 rolls of tape) totals $14.99 at Costco. On Staples.com, that same dispenser sells for $19.99.
Warning: Orders under $100 will incur a $10 surcharge. For smaller office-supply orders, your best bet is to take advantage of weekly sales offered by your local big-box retailer, McGrath recommends.
4/9
Costco Photo Center Has Can't Miss Deals
In this digital age when everyone stores personal photos on their mobile devices, actually printing them out may not be on your to-do list. Who has the time, right? You may want to reconsider if you're a Costco member. The warehouse club's website has made it easier to preserve those special moments -- in tangible form -- without having to leave your home, says consumer expert Andrea Woroch. Using Costco.com's Photo Center, you can upload images directly from your computer or mobile device and order high-quality photos, canvas prints or photo books. You can have the photos shipped to your home within five to seven business days. The shipping fee varies based on the type of photo product ordered (see the pricing list here). In-store pick-up and returns are temporarily unavailable due to the coronavirus outbreak.
To use the service, you'll need to register at CostcoPhotoCenter.com. It's free, and your login information is distinct from your Costco.com login credentials. During the registration process, you may also want to sign up for the Photo Center's email newsletter to get access to discount promo codes.
5/9
Costco Furniture Online Exclusives
If you've ever perused the furniture section at your local Costco store, it probably didn't take you long. Depending on the time of year, you may see a sectional set, a small sofa or a patio table with chairs on display -- but not much else. This is largely due to space constraints. What you'll find in-store pales in comparison to what's available online, says Offers.com's McGrath. The warehouse club's online inventory includes lesser-known furniture manufacturers such as Abbyson and big-name brands including La-Z-Boy.
Costco.com runs online-only furniture sales where shoppers can buy everything from bedroom sets to dining tables for hundreds of dollars off, she adds. For example, we spotted an Abbyson Lavello 3-Piece Fabric Furniture Set (includes a lounge chair, sofa and loveseat) on Costco.com for $3,199.99. On the Abbyson website, you can purchase these pieces individually for a final total of $3,349.97 -- $150 more than at the warehouse club.
McGrath notes that many of the larger furniture items sold on the warehouse club's website include threshold delivery inside your front door for no additional cost. In some cases, you can even get white-glove delivery for free, which includes installation and placement of the furniture in your room of choice, as well as removal of packaging materials.
6/9
Gift Cards Deals on Costco.com
Costco is a smart place to stock up on gift cards. The warehouse club carries a small selection in-store, but customers can find many more options online, says Saundra Latham, a staff writer for Cheapism.com. This includes gift cards for Hulu's online movie and television streaming service, Krispy Kreme Doughnuts (in-store and online) and Alaska Airlines.
Keep in mind that the warehouse club's gift-card inventory varies throughout the year. Also, the 5% surcharge for non-members applies to gift cards as well.
7/9
Costco Delivers Flowers Inexpensively
The next time you need to buy fresh flowers for a special occasion, check out Costco.com's selection. It's an online-exclusive service, and the warehouse club's prices and selection rival those of many popular online flower delivery services. Customers can purchase a variety of flowers -- from calla lillies to orchids to roses -- in smaller quantities or bulk, notes smart shopping expert Trae Bodge of TrueTrae.com. Costco.com doesn't offer extras such as candy or balloons with its floral arrangements. Some come with vases, but most do not. You'll be able to choose your preferred delivery date, and shipping and handling fees are included in the listed price.
We compared prices at Costco.com and Teleflora.com for a 20-stem red tulip arrangement including a vase. Here's what we found: At the warehouse club's site, you'll pay $39.99. If you buy from Teleflora.com, that same arrangement costs $63.74 (plus a $17.99 service fee). That's twice as much in total compared to Costco.
Costco works in conjunction with FlowerNet.com to fulfill orders, which are handled by local flower farms and delivered using a third-party carrier such as UPS or FedEx. You can only schedule deliveries Tuesday through Friday.
8/9
Exercise Equipment Exclusives at Costco.com
Instead of footing the bill for an annual gym membership -- and with many gyms shut down due to the coronavirus -- set up shop at home and save some cash over time. Exercise equipment is another online-exclusive at Costco.com, where you can score deep discounts on elliptical machines, inversion tables, treadmills and the like, says TrueTrae.com's Bodge. For example, the Exerpeutic Upright Folding Bike sells for $149.99 (standard shipping included) at the warehouse club. On Amazon, the same bike costs $393.13. That's $243 more.
9/9
Outdoor Goods Galore at Costco.com
Costco tends to carry a large inventory of quality patio furniture and grills, but only a small fraction of it makes it into stores, says Cheapism.com's Latham.
A search for "outdoor patio seating sets" on Costco.com produced 112 results. If you've ever shopped for patio furniture at a brick-and-mortar Costco location, you know that you probably won't even find 10 patio sets on display. The same goes for grills. Costco.com's "bbqs & grills" online section recently offered 13 options ranging from compact table-top versions to behemoth nine-burner gas grills.
For example, we spotted a Louisiana Grills LG900 Pellet Grill on Costco.com for $699.99. On Amazon, we could found that same grill being sold and shipped by a third-party dealer for $899 -- $200 more.

Browne Taylor joined Kiplinger in 2011 and was a channel editor for Kiplinger.com covering living and family finance topics. She previously worked at the Washington Post as a Web producer in the Style section and prior to that covered the Jobs, Cars and Real Estate sections. She earned a BA in journalism from Howard University in Washington, D.C. She is Director of Member Services, at the National Association of Home Builders.