22 Products You'll Waste Money Buying at Warehouse Clubs
We talked to shopping experts to find out which products shoppers should steer clear of (and why) at warehouse clubs Costco, Sam's Club and BJ's.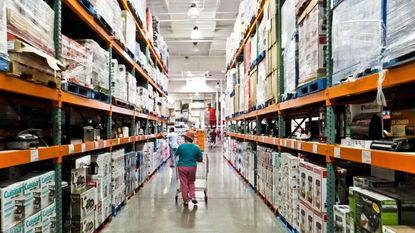 (Image credit: Getty Images)
When your shopping list is long and time is short, it's tempting to make a single stop at the warehouse club. Face it: Costco, Sam's Club and BJ's stock everything from groceries and cleaning supplies to electronics and clothing – often in bulk quantities and often at good prices. Plus, you feel the need to shake your money's worth out of the annual membership fee you're paying (particularly if you got talked into one of the fancier tiers).
We've written plenty about how warehouse clubs are a great place to stock up on toilet paper, various kitchen pantry staples and even wine. However, you may still want to skip certain items. There are three big reasons why: First, buying in bulk is a waste of money if you won't use the product before it spoils or expires. Next, quality isn't always up to snuff at warehouse clubs. Lastly, you're missing out on the money-saving power of weekly sales and coupons – Costco and Sam's Club don't accept manufacturer coupons; BJ's does, but with restrictions.
"It's understandable that a lot of people are in a state of mind of stocking up after the past couple years – but don't let that lead to wasted money and wasted product," says Kristin McGrath, an editor and shopping expert at Offers.com. "Having stuffed cupboards can also make it difficult to verify what you have, meaning you're likely to accidentally double-buy something and end up wasting more money."
Here's a look at 22 common items stocked by warehouse clubs that you might want to pick up somewhere else.
1/22
Name-Brand Cereal
Yes, you can find name-brand cereals at warehouse clubs. However, budget-conscious shoppers know they can grab the breakfast staple for less elsewhere. Top U.S. cereal makers Kellogg's, General Mills and other cereal manufacturers regularly pass along discounts to grocers who pass them off to customers. The major manufacturers also make available coupons that can be used at your local grocery store or big-box retailer – but not at Costco, Sam's Club or BJ's – says Cindy Livesey, founder of LivingRichWithCoupons.com.
Not into clipping coupons out of newspaper inserts? Find them instead on the manufacturer's website or Facebook page. For example, we spotted 16 different cereal coupons on Kellogg's site that you can print out at home. Also, you can stack these coupons with any sale your local retailer is promoting. "This allows you to get a better deal at the grocery store than what you'd find at a warehouse club," Livesey says.
2/22
Designer Clothing
Don't be fooled by the discounted prices you might see on designer clothing items (think: Nicole Miller, DKNY or Calvin Klein) at Costco, Sam's Club or BJ's. "If you're after actual designer apparel, know that the items sold in bulk stores are often more-cheaply-made versions of what's sold in high-end stores," says McGrath of Offers.com. If the label or look makes you happy, these could still be solid buys. Just be aware you're not saving hundreds of dollars on an actual designer-quality item." The designer clothing and accessories you'll find at warehouse clubs are typically constructed using lesser-quality materials and are designed specifically for lower-tier retailers, she adds.
If you're simply on the hunt for a basic T-shirt or pair of jeans and don't care about labels, warehouse clubs will offer competitive prices, McGrath says. Just remember that you aren't getting the same pair of designer jeans that you'd find at Neiman Marcus or Nordstrom.
3/22
Beauty Products, Soaps, Shampoo and Skincare
Remember, warehouse clubs sell a limited roster of brands. That means "while you might be saving money by buying in bulk versus what you'd pay for that same brand at a non-warehouse store, you might also get pushed to buying a more expensive brand because that's what the warehouse club has available," says McGrath. "You may be better off buying low-priced store-brand lotions, hand soaps and shaving gels at big-box stores."
Also, be cautious when purchasing skincare products containing sunbock from a warehouse club, warns smart shopping expert Trae Bodge of TrueTrae.com. That's because SPF degrades over time, and Costco, Sam's Club and BJ's usually sell these types of items packaged in sets of two large containers. Before buying, think about how often you'll use the product and whether you'll get through it before the expiration date.
Skincare products containing SPF have a shelf life of up to two years, if stored properly, according to Dermstore.com. However, if you're only applying a thin layer of product each time you use it, it can take longer to finish, the site notes. Unless you frequently use these types of skincare products or are sharing them with someone else (say, your spouse), you may want to steer clear of buying them in bulk, Bodge says. You're better off purchasing a regular-size version (about 6 ounces or less) from your local drugstore, where you can take advantage of weekly sales, coupons and loyalty discounts.
4/22
Spices
Ground spices have a shelf life of two to three years for peak freshness and flavor, according to manufacturer McCormick. If you're buying standard-size spice bottles (which usually range from 0.6 ounces to three ounces at a traditional grocery store or big-box retailer), finishing them within that timeframe is realistic. However, when you buy spices in bulk at warehouse clubs, in sizes ranging from six-ounce bottles to five-pound containers, it can take much longer to finish them off – especially if it's a spice you don't use often, says TrueTrae.com's Bodge.
While spices don't "go bad" over time, she explains. So that seasonal cinnamon apple pie you make that everyone looks forward to at the family reunion may not be as flavorful if the ground cinnamon in it is several years old. Unless you regularly cook with certain spices (say, curry, cayenne or chili powder), Bodge recommends buying them from your local grocer in regular sizes so you don't end up wasting money or disappointing diners.
Says McGrath, "Even if you frequently cook in bulk, you're likely not saving much by purchasing copious amounts of bulk spices."
Looking for bargains on said spices? Grocery deep discounter Aldi has a fine line of organic spices that are a steal at everyday low prices, as we noted here.
5/22
Diapers
For families with young children, shopping at a warehouse club can offer huge savings. But defaulting to Costco, Sam's Club or BJ's without doing your due diligence could cost you — and this is especially true when it comes to diapers and baby supplies.
We looked at prices for store-brand diapers (in size 3) at Costco, Sam's Club, BJ's and Walmart. Here's what we found: At Costco, a 192-count package of Kirkland Signature size 1 diapers costs $32.99 (17 cents per diaper). At Sam's Club, you can get 176 Member's Mark Premium size 1 diapers for $21.98 (12 cents). At BJ's, a 112-count package of Berkley Jensen Premium diapers totals $15.99 (14 cents). By comparison, at Walmart you can get a 168-count box of size 1 Parent's Choice diapers for $16.17 (9.6 cents). Based on unit price, Walmart offers the better deal.
When looking for deals on other baby supplies, such as wipes and diaper ointment, consumers can score big using Amazon's Subscribe and Save program, Offers.com's McGrath says. The program allows parents to set up auto-delivery on everything from lotion to hair-care products for kids. Amazon Prime members qualify for 20% off diapers and other related products when ordering at least five items per month, she notes. "You can even skip a delivery if necessary or you need to change diaper sizes. You're not committed to the size of a giant box of diapers you purchased in bulk a month ago at a warehouse club," McGrath adds.
6/22
Baby Formula
Perhaps you're a new parent, or a grandparent who truly wants to help out. So you think, "diapers? (No!) "How about baby formula?" (No, again). Not from the warehouse clubs.
"Unless you have multiples, buying too much formula at once can be a mistake," says Bodge. "Your instinct may be to stock up, but remember that soon enough, your little one will start eating solid foods and eventually wean off the formula. You can give it away or donate it, of course, but be mindful of the use-by date."
7/22
Liquid Cleaners
Liquid cleaning products tend to lose their efficacy over time. Huge bottles of liquid dish soap or laundry detergent may not be a smart money-saving strategy – especially if you end up having to use twice the amount of product to get the desired result with a single wash. "Unless you do a lot of laundry [or wash dishes by hand] very regularly, it is best to buy liquid detergents in smaller quantities," TrueTrae.com's Bodge says.
If you prefer to shop exclusively at warehouse clubs rather than making multiple trips to several stores, consider buying powder-based cleaning products instead, Bodge recommends. When stored properly in a cool and dry place, they have an unlimited shelf life.
Adds consumer savings expert Andrea Woroch, "Studies show that dollar store cleaners work just as effectively as name brands so you can save ourself even more by picking up your various bathroom and counter spray cleaners there. Otherwise, you may be able to find better discounts at your local big box store when the brand name is on sale and also stacking a manufacturer coupons or store coupon."
8/22
Seldom-Used Household Products
Before stocking up at warehouse clubs on household products you only need infrequently, consider the size of your home, Offers.com's McGrath suggests. Buying carpet/upholstery cleaner, plumbing clog remover, air freshener and other seldom-used products, either in multi-packs or in large containers, will just take up valuable storage space underneath your kitchen or bathroom sinks, she adds. You might even forget you stored them there and end up not using them at all. For everyday shoppers, big-box retailers are the better option for purchasing these types of household products in smaller quantities, McGrath advises.
9/22
Over-the-Counter Medicine
If you've ever suffered from an unexpected headache only to discover that you're out of ibuprofen (Advil) or acetaminophen (Tylenol), stocking up on a bulk-size bottle of pills during your next warehouse club trip may seem like a smart precaution. But keep in mind that unless you have a medical reason to use such products on a daily basis or have multiple people in your home using them, you might not get through that entire 750-count bottle of pills before they expire, warns consumer savings expert Andrea Woroch. "To save money, purchase the generic version from your local big box store or drugstore in smaller containers," says Woroch.
Pain meds can lose potency over time. This can make them less effective per the recommended dosage. And here's a major point: Advil recommends consumers stop using any expired bottles of their products for just that reason.
10/22
Dips and Spreads
Like to keep your pantry stocked with snacks for binge-watching a new streaming series or powering through all nine seasons of "The Office" again? Then you may be enticed to buy that huge tub of hummus or Buffalo wing dip at your warehouse club of choice. Yes, you get more for the money. However, will you have eaten that entire 40-ounce container of hummus by the time you're done catching up on "Yellowjackets" in just two days? Let's hope not.
Unless you're buying food for a party or have a large family, you should only buy refrigerated hummus, cheese dip and salsa in smaller quantities, consumer savings expert Woroch recommends. That's because these are perishable food items that go bad after a specified amount of time once opened. For example, the packaging on Sabra brand hummus containers includes a disclaimer that states it should be consumed within seven days after opening.
On a unit-price basis, you might end up spending more at a traditional grocery store, but you're more likely to finish the smaller container. If you're dead set on scoring a deal, pay attention to weekly sale ads at places such as Target or Walmart, which regularly offer discounts on chip dips and spreads, Woroch notes.
11/22
Canned Goods
If the apocalypse ever happens, those six-pound cans of beans you've got stashed in your kitchen pantry may come in handy. Otherwise, you're better off buying regular-sized canned goods from your local grocery store that you'll actually finish, suggests LivingRichWithCoupons.com's Livesey. Some grocers even offer exclusive deals on canned items at various times of the year when prices are slashed, she says. According to the Canned Food Alliance, canned goods can last up to two years after the date of purchase, so shoppers can stock up in moderation with these sales.
Livesey notes that ShopRite grocery stores (located in Connecticut, Delaware, Maryland, New Jersey, New York and Pennsylvania) offer a two-week-long sale known as the "Can, Can Sale" twice a year. It includes deep discounts on canned goods and other kitchen and household items. Kroger, a national grocery chain, also hosts "Mega Event" sales that require shoppers to buy a certain amount of select items (including canned goods) in order to get $1 off each item.
So here's where using coupons and stacking them with discounts at supermarket chains when they have sales is a money-winning method compared to warehouse shopping.
12/22
Meats
If you're planning to stock up on chicken, beef or seafood during your next warehouse club visit only to stash it in the freezer when you get home (with no immediate plans to use it), reconsider. Unless you're prepping for a large family gathering or have a house full of kids, there's a good chance you might forget it's even there. And, by the time you do remember, that four-pound bag of tilapia may be covered in freezer burn and worthless.
There's nothing wrong with stocking up on meats you cook regularly – especially if you like to meal prep. However, do so in smaller quantities at your local grocers. You'll be less likely to overbuy. Also, be sure to keep an eye out for weekly sales at your favorite grocery chain or coupons in the Sunday paper. For example, in central Virginia, we regularly see buy-one-get-one-free deals on packages of sausages, bone-in chicken breasts, pork tenderloins and spare ribs at the regional chain groceries. And if you're lucky enough to have a dedicated, independently owned butcher shop, your deals may be even greater.
13/22
Fresh Produce
Fresh fruits and vegetables can be expensive – especially if you're buying organic versions from specialty supermarkets. Local farm markets wind down as the colder weather rolls in and the supply chain disruption is making some products more expensive. Warehouse clubs offer a variety of organic options, and they often cost around the same price as you would pay for smaller amounts elsewhere. For example, at Sam's Club, a 32-ounce bag of organic green beans sold for $4.78 (about 14 cents per ounce) compared to $4.98 for a 32 ounces (16 cents per ounce) at Whole Foods. Based on the unit price alone, the warehouse club may seem like the obvious better deal.
But before you plunk down your hard-earned cash on big boxes of fruits and veggies, ask yourself some questions first, says TrueTrae.com's Bodge. How many people in your household will eat those items? Will they be able to finish them before the produce starts to go bad? If you answered no to the latter question, your money is better spent buying the smaller package that you'll actually finish. Also, keep in mind that organic produce tends to go bad faster than produce that has been treated with pesticides. This lessens even more the amount of time you have to cook such fruits and vegetables.
Notes Woroch, "Unless you're preparing for a large gathering or party, buying fresh produce in bulk can be a risky move since these foods have a short shelf life and may spoil before you eat them. Be especially careful when buying fruits and vegetables that spoil faster than others such as berries, bananas and avocados."
14/22
Giant Packages of Snack Foods
As you walk the aisle of your favorite warehouse clubs, those huge package of pretzels, cheese curls, or organic tortilla chips might tempt you. But be cautious, experts advise.
"These snacks are typically a good deal, especially if you have several people eating them at home or if you're planning a party, but if it's just you and your partner/roommate at home, they can either lead to overindulging or go stale before you have a chance to finish the container," says TrueTrae's Bodge.
And remember, snack food companies typically discount food items to supermarket chains, especially around holidays. Said supermarket chains pass the deal on to you, and, remember: coupons. They often become plentiful seasonally, and remember what we told you about how warehouse clubs mostly shun coupons.
15/22
Toothpaste
Stocking up on toothpaste can be a money-smart move no matter if you're single or have a family. That's because it has a longer shelf life than other personal care items. Toothpastes containing fluoride can last up to two years, according to Colgate.com. If you often find yourself running out at the worst times, buying toothpaste in bulk at your favorite warehouse club may seem like a no-brainer.
You'll want to comparison shop before throwing that multi-pack into your cart the next time you're at Costco. You'll likely find better deals at your local drugstore or big-box retailer, especially if you shop weekly sales, stack coupons or remember the old retail trick of looking at the lowest shelves, where the cheaper brands live. Keep in mind you'll need to be flexible on the brand and can expect variations in product size versus what's available at a warehouse club.
16/22
Dietary Supplements
Vitamins, herbal supplements and the like can be pricey, especially if purchased at a pharmacy or specialty store. If you're only concerned about price, then, yes, most warehouse clubs will offer better deals on bulk-size quantities. However, there's another factor to consider before you buy, suggests TrueTrae.com's Bodge. "Unless more than one family member is sharing the vitamins with you, they may expire before you finish the bottle," she says. While vitamins don't necessarily "go bad" after their expiration date, they can lose their potency, according to Healthline.com. (Chewable vitamin tablets and vitamin gummies degrade faster.) So if you're taking a dietary supplement to manage a nutrient deficiency, taking expired pills may not be as effective.
To help ensure you get your money's worth, Bodge recommends checking the expiration date, then calculating how long it will take to finish that bulk-size bottle or two. If it's after the expiration date, you may want to buy those supplements in smaller quantities elsewhere. Doing this math helps avoid having to toss out half-empty bulk-size bottles of vitamins, which amounts to money wasted.
17/22
Razors
When it comes to personal care items, it can pay to comparison-shop before committing to a bulk-size package of a desired item. While warehouse clubs are known for their deep discounts, you might still score better deals on the same brand-name products known for quality at other retailers. This includes razors, which TheKrazyCouponLady.com's Demer says are almost always cheaper at a big-box retailer or drugstore during their weekly sales or when you use a manufacturer's coupon.
We found Demer's claim holds true. You can buy a Gillette Fushion5 men's razor with nine razor blade refills for $29.99 at BJ's. By comparison, you can buy the same razor with one less razor blade refill -- eight -- for $23.98 at Walmart, a better bargain. Plus, if you can stack coupons for this item at Walmart, it's an even bigger deal.
18/22
Cooking Oils
Cooking oils -- think: extra virgin olive, avocado and sesame --– can be costly, especially if you're buying organic. That prompts some warehouse club shoppers to purchase one of those behemoth containers (usually around 2 liters) filled with their cooking oil of choice. Compare the per-unit price of the warehouse club's oil and smaller quantities at traditional grocers – the bulk-size version is typically the better overall deal.
Before you buy, think about how often you'll actually use that oil, experts say. Cooking oils have a much shorter shelf life than other kitchen pantry staples such as dry noodles or canned sauces. An opened bottle of olive oil can last about three months when stored in a pantry and four months when stored in the refrigerator, according to FoodSafety.gov. If you cook often or have a family, you'll probably finish one of these large bottles before it starts to spoil. If you're cooking just for yourself or a significant other, it's much more cost-effective to buy smaller bottles of cooking oil when they go on sale at your neighborhood grocer.
19/22
Books
Skip the books section the next time you're checking out the floor displays or searching online at your favorite warehouse club. In addition to offering a limited selection of books, warehouse clubs usually won't beat the prices on Amazon, according to the smart shopping experts we talked to.
If you happen to see a book that really piques your interest, LivingRichWithCoupons.com's Livesey offers this pro tip: "While at the store, use the Amazon app to scan the book to see how much it sells for before buying it from the warehouse club." For example, we spotted celebrity chef Ree Drummond's best-seller, "The Pioneer Woman Cooks -- Super Easy!: 120 Shortcut Recipes for Dinners, Desserts, and More" cookbook on Sam's Club's site for $19.98. On Amazon, it costs $19.03 -- nearly $1 less, not a lot, but hey, a buck here, a buck there, right?
If you're not a regular Amazon shopper and don't have the app downloaded on your smartphone, Also recommended: check prices using the secondhand book site ThriftBooks.com, says Woroch.
"Although you may find a small discount on various books sold at warehouse stores compared to a local bookstore, you can often find better deals elsewhere," Woroch says. "For children's books, head to a discount retailer like TJMaxx and HomeGoods to scope out their selection at up to 60% off," plus, via Thriftbooks, you can even apply a coupon from CouponFollow.com for more money off.
20/22
Disposable Utensils, Cups and Plates
From summertime picnics to holiday gatherings, it's good to have disposable plates, cups and utensils on hand. Warehouse clubs aren't the best place to score those restauant-size packages of disposables.
"I can tell you from experience that buying these items in bulk is not a great idea unless you entertain outdoors a lot," says Bodge. "We are a family of three, and while we picnic a fair bit in the summer, and have gatherings in our yard occasionally, it's going to take years to use up those items that I bought at Costco. So, while they saved me money when I bought them, they are now taking up precious real estate in my already-crowded basement. I would have been better off buying them at the grocery store."
21/22
Prescription Glasses If You're Picky
My ophthalmologist's office, like so many others, has an eyeglass store attached to it. My ophthalmologist said I should get my eyewear at Costco. So I have, for many years.
Others say get your prescription glasses at warehouse clubs with caution.
"I am a huge proponent of the budget-friend eye exams available at many wholesale warehouses (membership is not required, in many cases)," said Bodge. "But I have found the selection of glasses to be wanting. The prices are decent, but there are glasses online at sites like Zenni and EyeBuyDirect.com that are more stylish and affordable. And these sites have virtual try-on.
22/22
Almost Anything You Buy on Impulse
If you visit Costco, Sam's Club or BJ's on a random Saturday or Sunday on an empty stomach, you'll probably walk out feeling stuffed. That's because they are shuffling back to offering free food samples that you can enjoy as many times as you want (Costco and other food retailers temporarily stopped giving out food samples during the COVID lockdown; they're mostly back to it now). Members can score sample-size versions of everything from mini quiches to potstickers. While this is a tasty perk, warehouse clubs are hoping you'll like these free goodies so much that you'll impulsively toss a bulk-size package or two into your shopping cart.
But if you do, warns Offers.com's McGrath, "this becomes a much bigger investment than your average grocery store impulse purchase." Not only will you need to find space in the freezer or cupboard to store your bulk purchase, but if your family ends up not liking that 48-count box of snack bars you bought on a whim, you may never finish them by yourself, she notes.
Or just ask the huge bag of potstickers I bought after sampling two months ago at Costco. It hasn't been opened yet.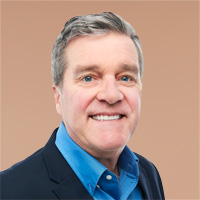 Bob was Senior Editor at Kiplinger.com for seven years and is now a contributor to the website. He has more than 40 years of experience in online, print and visual journalism. Bob has worked as an award-winning writer and editor in the Washington, D.C., market as well as at news organizations in New York, Michigan and California. Bob joined Kiplinger in 2016, bringing a wealth of expertise covering retail, entertainment, and money-saving trends and topics. He was one of the first journalists at a daily news organization to aggressively cover retail as a specialty and has been lauded in the retail industry for his expertise. Bob has also been an adjunct and associate professor of print, online and visual journalism at Syracuse University and Ithaca College. He has a master's degree from Syracuse University's S.I. Newhouse School of Public Communications and a bachelor's degree in communications and theater from Hope College.