9 Costly Mistakes Savvy Costco Shoppers Don't Make
The warehouse club offers plenty of perks, but next time you shop at Costco beware these tactics designed to get you to spend more.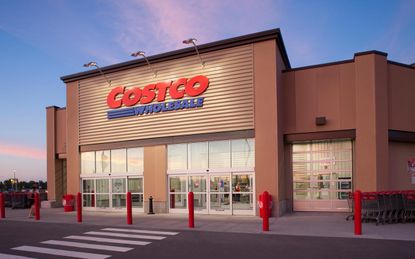 (Image credit: Getty Images)
Every year, Costco attracts droves of new members looking to score bargains on everything from personal care products and paper towels to fresh and frozen foods in bulk. Exclusive perks such as deeply discounted gasoline prices, deals on big-ticket electronics and appliances, and access to coveted Kirkland Signature store-branded items are among the major draws of membership to the warehouse club. While these incentives are, indeed, used to reward card-carrying Costco members, many of them are also designed to get shoppers to spend more.
We asked several shopping experts to reveal various methods the warehouse club uses to entice members to shop more frequently and impulsively. The retail pros also offered advice on how to avoid these spending traps that often ensnare newer members. Here's what they had to say.
1/9
Paying for a Costco Membership When You Don't Have to
It's no accident that there are loopholes to Costco's membership policy that allow non-members to shop at the warehouse club. After all, what better way to lure in new members than offering a free glimpse of the benefits of paid membership.
The simplest way to shop at Costco without your own membership is with a free "household" card -- you're eligible if you live at the same address as a Costco member (perhaps a family member or a roommate) -- that allows you to shop on your own.
Or find a friend with a Costco membership who will let you tag along as a guest on their next shopping trip. Each member is allowed to bring two guests on every visit. (During the pandemic, only Costco members age 60 and over are allowed to shop Monday through Friday from 9 a.m. to 10 a.m. local time. No guests are allowed to enter with them during this time.)
Non-members can't pay for their own purchases. Costco checks membership cards when you enter a store and when you check out. The member you're accompanying can pay for the purchases, and you can pay them back later. Non-members can fill up their tanks at Costco gas stations (more on the cheap gas in a moment) as long as they have a reloadable Costco cash card, which must be purchased by a member, to activate the pump.
Costco.com is a different story. While non-members can set up an account to shop online, they must pay a 5% surcharge on all items except prescription drugs. For example, 1,000 200-mg tablets of Kirkland Signature ibuprofen costs $11.99 for members, while non-members will pay $12.59. To reward loyalty and encourage new memberships, some items sold on Costco.com are only available to paying members.
2/9
Buying the Wrong Things in Bulk
Most Costco shoppers became members specifically to take advantage of the bargain prices on bulk items -- helpful for stocking up for the whole family in fewer trips. For example, instead of buying a small bottle of olive oil that can quickly run out, you can get a two-liter bottle of Kirkland Signature Organic Extra Virgin Olive Oil on Costco.com for $15.49. A two-liter bottle of Mantova Extra Virgin Golden Italian Olive Oil was priced at $19.89 on Amazon. That's about $4 more.
On the flip side, if you're single or you live in a smaller household or you simply have limited storage space, then buying grocery and household items in bulk could be a waste of money, says TrueTrae.com's Bodge. Only make purchases in large quantities if the items have a very long shelf life or if you can finish them before they expire (and, yes, olive oil can go bad). That means thinking twice before loading up your shopping cart with oversized bags of fruits and vegetables, as well as large containers of milk and other dairy products. Planning to freeze the extras? Make sure you have enough room in your freezer, and remember that the quality of frozen foods including meat and fish can degrade over time.
3/9
Chowing Down at the Wrong Times and Places Inside Costco
Costco's food court is legendary for its low prices. We've spotted their all-beef hot dog (Kirkland Signature brand, naturally) and soda combo for as little as $1.50; a slice of pizza goes for $2, a whole pie for $10. The warehouse club even offers rotisserie chickens -- we presume you're taking it to-go, yes? -- for a mere $5.
But don't let the nearly free lunch lure you into Costco if you're not already planning your regular bulk-shopping adventure. Costco serves up the dirt-cheap meals as a loss-leader -- something a retailer offers to customers at a super-low price to draw them into stores. That lunch combo will start to look awfully expensive if you head down the aisles after stopping in "just for lunch."
That said, the food court can be a savvy Costco shopper's best friend. That's because you don't want to do your weekly grocery shopping on an empty stomach. When you're hungry, you are more likely to overbuy, says Trae Bodge, a smart shopping expert at TrueTrae.com.And on the weekends, Costco regulars know that you can fill up at multiple free-sample stations situated throughout the food aisles. Members can enjoy unlimited (yes, unlimited) samples of everything from gourmet cheese to kettle-cooked popcorn to mini chicken wontons.
It's important to remember that those delicious bites are there to get you to impulse-shop for food and beverage items you likely wouldn't purchase otherwise, warns Kristin McGrath, editor and shopping expert at Offers.com. You're far more likely to fill up your cart with costly boxes of tasty samples if you haven't filled up your stomach in the food court first.
(Since the COVID-19 outbreak, Costco has taken several precautions in an effort to prevent its employees and customers from getting sick. Among them: Temporarily suspending the stores' free food sample stations. It's been reported that the warehouse club plans to bring them back in a new capacity starting in mid-June.)
4/9
Aimlessly Wandering the Aisles
If you've ever shopped at Costco and felt like you had to walk around the entire store to find everything on your shopping list, you probably did. The layout at the warehouse club is designed to lead members past prominent product displays over and over again with the hope they'll make a pricey impulse purchase, Offers.com's McGrath suggests. "While you're loading up your cart with bulk Kleenex, shampoo and freezer foods, you're also constantly walking by giant TV screens with crystal-clear images and theater-quality sound," she says, "or comfy sectionals and recliners that invite tired shoppers to sit down."
Another tactic the warehouse club uses is moving go-to products around the store so shoppers have to hunt them down, says Heather Wheeler of TheKrazyCouponLady.com. As a result, members get exposed to dozens of new products they may not have seen during a previous store visit while also looking for the items already on their shopping list.
A simple way to avoid overspending in either scenario is to stick to what's on your list. "It's key to harnessing Costco's money-saving potential, while avoiding temptation," McGrath says. If, after picking up all your desired items, you find that you're under budget -- perhaps, several items in your cart were marked down -- then consider treating yourself to an impulse purchase.
5/9
Lounging at Costco's In-Store "Rest Stops"
While the indoor food court and the cozy furniture displays that let you kick up your feet seem like nice perks, they come with strings attached. "Stores like Costco put products they're having a hard time selling near these areas," notes TheKrazyCouponLady's Wheeler. "The more you rest, the more [likely you are to] talk yourself into buying an item you don't really need."
At the Washington, D.C.-area Costco location we visited, there was an outdoor furniture display located in the middle of the store. Directly next to it were aisles filled with seasonal gardening tools, lawn sculptures and outdoor lighting fixtures. Near the indoor food court, which was located by the checkout lanes, there was a hodgepodge of toiletry products including razors and toothpaste. These are the types of items you might throw in your cart on a whim as you're on the way out, not thinking twice about whether you really need them.
How do you avoid these spending traps? Simply put: Get in and get out. Chances are, you wouldn't sit down to take a break while perusing the aisles at your neighborhood supermarket or department store, so don't do it at Costco. Also, keep in mind that by the time you've reached the line for the checkout, you've probably already filled your cart with the must-haves on your shopping list. Don't get sucked in to buying last-minute items you don't need.
6/9
Getting Hooked by Costco's Cheap Gas
A popular perk the warehouse club offers its members is discounted gasoline at locations with on-site gas stations. Other than price, there's really no difference between Costco's gas and what comes out of the pumps at name-brand gas stations. When we recently visited a Costco gas station, the price of their regular unleaded was $1.77 a gallon, and premium unleaded was $2.27. At a nearby BP station, regular unleaded was $1.99 (22 cents more per gallon), and premium unleaded was $2.89 (62 cents more).
The promise of saving a few bucks to fill the tank before driving home with a trunk full of discounted groceries can be enticing to new members. Just be warned that you might end up paying in unexpected ways. Long lines are common, especially on weekends. Some people have reported wait times of up to 30 minutes. That's a lot of time spent (and fuel wasted) idling behind the wheel.
And since you might run low on gas before you run low on groceries, you could find yourself shopping at Costco before you really need to just because you're already there to get gas.
7/9
Thinking Costco's Kirkland Store-Brand Products Are Always the Better Deal
Costco's Kirkland Signature store-brand products are known for quality and affordability. While prices on many Kirkland products do, indeed, beat out prices on name brands, that's not always the case. In fact, TheKrazyCouponLady.com's Wheeler notes that you can sometimes even find better deals on name brands on Costco's very own store shelves, so never assume the Kirkland line is always the better deal.
We compared the prices of Kirkland shampoo and Kirkland ground coffee against name brands available to purchase on Costco.com. Here's what we found: A 33.8-ounce bottle of Kirkland Signature's Moisture Shampoo cost $11.99. A 38.2-ounce bottle of Pantene Advanced Care 5-in-1 Shampoo cost the same amount, but you get about 4.5 extra ounces with the name brand. A 48-ounce container of Kirkland ground coffee cost $10.99. We found the same-size container of Maxwell House Original Roast Coffee priced at $9.49 -- $1.50 less.
Budget-conscious consumers may even want to comparison-shop before they set foot inside their local warehouse club, recommends TrueTrae.com's Bodge. She says it's worth the extra minute or two it will take to go to a deal site, such as CouponCabin.com, to see if you can find retailer discount codes and use them to purchase needed items.
8/9
Wasting Time Comparing Costco's Electronics
Anyone who's shopped for big-ticket electronics at Costco (especially during the holiday season) knows the warehouse club's prices can be brag-worthy. However, some of the most notable bargains are often exclusive to Costco or can only be purchased at other warehouse clubs. For example, we recently spotted a TCL 55-inch 4K UHD LED LCD TV priced at $399.99 on the warehouse club's website; according to the manufacturer's website, Costco is the only retailer selling this particular model.
Rookie shoppers will not only waste time trying to find the same model on other sites, but they also may draw false (and costly) equivalencies between similar models on Costco.com and competing sites.
Some electronics manufacturers create models, generally with fewer features, specifically for warehouse clubs to sell at what seem like bargain prices. Costco's model might be much cheaper than a similar model elsewhere, but does it really have all the features you want? Resist making impulse purchases on Costco electronics; take the time to compare similar models with similar features to get a sense of value.
9/9
Not Paying With Your Costco Rewards Card
If you don't keep a close eye on your spending, opening a new line of credit with your favorite retailer can be a gift and a curse, TrueTrae.com's Bodge warns. It can be all too easy to overspend when the money isn't coming directly out of your pocket at checkout. Before you sign on the dotted line, be certain that you can pay your bill in full each month, she advises. Otherwise all of those savings and perks you earned become null and void once you start racking up late payment fees.
But for responsible credit users who happen to be Costco members, the warehouse club's Anywhere Citi Card may be worth a look. It's only available for club members. It comes with some noteworthy rewards including earning 2% cashback on all in-store and Costco.com purchases, as well as 4% cashback when you fill up at the pump and 1% cashback on all other purchases. Cardholders also don't pay annual or foreign transaction fees.

Browne Taylor joined Kiplinger in 2011 and was a channel editor for Kiplinger.com covering living and family finance topics. She previously worked at the Washington Post as a Web producer in the Style section and prior to that covered the Jobs, Cars and Real Estate sections. She earned a BA in journalism from Howard University in Washington, D.C. She is Director of Member Services, at the National Association of Home Builders.