Aldi vs. Whole Foods, Round 2 (After Amazon Cut Produce Prices)
Whole Foods announced another round of price cuts on April 1, this time claiming to lower everyday prices on hundreds of produce items by an average of 20%.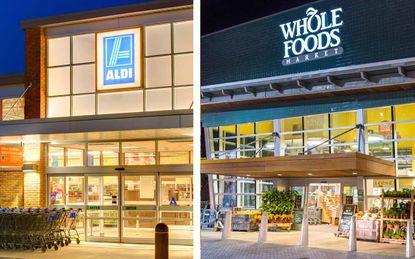 (Image credit: Getty Images)
Whole Foods announced (opens in new tab) another round of price cuts on April 1, this time claiming to lower everyday prices on hundreds of produce items by an average of 20%. Since we just compared prices on 50 grocery staples at Aldi and Whole Foods (opens in new tab) in October – Aldi proved to be a third cheaper than Whole Foods in those price checks – we decided to make fresh comparisons on select items at both supermarkets to see if the Amazon-owned chain would fare better this time around.
Before you have a look at our latest price comparisons from Northern Virginia store locations, it's important to understand that Amazon is reserving its biggest Whole Foods bargains for its $119-a-year Prime members. A big reason why: 7 out of 10 Prime members reportedly rarely or never shop at Whole Foods.
So while the latest produce price reductions are, indeed, available to all Whole Foods shoppers, even bigger discounts are being offered to Prime members in the form of exclusive deals and an extra 10% off sale items. If you're already a Prime member but not a Whole Foods shopper, you might be missing out on one of the surprising benefits of Amazon Prime (opens in new tab); if you're not Prime, many of Aldi's prices remain tough to beat. Judge for yourself.
1/9
Organic Fruits
Whole Foods, born in 1980, cut its teeth on organic and natural foods. The chain also earned the nickname "Whole Paycheck" due to the high prices it charged for them. Despite efforts to shake that reputation since being acquired by Amazon in 2017 through a series of price reductions, Whole Foods still has higher prices on organic products in our comparison to no-frills Aldi, which debuted in the U.S. in 1976.
At Aldi, for example, organic blueberries were $3.49 a pint, while at Whole Foods they were $4.49 for a half-pint. Aldi was selling organic bananas for 59 cents a pound while Whole Foods was charging 69 cents a pound (same price as October). Organic strawberries were $4.59 a pound at Aldi; at Whole Foods, $4.99 a pound (50 cents more than they cost when we last checked).
Here's the Amazon wrinkle: Those same organic strawberries were marked down to $2.99 a pound exclusively for Prime members during Whole Foods' most recent weekly sale.
2/9
Non-Organic Fruits
Retail experts agree that both Aldi and Whole Foods suffer from perception problems. For Whole Foods, the perception is prices are high – a reputation the grocer is trying to change with lower everyday prices and exclusive Prime deals. For Aldi, low prices are a given, but the perception it battles is low quality.
"While many Aldi stores have been updated and store selection including quality and quantity of products are much better, the older stores that shoppers had visited may have been poorly maintained," says frugal living expert Cindy Livesey, founder of the bargain-hunting website LivingRichWithCoupons.com (opens in new tab). "Shoppers may not realize the updates and assume the stores are as they had been before the updates."
In our latest price checks on non-organic fruits, a pineapple was $2.29 at Aldi, $2.99 at Whole Foods (down from $3.49 in October). However, a weekly exclusive deal for Prime members had conventional pineapples going for just $1.99 at Whole Foods. Three pounds of Fuji apples were $3.49 at Aldi and $5.07 at Whole Foods (10 cents cheaper per pound than in October). The per-ounce price on a package of blueberries was a wash, at 38 cents an ounce for each, but Aldi was selling them in 6-ounce packages and Whole Foods had them in 18-ounce packages.
3/9
Organic Vegetables
Aldi has been picking up steam with wider selections of organic products including veggies spread throughout the store. Here's how prices compared with Whole Foods.
Organic avocados were selling in packages of four for $4.29 at Aldi and $4.99 at Whole Foods. A five-ounce package of organic baby spinach was $2.49 at Aldi and $3.49 at Whole Foods. A 16-ounce package of organic peeled baby carrots was $1.29 at Aldi and $1.69 at Whole Foods. A 12-ounce package of organic chopped kale was selling for $2.99 at Aldi and $3.99 at Whole Foods. Whole Foods' latest prices on organic avocados, carrots and kale were all unchanged from October.
4/9
Non-Organic Vegetables
With its larger footprint, Whole Foods stores typically have a bigger selection of groceries than Aldi, which stays small and focused by choice. But both chains, while big into organics, also offer non-organic produce. And in this arena, too, Aldi beat Whole Foods with lower prices in our price comparisons.
Two examples: Large Hass avocados were 59 cents apiece at Aldi and a buck more at Whole Foods, which was selling them for $1.59 (20 cents cheaper than in October). Same thing with whole white mushrooms: An eight-ounce package was 99 cents at Aldi, while Whole Foods was selling a similar size package for $1.99.
5/9
Organic Soups and Broth
Whole Foods and Aldi are similar in that they both emphasize store brands over national brands. However, when we were looking for organic soup to pit against Aldi's Simply Nature organic soups, we had to go with a national brand at Whole Foods: Amy's organic soups. And there was a big price difference. Aldi's soups were selling for $1.79 for an 18.6-ounce can. The Amy's soups were $3.69 for cans between 14.1 ounces and 14.5 ounces.
We also paired organic broth. Whole Foods' store brand 365 Everyday broths were $3.69 for a 48-ounce box (nearly 8 cents per ounce). Aldi's Simply Nature broths were $1.49 for a 32-ounce box (less than 5 cents per ounce). It's a blowout for Aldi.
That's no surprise to Burt S. Flickinger III, managing director at consumer industry consulting firm Strategic Resource Group, which studies the supermarket and other retail industries: "On comparable to better quality food, Both Aldi and its Albrecht family sister company, Trader Joe's, are beating Whole Foods badly with everyday prices that can be up to 50% less than Whole Foods."
6/9
Organic Pasta and Rice
Whole Foods finds a way around Aldi's low prices when it comes to organic dry pasta and rice. Its 365 Everyday organic pastas are 99 cents for 16-ounce packages (down from $1.49 in October). Aldi's Simply Nature organic pastas are $1.09 for 16-ounce packages.
Whole Foods prices on rice also beat out Aldi, which was selling Simply Nature organic brown or white rice for $2.59 for a 28-ounce package. Whole Foods 365 Everyday brown or white rice were selling for $5.99 for an 80-ounce package. In a per-ounce price matchup, Whole Foods wins at nearly 2 cents cheaper per ounce.
7/9
Milk and Eggs
In our past ventures into grocery pricing, Aldi typically landed on top when it came to dairy products. This time around was no exception.
While milk prices have climbed, Aldi tends to keep things in check. A gallon of Friendly Farms whole milk was $2.49 at Aldi. Whole Foods was selling its 365 Everyday whole milk for $3.49 a gallon (up from $3.19 in October).
Aldi also undercut Whole Foods on cartons of a dozen large white eggs. Aldi pitched Goldenhen large eggs for 99 cents a dozen. Whole Foods' 365 Everyday large white eggs were $2.99 a dozen.
8/9
Meat and Seafood
While you won't find butcher shops in Aldi stores – Whole Foods has them – you will find lower prices. Aldi was selling 90% lean fresh ground beef for $3.99 a pound. Whole Foods was selling it for $6.99 pound. Aldi was also selling fresh ground turkey for $5.99 for 36 ounces. Whole Foods was selling it for $6.99 a pound (16 ounces). And spiral sliced hams at Aldi were selling for $1.69 a pound. At Whole Foods, spiral sliced hams were as high as $7.49 a pound. However, a recent weekly exclusive deal for Prime members had spiral ham going for $3.99 a pound (still more than Aldi).
As for fresh seafood, Aldi was selling Atlantic salmon for $7.29 a pound. It was $9.99 a pound at Whole Foods (same as in October).
9/9
Breakfast Staples
If you start your day with a bowl of cereal, your money will go further at Aldi. It was selling 16.4-ounce boxes of its Simply Nature organic shredded wheat for $1.39. Whole Foods was selling 10- to 13-ounce boxes of its 365 Everyday organic cereals for $3.99. Eight-pack boxes of Aldi's Simply Nature organic instant oatmeal were $2.29. Similar size boxes of Whole Foods' 365 Everyday organic instant oatmeal were $3.69 (unchanged from October).
Over in the baked goods department, Aldi was selling 20-ounce loaves of its store brand L'oven Fresh white bread for 85 cents. If you want comparable white bread at Whole Foods' in-store bakery department you'll pay a hefty price. We found 24-ounce loaves of Vermont Bread Co. soft white bread selling for $4.79 (same as October).
Online Editor, Kiplinger.com
Bob is a Senior Online Editor at Kiplinger.com. He has more than 40 years of experience in online, print and visual journalism. Bob has worked as an award-winning writer and editor in the Washington, D.C., market as well as at news organizations in New York, Michigan and California. Bob joined Kiplinger in 2016, bringing a wealth of expertise covering retail, entertainment, and money-saving trends and topics. He was one of the first journalists at a daily news organization to aggressively cover retail as a specialty, and has been lauded in the retail industry for his expertise. Bob has also been an adjunct and associate professor of print, online and visual journalism at Syracuse University and Ithaca College. He has a master's degree from Syracuse University's S.I. Newhouse School of Public Communications and a bachelor's degree in communications and theater from Hope College.