16 Tips and Tricks Aldi Shoppers Need to Know
For many shoppers who are serious about spending less on groceries, a trip to discount supermarket Aldi is a weekly ritual.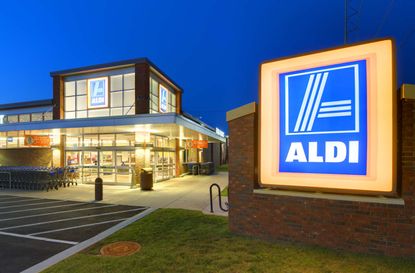 (Image credit: Thinkstock)
For many shoppers who are serious about spending less on groceries, a trip to discount supermarket Aldi is a weekly ritual. The chain, founded in Germany, credits its rock-bottom prices to low labor and operating costs, a limited selection of mostly inexpensive private brands, and a no-frills store design. Merchandise is often stacked in the aisles and sold straight from the cardboard box it was shipped in. Essentially, it's a grocery store that's the size of a convenience store.
If there isn't an Aldi near you, don't be surprised if one pops up soon. With 1,800 stores already up-and-running in 35 states, the discount grocery chain has embarked on an aggressive growth strategy. It includes dedicating $5 billion to remodeling existing storefronts and expanding to 2,500 stores nationwide by 2022. Aldi is also increasing its fresh food selection by 40% with vegan options, organic meats and refrigerated beverages. Never shopped at Aldi before? Here's what you need to know before your first trip.
1/16
Trader Joe's Is Part of the Family
Trader Joe's and Aldi are owned by sister companies Aldi Nord and Aldi Sud. Aldi Nord owns Trader Joe's, which it acquired in 1979, and operates Aldi stores in Europe. Aldi Sud operates Aldi stores in the U.S. The first one opened in Iowa in 1976.
Aldi was founded in Germany by brothers Albert and Theo Albrecht. The brand name is a combination of the first two letters of their last name and the first two letters of the word discount. The brothers, now deceased, launched their grocery empire right after World War II, but chose to split the business in 1961 reportedly due to a dispute over whether to sell cigarettes.
2/16
It's One of the World's Biggest Retailers
Aldi might not be a household name in the U.S., but it's well known around the globe. In the 2019 Global Powers of Retail Report, which identifies the 250 largest retailers in the world by retail revenue,Aldi ranked eighth globally, finishing ahead of Target and Home Depot. Walmart topped the list; Costco came in a distant second.
In the U.S., Aldi's 1,800 locations outnumber better-known supermarket chains including Whole Foods, Trader Joe's, Publix, Meijer, Food Lion and Giant. Albertsons (thanks to its acquisition of Safeway) and Kroger each operate more locations than Aldi.
3/16
You Have to Bag Your Own Groceries
As part of its low-price business model, Aldi keeps a limited number of staff on the clock at any given time (typically just three to five people). This means that certain conveniences common at larger supermarket chains, such as having groceries bagged for you, is the responsibility of the customer.
You'll want to bring your own reusable shopping bags to pack up everything you've purchased. Otherwise, you'll have to buy shopping bags when you're ready to check out. At Aldi, plastic shopping bags can cost 10 cents each, while paper can run 6 cents per bag.
4/16
You Need a Quarter to Use a Shopping Cart
While shopping carts at most grocers are free for the taking, Aldi requires a 25-cent deposit to use a cart. The cart rental system is simple: To release a cart for your use -- the carts are chained together -- insert a quarter in the coin slot on the cart and the locking mechanism will disengage. When you return the cart and reinsert the chain, the quarter is returned. (Watch this YouTube clip to see Aldi's cart rental system in action.)
Why all the fuss over a quarter? Aldi says it saves money, which it passes along to shoppers in the form of lower prices, because it doesn't have to pay employees to wrangle stray shopping carts from the parking lot. If you want to avoid the 25-cent deposit altogether, it's OK to bring your own collapsible cart.
5/16
Nine Out of 10 Items Are Store Brands
More than 90% of the products found at Aldi stores are private brands, including organic and gluten-free brands. The company gets many of its store-brand products from the same food manufacturers that make name-brand products, says frugal living expert Lauren Greutman, meaning quality and taste are often comparable.
Aldi carries far fewer products than a typical supermarket -- 1,300 items versus 30,000 -- so stores are smaller and cheaper to operate, allowing the savings to be passed along to customers. "[Aldi] typically focuses on the most popular product items and package sizes," says Jon Springer, retail editor for Supermarket News.
Shoppers can find a small inventory of name-brand products, too. Name brands stocked by the chain include Coca-Cola, Oscar Mayer, Gatorade and Tide, says Liz Ruggles, the company's director of public relations.
6/16
Store Brands Are Cheaper Than Name Brands
Aldi claims shoppers can save up to 50% by switching to its store brands from national brands, based on its own price comparisons. We decided to put Aldi's claim to the test. At a Washington, D.C.-area Aldi, a 13-ounce bag of Clancy's restaurant-style tortilla chips cost 89 cents, while the same size package of Tostitos cost $4.99 at a nearby Safeway. A dozen Goldhen eggs costs $1.12 cents at Aldi, while a comparable carton of Lucerne eggs totaled $2.29 at Safeway. An 8-ounce container of Simply Nature Organic classic hummus was $2.55 at Aldi, while the same size package of Tribe classic hummus cost $4.59 at Safeway. Bottom line: The three items we priced were about 60% cheaper at Aldi than at Safeway.
Everything isn't always cheaper at Aldi, however. Since you can't use coupons at Aldi, Cindy Livesey, founder of website LivingRichWithCoupons.com, says you may be able to find better deals on such items as cereal and paper goods at a grocery store that does accept them. This is especially true when you combine manufacturer coupons with supermarket sales.
7/16
Not Satisfied? Get a Replacement and a Refund
Aldi's "Double Guarantee" policy is designed to ensure that customers are completely satisfied with their purchases. Say you buy a box of store-brand cereal from the discount grocer and end up hating it compared to your usual name-brand cereal. Simply return the cereal, including original packaging, to the store manager to receive a full refund and a replacement item.
Note that Aldi's guarantee does not apply to certain items including alcohol and national name-brand products.
8/16
Multiple Bar Codes Make Checkout Faster
You'll notice that all of Aldi's store-brand products have multiple barcodes on them. This is intentional, says Ruggles, the Aldi spokeswoman. The design allows for a quicker checkout, because Aldi cashiers don't have to waste time searching for a single barcode to scan on each item in your shopping cart.
That's not the only way Aldi shoppers can save time. Since product selection is limited, stores are smaller than traditional supermarkets, and layouts are consistent from store to store, it can be faster to find everything on your shopping list at Aldi.
9/16
Checks and Coupons Aren't Accepted
If you're planning a trip to Aldi, remember to leave your checkbook at home. As part of its effort toward speedier checkout, the grocer only accepts cash, debit cards, credit cards and (as of September 2017) contactless payment methods such as Apple Pay and Google Pay. Remember, too, that manufacturer coupons aren't accepted.
If it's any consolation, these restrictions can get you through the line faster since the person in front of you won't waste time filling out a paper check, fishing for an ID or scanning multiple coupons.
10/16
Stores Are Only Open During Peak Hours
Aldi locations operate during peak shopping hours, which typically means they aren't open as early or late as larger competitors. The company's rationale: "Staying open later would simply add to labor costs -- and raise our prices."
The Washington, D.C.-area Aldi store we visited operates weekdays from 9 a.m. to 9 p.m.; Saturdays from 9 a.m. to 8 p.m.; and Sundays from 9 a.m. to 7 p.m. The nearby Walmart Supercenter is open daily from 6 a.m. to midnight.
11/16
You Can Get Your Groceries Delivered
For busy families on the go, carving out an hour or two for grocery shopping in between soccer practice and piano lessons can be difficult. Aldi has made knocking out that weekly task a bit easier by offering online grocery delivery through Instacart in select cities. If you're not already registered for Instacart, you'll need to do so before placing your first order. Once you've signed up, you can load up your virtual shopping cart with many of the same items you'd find in-store, though note that the online prices won't always be the same as in-store prices.
When you're ready to check out, you'll need to schedule delivery and Aldi offers a couple of options. Either select a future delivery date and get your groceries as soon as the next day for a $7.99 delivery fee, or choose to have your items delivered as soon as one hour after ordering them for an additional $9.99 delivery fee. Customers can place orders online by going to Instacart.com/aldi (there's a $10 minimum) or by downloading the Instacart app to your smartphone. Use code "SHOPALDI19" to get $10 off your first three purchases of $35 or more.
12/16
You Can Purchase Beer and Wine
Select Aldi locations sell beer and wine. The reason why all stores don't sell alcohol is because the discount grocer must obtain special licenses on a store-by-store basis, which can be a lengthy process, the company says. For shoppers who live near an Aldi location that carries beer and wine, you can expect to find locally sourced and imported options ranging from hard cider and lager beer to cabernet sauvignon and riesling wines.
The discount grocer's wine selection has won several beverage industry awards including the World Wine Championship's Best Buy and Gold Medal awards. Prices vary depending on where you live, but generally range from $5.99 to $14.99 per bottle. Aldi offers several types of beer that are available in four- and six-packs. Per-pack prices typically range from about $5 to $7.
To find out if the Aldi location near you sells alcohol, use their store locator tool at aldi.us/stores. It lets you search nearby stores according to the features they offer -- for example, you can choose to view only stores that sell beer or stores that sell wine or stores that have parking lots.
13/16
There Are Affordable Options for Health-Conscious Shoppers
If you don't eat meat or dairy or prefer organic produce, you're in luck. You don't have to spend a small fortune at a pricey specialty supermarket to find suitable options. Aldi has a variety of budget-friendly food items for vegans and vegetarians alike -- or those who simply want to make healthier food choices.
The discount grocer's Earth Grown line is free of animal-based ingredients and includes vegan cheese and various meat alternatives (kale and quinoa crunch burgers anyone?) at affordable prices compared to other stores. For example, a 10-ounce package of Earth Grown chicken-less patties cost $3.65 at a Washington, D.C.-area Aldi location. At a nearby Whole Foods, the same size package of their 365 Everyday store brand chicken-less patties costs $3.99. A 10-ounce package of Earth Grown soy protein burgers totaled $3.29 at Aldi, while at Whole Foods the same size package of their 365 Everyday meatless burgers rang up for $3.99. That's nearly a 20% cost difference.
Aldi also has a gluten-free line of products called LiveGFree that includes cereal, baking mixes, frozen pizza, bread and pasta.
14/16
Best Things to Buy at Aldi: Kitchen Staples
Heading to the supermarket for some basics, say a gallon of milk, a dozen Grade A eggs, a loaf of white bread and a jar of peanut butter? Strictly judging by the bottom line, you may want to give Aldi a shot.
We priced out these four kitchen staples at an Aldi in Northern Virginia, and then compared the everyday, non-sale prices to similarly packaged store brands at three other nearby grocery retailers: Giant, Harris Teeter and Target. Here are the results (from cheapest to most expensive):
Eggs: Aldi, 39 cents; Harris Teeter, $1.39; Target, $1.49; Giant, $1.99
Bread: Aldi, 85 cents; Harris Teeter, 97 cents; Giant, 99 cents; Target, $1.64
Peanut butter: Aldi, $1.49; Target, $1.79; Giant, $2.19; Harris Teeter, $2.29
Milk: Aldi, $1.49; Target, $2.98; Giant, $3.49; Harris Teeter, $3.59
15/16
Worst Things to Buy at Aldi: Non-Food Items
Savings experts say it's best to steer clear of most toys, home goods, cleaning supplies and other non-food items at Aldi. But if you're tempted -- every so often, Aldi will score national-brand products and put what appears to be amazing prices on them -- first pull out your smartphone and price-compare.
"Make sure you check the price on these as they tend to be higher prices on lower quality items at Aldi," says money-saving expert Brent Shelton. "Plus, you can often find coupons for these types of items at other stores, even grocers, which would make buying them elsewhere a smart thing to do." Reminder: Aldi doesn't accept coupons.
When we compared prices on a roll of paper towels, for example, Aldi's price of 99 cents was the same as the price at Giant and Target. However, coupons and loyalty discounts could've brought down the price more at the latter retailers. (Aldi doesn't have a loyalty program, either.)
16/16
Mixed Reviews: Fruits and Vegetables
Like many of Aldi's goods, fruits and vegetables are often sold from the bulk boxes they were shipped in. No fancy, bountiful horn-of-plenty displays. And unlike major chains, many Aldi stores, especially older locations, don't refrigerate produce. "Produce [from Aldi] can spoil more quickly," says Tracie Fobes, a money-saving expert at the website Pennypinchinmom.com, "so buy only what you can eat within a few days."
Also, Aldi pre-packages many of its fruits and vegetables in bulk, so if you want, say, an apple you need to buy an entire bag. Most big supermarket chains sell similar produce loose. The latter approach allows shoppers to pick out the freshest individual items available.
However, Aldi is rolling out changes at new (and newly remodeled) stores aimed at fending off competitors. On top of better lighting and wider aisles, Aldi's new store format puts fresh produce center stage and includes refrigerated units for the likes of greens, perishable fruits, and premade soups and dips. Bulk packaging still rules at new stores, but that's a big reason why Aldi can keep produce prices so low.
Online Editor, Kiplinger.com
Browne Taylor joined Kiplinger in 2011 and is a channel editor for Kiplinger.com covering living and family finance topics. She previously worked at the Washington Post as a Web producer in the Style section and prior to that covered the Jobs, Cars and Real Estate sections. She earned a BA in journalism from Howard University in Washington, D.C.