13 Worst Things to Buy on Amazon
It's become second nature for many online shoppers to go straight to Amazon.com to make a purchase -- especially Amazon Prime members who shop using their voice-activated Alexa devices.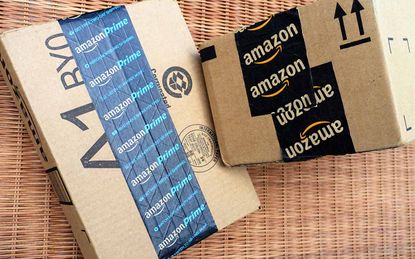 (Image credit: Getty Images)
It's become second nature for many online shoppers to go straight to Amazon.com to make a purchase -- especially Amazon Prime members who shop using their voice-activated Alexa devices. And why not? Amazon's selection is vast, its prices tend to be low and the free two-day shipping that comes with a Prime membership is reliable and convenient.
But while Amazon does, indeed, offer many great deals on many items, it doesn't always offer the best deal on every item it sells. We asked several shopping experts to weigh in on which products online shoppers should avoid on Amazon. While cost is critical, it's not always the deciding factor. Take a look at some of the worst things to buy on Amazon.
1/13
Name-Brand Clothing and Accessories
Most major department stores, specialty stores and big-box retailers that sell name-brand clothing and accessories regularly offer in-store coupons and online discount promo codes. These are savings that you simply won't get on Amazon. "You can easily spend at least 20% more buying name-brand clothing from Amazon compared to clothing-specific retailers such as Lands' End, American Eagle or Macy's," says Kyle James, founder of Rather-Be-Shopping.com, a site that aggregates in-store and online coupons and discount codes.
We spotted a Cole Haan Bayleen Leather Tote on Amazon for $99.99. You'll pay $20 less for the same handbag at Nordstrom Rack where it was priced at $79.97. A Movado Men's Museum Black Stainless Steel Watch was priced at $216.33 on Amazon. That same watch was $203.03 on Walmart.com. That's $13 less than the e-commerce giant.
If you've spotted a fashion item on Amazon that you'd like to buy, do some comparison shopping first. As long as it's not a hot-ticket item that may sell out fast, you may want to wait until another retailer selling the same item has a sale (for example, an end-of-season clearance) or offers an online discount code, James recommends.
2/13
Off-Brand Electronics
Buying electronics, such as laptops, digital cameras or televisions, on Amazon can be tricky -- whether you buy directly from Amazon or from a third-party seller on Amazon Marketplace. Unlike at brick-and-mortar retailers, you can't physically see or touch a desired item online before buying it. You also don't have the luxury of being able to ask a customer service representative any questions in person about the product.
The purchasing decision becomes even trickier with off-brand electronics, which don't have the reputation and reliability that come with name brands. As such, you run the risk of purchasing sight unseen a poor-quality product with a short lifespan. It may be worth the peace of mind to buy pricey electronics from a big-box retailer, where you can ask questions and get immediate assistance if there's a problem with the purchase.
If you decide to buy from Amazon, beware unreliable third-party sellers offering subpar off-brand products or even name-brand knockoffs, says Saundra Latham, a staff writer for Cheapism.com. Start by reading customer reviews, but do so with a skeptical eye. "Even if there are a ton of five-star reviews, confirm they are substantive and don't simply say the product is great without explanation," Latham adds. That could signal it's a fake review. Next, check the third-party seller's refund/return policies, which can differ from Amazon's. Finally, go to the seller's merchant page and send a message with any product-related questions you may have. The response -- or lack of one -- can help you determine whether buying the item is a smart move.
3/13
Costco Kirkland Products
It might come as a surprise to Costco members, but the warehouse club's popular Kirkland Signature store-brand products are also sold on Amazon.com. Online shoppers who don't want to pay Costco's $60 annual membership fee might be tempted to add Kirkland items to their Amazon shopping cart, but that would be a costly mistake, says Cindy Livesey, founder of LivingRichWithCoupons.com. The price mark-ups on all the Kirkland products sold on Amazon are substantial.
For instance, we recently found a two-bottle pack of Kirkland Signature Adult Multivitamin Gummies (320 count total) for $17.95 on Amazon -- versus just $12.79 at Costco. A 30-roll pack of Kirkland Signature 2-Ply Toilet Paper (425 sheets each) totaled $32.10 on Amazon, while the warehouse club had the same package for $19.99. To score the best deals you'll want to shop in-store at Costco. That's because prices on certain items available on Costco.com are priced higher than what you'll find at the brick-and-mortar locations. Also, depending on the item you may have to pay for shipping.
Consumers should also be aware that most of Amazon's inventory of Costco's Kirkland Signature products is sold by third-party sellers. Shipment on some of these items is fullfilled by Amazon. Others are shipped directly from the seller. If you need to dispute an order for items shipped by the seller, Amazon requires that you contact the seller directly first to attempt to work it out before they will step in.
4/13
High-End Beauty Products
When it comes to high-end cosmetics items (think: La Mer or Estee Lauder), you should probably steer clear of Amazon altogether, Cheapism.com's Latham advises. That's because the site has a documented problem with counterfeiters in its third-party marketplace, she notes.
Those merchants could be selling fake cosmetics or skincare products with harmful ingredients. Buy high-end cosmetics direct from the manufacturer's website or through an authorized retailer to ensure you're getting an authentic product. To find out if a particular retailer is authorized to sell a desired product, contact the manufacturer's customer service department through their website or by phone. They should be able to provide a list of authorized sellers near you.
5/13
Fine Jewelry
When it comes to purchasing fine jewelry such as a diamond ring, it may be wise to skip Amazon and shop at a bricks-and-mortar establishment instead, suggests Cheapism.com's Latham. If you're planning to spend several hundred or even thousands of dollars on a piece of jewelry, you'll want to be able to examine the intricate details including how it sparkles in the light, as well as the cut, color and clarity of the stone in-person, she notes. Otherwise, if you receive the item and decide you don't like it, you'll be forced to jump through several hoops to return the order to Amazon and get a refund.
According to Amazon's return policy on jewelry:
(1) You must return items over $35 using a trackable shipping method. This can be done through USPS, FedEx or UPS for an additional fee that you're responsible for paying;
(2) All product packaging including manuals, warranty cards and certificates of authenticity/grading/appraisal must be included with the item being returned;
(3) Items that have been resized, damaged or altered after delivery aren't eligible for returns;
(4) Those returned without all the original documentation will be rejected.
It's worth taking the extra step to visit a fine jewelry store in-person. That way you can talk with a sales professional about any issues you may have with a desired item.
6/13
Gift-Wrapping Paper
If you're one of those holiday shoppers who likes to plan well in advance, you might be thinking about stocking up on essentials such as gift-wrapping paper during the off-peak time of year. While Amazon does offer a variety of options, its prices on gift wrap aren't the cheapest. Your local dollar store is the go-to place for cheap gift wrap, LivingRichWithCoupons.com's Livesey says.
We searched for holiday gift-wrapping paper on Amazon and found several options at various price points. The least expensive among them cost $5.31 for three rolls (90 square feet total). That's not too bad, but to avoid the $5.99 shipping fee you'd have to purchase at least $25 worth of the stuff from the site. At Dollar Tree, we found several types of gift-wrapping paper (from printed to solid colors) that range in size from 12- to 20-square-foot rolls, all for $1 each. If you decide to go the dollar-store route, consider picking up a few other gift-giving essentials at bargain prices, including greeting cards, invisible tape, decorative ribbons and gift bags that you can snag for a buck.
No dollar store near you? Keep an eye out for holiday clearance sales at retailers such as Michaels, Walmart and Target. You should be able to stock up on gift-wrapping paper and related items in larger quantities at deeply discounted prices, Livesey adds.
7/13
Large Appliances
Buying larger appliances online, such as a washer, dryer or refrigerator, can be problematic. Yes, customer reviews are helpful, but nothing beats being able to examine appliances up close at an actual store, Cheapism.com's Latham suggests. That way you can take measurements, see hook-ups and peruse features, not to mention ask questions of a sales rep in person.
Big-box retailers and major department stores including Best Buy and Sears Appliance Outlet are popular with consumers on the hunt for large appliances. "It's simply easier to ensure you're getting exactly what you need -- the right size and specs -- in-store," Latham says. Another upside: You can haggle over the price, which physical retailers are willing to do face-to-face on large appliance purchases, she adds.
If you insist of buying through Amazon, Latham recommends sticking with the Kenmore brand, which the e-commerce giant sells directly. Prime members can also get two-day shipping on eligible items. Keep in mind, however, that returns can be a hassle. If you're returning a major appliance for any reason other than it arrived damaged or you were sent the incorrect item, you're responsible for scheduling the return and paying the shipping costs. Also, if you didn't discover that you purchased the wrong appliance until after it had been delivered and an installation attempt was made, installation and labor costs will be deducted from your refund. Large appliances purchased through third-party merchants are subject to that merchant's return policy.
8/13
Home Improvement Goods
Home improvement stores such as Lowe's and Home Depot are consumer favorites for good reason. Their vast inventory, knowledgeable staff and bargain prices are the main draw, Rather-Be-Shopping.com's James says. You'll find the best deals on hand and power tools, as well as hardware including nails and screws, at these big-box retailers compared to Amazon, he adds. We found a Kobalt 20-piece Standard and Metric Combination Ratchet Wrench Set on Amazon for $83.99. That same set was priced at $59.98 at Lowe's -- $24 cheaper than the e-commerce giant.
How are big-box retailers able to hold up against Amazon when others have been hard hit? Amazon has a difficult time competing on price with Home Depot and Lowe's, because those chains still have more leverage with their suppliers. "They're able to get their costs down and pass the savings on to their customers," James says.
9/13
School Supplies
If you have young children, you'll need to restock their supply of pencils, pens, paper and crayons on a regular basis. For those on a budget, Amazon shouldn't be the first place you turn to -- regardless of whether you're a Prime member with access to expedited shipping.
As with gift wrap, it's hard to compete with your local dollar store's prices on school supplies, LivingRichWithCoupons.com's Livesey says. You can find everything from composition notebooks to index cards to glue sticks -- even buy them in bulk -- for a fraction of what you'd pay on Amazon.
At Amazon, we found a four-pack of composition notebooks (100 sheets each) for $8.79. At Dollar General, you can purchase four composition notebooks (100 sheets each) for $4. We also comparison-shopped for binders -- an essential for school-age children. You can purchase a single three-ring binder for as little as $2.59 at Amazon. Remember that you'll have to tack on that $5.99 shipping fee if the purchase isn't part of a larger order that totals at least $25. At Dollar General, you can purchase three-ring binders in a variety of sizes in-store starting at $1.75.
10/13
Paper Products
If you're a Prime member or a frequent Amazon shopper, it can be all too easy to buy your household essentials from the site without thinking twice about the cost. However, if you're keen on finding the best price on desired items, products such as paper towels and toilet paper are usually cheaper at brick-and-mortar stores, says Julie Ramhold, a consumer analyst for DealNews.com.
For example, if you need to purchase these items in bulk, a warehouse club is your best bet, she advises. At Costco, a 12-count package of Kirkland Signature Create-a-Size 2-Ply Paper Towels (160 sheets per roll) cost $19.99. You'll pay $27.49 for 12 rolls of Amazon's store brand Presto! Flex-a-Size Paper Towels (158 sheets per roll) -- an extra $7.50. For smaller quantities, a big-box retailer should be your go-to, because they offer weekly sales and accept coupons, Ramhold adds. At Target, a six-pack of Angel Soft Mega Roll 2-ply toilet paper (429 sheets per roll) totals $5.29. Target Circle members get an extra 50 cents off for buying in-store. On Amazon, you'll pay $12.53 for a six-pack of toilet paper (396 sheets per roll) from the same brand. That's $7.24 more for less product compared to Target.
11/13
IKEA Products
The e-commerce giant also sells IKEA products -- from their infamous blue plastic shopping bags to kitchenware to furniture. But like Costco, you'll pay a hefty markup for the convenience of ordering these products with speedy shipping options from Amazon versus shopping directly at IKEA, Cheapism.com's Latham notes.
To get a better sense of how much extra you'll pay, we compared prices on several IKEA products available on Amazon in a variety of categories. At IKEA, you'll pay just 99 cents for a Fullandad whisk. On Amazon.com, you'll pay $8.95 for the same item -- an extra $8. The Swedish furniture retailer sells its Holmo floor lamp (which includes a LED light bulb) for $12.99, but on Amazon it's priced at $27.86. That's practically $15 more. You'll pay $89.99 for IKEA's Kallax shelf unit in-store, but on Amazon it's priced at $174.95. That's nearly double the manufacturer's price. Keep in mind that if you're a die-hard online shopper, you'll need to shop in-store to score the best deals on IKEA products compared to Amazon's inventory. The furniture retailer's shipping costs for online purchases can be pricey and range from $5 for smaller products to $49 for larger items including furniture.
Another benefit of shopping directly with IKEA instead of Amazon is signing up for their Family Club program. You'll get access to exclusive discounts, member rewards and tasty treats at their on-site cafe when you shop in-store.
12/13
Mattresses
If you're in the market for a new mattress, consider buying it directly from the manufacturer instead of Amazon. That's because when you shop for a mattress using the e-commerce giant, you may get a shorter trial period compared to what the manufacturer offers.
Cheapism.com's Latham calls out Brentwood Home, a luxury mattress and bedding brand whose products are available for purchase on Amazon in addition to its own site. When you buy a mattress from BrentwoodHome.com, your purchase comes with a one-year risk-free trial period. This means you can return the mattress (in good condition) for a full refund up to 365 days after purchase. If you buy one of their mattresses that's sold by and shipped from Amazon, you only have 30 days to return it if you're not satisfied.
You'll also miss out on exclusive manufacturer discounts by opting to shop on Amazon. For example, Brentwood Home recently offered $200 off select mattresses as part of their President's Day sale. Another thing to be cautious of when shopping on Amazon is buying through third-party sellers. If you go this route, it's at the seller's discretion whether they'll accept a return if you're not satisfied with the purchase. Essentially, you could be stuck with an expensive mattress you can't use -- and, ultimately, will still need to replace.
13/13
Ice Melt
In colder climates, stocking up on ice melt to cover your home's driveway and sidewalks is a must during the winter months. This is another product where you'll want to comparison-shop first. You might find that you're better off buying from a big-box retailer if you're looking to score a deal, suggests smart shopping expert Trae Bodge of TrueTrae.com.
If you use Amazon's search filter to narrow down product results, you may notice that items with the highest customer ratings tend to be pricier. This was the case for Bodge, who recently purchased ice melt for her New York City-area home. "I had no idea how much ice melt typically costs," she says. Bodge recalls the options for a jug of well-reviewed, pet-safe ice melt on Amazon were in the $30 range. "I was shocked by the price, but didn't know any better so I made my purchase," she shared with Kiplinger. It wasn't until afterwards that Bodge noticed a similar product at Target, priced at $12. "Once I received [the Amazon order] and realized my error, I tried to return it but had to either pay for return shipping or trek over to Kohl's [which accepts Amazon returns] to make my free return," she recalls.
We compared prices on ice melt at Walmart and Amazon. Here's what we found: A 12-pound jug of Ultraviolet Extreme Power Ice Melt at the big-box retailer totaled $16.27. On Amazon, that same jug cost $26.49 -- $10 more than at Walmart. As Bodge discovered, when ordering a product from Amazon you aren't completely sure you'll want to keep, you will be responsible for covering the cost of trackable return shipping by mail. If you'd prefer not to pay this fee, you'll have to drop off the order at a Kohl's store, which will re-pack and ship it for you for free.

Browne Taylor joined Kiplinger in 2011 and was a channel editor for Kiplinger.com covering living and family finance topics. She previously worked at the Washington Post as a Web producer in the Style section and prior to that covered the Jobs, Cars and Real Estate sections. She earned a BA in journalism from Howard University in Washington, D.C. She is Director of Member Services, at the National Association of Home Builders.