18 Things You Should Know Before Shopping at Trader Joe's
Everything you need to know to save money and shop smarter at the quirky Trader Joe's supermarket chain.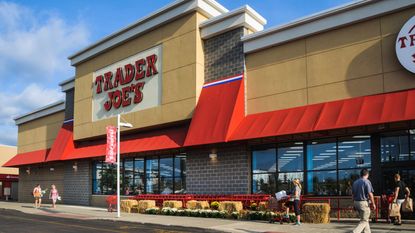 (Image credit: Getty Images)
The eclectic and retail-fan-favorite Trader Joe's is well-known to its loyalists for low prices on unique food items, ranging from cookie butter to salsas, cheeses and ready-to-eat packaged meals. The grocery store chain is also known for its quirky culture. Employees, easy to spot in their Hawaiian shirts, go out of their way to be helpful, and the stores are livened up by creative chalkboards and other decor (including plastic lobsters).
The chain was also nimble during the global health pandemic, which forced Trader Joe's to make some changes to its day-to-day operations. Instead queing up at registers, loyal customers formed long lines outside the store to get inside, as store capacity was limited. Most TJs are back to the typical 8 a.m.-to-9 p.m. operating hours seven days a week, and in our experience, Trader Joe's seems sufficiently staffed to move customers quickly through the checkout process. As usual, customers still appreciate the unconventional touches that help make the Trader Joe's shopping experience stand out from a traditional grocer.
If you've never been inside one of Trader Joe's 530-and-growing locations but are eager to go, here are some shopping secrets you need to know before making your first trip.
1/18
Trader Joe's Has No Plans to Offer Delivery or Curbside Pickup
Many big supermarket chains and big-box retailers that offer fresh grocery items have their own systems for online ordering for delivery or curbside pickup. I was recently in an Amazon-owned Whole Foods (a block or two away from a TJ's in Charlottesville, Va.) and there were a slew of employees in the aisles shopping for customers who ordered online.
However, Trader Joe's says there aren't any plans in the works to offer these services to its customers. In an episode of its Inside Trader Joe's podcast, the company's vice president of marketing Matt Sloan explains why doing so doesn't make sense for the business: "Creating an online shopping system for curbside pickup or the infrastructure for delivery, it's a massive undertaking. It's something that takes months or years to plan, build and implement, and it requires tremendous resources."
Rather than cut staff to help fund services such as self-checkout, online ordering and delivery, the company says it will continue to invest in hiring on-site staff. In that same podcast episode, Tara Miller, Trader Joe's marketing director said, "The bottom line here is that our people remain our most valued resource . . . our crew will be in our stores to help you find your next favorite product, just as they've always been."
Indeed, back at that Whole Foods: Those aisle-hogging employees were so focused on getting those online orders pulled from the shelves and bagged, they had no time to interact with customers who had actually showed up to shop for themselves.
2/18
Does Trader Joe's Have Self-Checkout?
In a word, no. Unlike many of its bigger counterparts, from Walmart to Kroger, Trader Joe's isn't dipping its toes into supermarket self-checkout registers, even though some of Trader Joe's more rabid fans are screaming for it.
Why? Again, the focus remains on employees.
"The bottom line here is that our people remain our most valued resource," said Tara Miller, Trader Joe's marketing director. "While other retailers were cutting staff and adding things like self-checkout, curbside pickup and outsourcing delivery options, we were hiring more crew, and we continue to do that."
And by the way, another big grocery retailer, Costco, has backed off on self-checkout lanes by having employees with scanners intervene to help customers speed things along. That reversal started during the early stages of the pandemic and continues today at most, if not all, Costco warehouse stores
3/18
You Can Buy One Banana for 19 Cents
Buying produce in bulk can make financial sense as long as you're sure you'll use up everything before it goes bad or expires. That's why some budget-conscious grocery shoppers avoid purchasing large quantities of fruits and vegetables, even though the price per unit might be cheaper. A chance encounter between Trader Joe's CEO and a customer at a Sun City, Calif., store confirmed this hesitation and led the grocer to start selling bananas individually.
Like most grocers, Trader Joe's used to sell bananas only by the pound. The smallest bag you could buy contained four or five bananas. One day while visiting the Sun City location, CEO Dan Bane observed an elderly customer examine a bag of bananas, then put it back on the shelf. When Bane asked why she didn't buy the bag of bananas, he recalls the elderly shopper saying, "Sonny, I may not live to that fourth banana." The next day Trader Joe's started selling single bananas for 19 cents apiece.
That's a great legend, all right, but you might actually get a better price... at Whole Foods. Next to rows of neatly hung banana bunches, I found a basket stacked with single bananas. When I checked out at the, er, self-checkout registers, I put the lone banana on the scale, punched in the code. The banana's price? Sixteen cents.
4/18
Aldi Is Part of the Family
Trader Joe's was founded in 1967 in Pasadena, Calif., by entrepreneur Joe Coloumbe. It was acquired in 1979 by Aldi Nord, a German company that also operates Aldi grocery stores in Europe. Aldi Nord's sister company, Aldi Sud, operates Aldi stores in the U.S.
Despite the corporate ties, the two chains have distinct marketing strategies. Aldi is price-driven and undercuts competitors by selling cheaper private-label versions of the most popular items at traditional supermarkets, retail experts note. Trader Joe's also aims for affordability, but its driving force is a unique brand. It focuses on of mostly prepackaged products in unusual flavor combinations that you won't find anywhere else.
5/18
There Are No Sales or Coupons at Trader Joe's
Most supermarket chains put select items on sale every week. But at Trader Joe's, what you see is what you get when it comes to price, says Jeanette Pavini, a household savings expert for Coupons.com (opens in new tab). That means you won't find any Trader Joe's deals listed in your Sunday circulars.
The grocer claims that because it already offers the lowest prices it can every day, there's no room for sales, specials or coupons — and that bypassing all that marketing ultimately saves the customer as well. To test this claim, we compared the price of a bottle of Trader Joe's Organic Italian Dressing with a similar salad dressing available at Whole Foods. Here's what we found: At Trader Joe's you'll pay $3.49 for a 12-ounce bottle, while you'll pay $4.79 for a 12-ounce bottle of Whole Foods house brand 365 Organic Italian Romano Dressing at Whole Foods — a savings of $1.30 if you go with Joe.
6/18
8 Out of 10 Items at Trader Joe's Are Store Brands
In 1972, Trader Joe's introduced its first private-label product: granola. Today, 80% of the products carried by Trader Joe's are store brands, a company spokesperson told Kiplinger. The grocer says the heavy emphasis on store brands helps keep costs low because it buys direct from suppliers whenever possible (no middleman markup) and then passes the savings on to its customers. It's a common industry practice for traditional grocers to charge their suppliers fees for shelf placement, which results in higher prices for customers. Trader Joe's says it doesn't do it.
Health-conscious customers should know that the company claims all of its store-branded food and drinks are free of artificial flavors, artificial preservatives, synthetic colors and genetically modified (GMO) ingredients.
7/18
Trader Joe's Prices Aren't Always the Lowest
To find out whether Trader Joe's really does offer lower prices versus other stores, we did some comparison shopping. We looked at the cost of several everyday grocery items and priced them against similar items available at Whole Foods, Target and Walmart. Here's what we found:
At Whole Foods, a 12-ounce package of their 365 Avocado Ranch Organic Chopped Salad Mix costs $4.99 for a 7.35-ounce bag. You'll pay $4.49 for a similar-sized bag of Trader Joe's Caesar Salad Kit. We spotted a 4-pack of Morningstar Farms Grillers Original Frozen Veggie Burgers at Target for $4.39, while a 2-pack of Trader Joe's Turkeyless Protein Patties costs $4.49. You'll get twice the amount of veggie burgers at the big-box retailer for 10 cents less. However, at Walmart, a 25.5-ounce bottle of store brand of Great Value Organic Extra-Virgin Olive Oil is $6.25, or 25.4 cents per ounce. You'll pay $6.49 for Trader Joe's Extra-Virgin Olive Oil in a 33.8 ounce bottle, or 19 cents per ounce. That​​​​​​​'s more EVOO at a cheaper price.
Another thing to keep in mind, says Cindy Livesey, founder of LivingRichWithCoupons.com (opens in new tab), is that a lot of Trader Joe​​​​​​​'s produce items are prepackaged, which doesn​​​​​​​'t allow shoppers to choose how much they actually want to buy. (Except for, of course, bananas.)
8/18
Trader Joe's Products Come and Go From Shelves
It's easy to get attached to your favorite snack (I'm lookin' at you, TJ's Cheddar Rocket Crackers). Just be warned that at Trader Joe's your cherished item might not be around forever. There are even social media accounts dedicated to letting shoppers know when items are slated to be pulled from shelves or are strictly seasonal items (for example, check out @traderjoestobediscontinued (opens in new tab) or @traderjoesgeek (opens in new tab) on Instagram).
Trader Joe's rationale? Because store space is limited and new products are introduced every week, items that don't catch on quickly need to make way. A product might be also be pulled if the cost of producing it increases significantly.
9/18
Trader Joe's Has a Lenient Return Policy
Trader Joe's also has a no-questions-asked return policy. If you purchase something, try it at home and decide you don't like it, simply bring whatever you haven't eaten back to your local store for a full refund.
10/18
Trader Joe's Learned Lessons During the Pandemic
Prior to the COVID-19 outbreak, Trader Joe's was notorious for its long checkout lines — especially during peak hours. While doing some comparison shopping at a couple of Trader Joe's in northern and central Virginia, we've experienced wait times of as long as 25 minutes on a Saturday afternoon, pre-COVID.
However, during the pandemic, the long lines were outside of Trader Joe's stores as the company implemented social distancing and safety procedures to help eliminate overcrowding in-stores that used to result in packed checkout lines and long wait times.
With the in-store customer limits all but gone, in our experience, the long lines at the registers for the most part haven't returned. During a busy Tuesday morning at a Trader Joe's in Charlottesville, there were a lot of customers inside the store, but virtually no lines at the checkout and little wait time. Staffers quickly ushered customers to open checkouts, and if there was any surge, another staffer immediately opened another register.
That could be, in part, due to the company's philosophy of pouring money into employees helping in the store, not self-checkouts or curbside pickup.
11/18
A Ringing Bell Means Help Is on the Way
Unlike most supermarkets that use intercoms to summon assistance, Trader Joe's has a bell system. In keeping with its kitschy maritime theme (remember the plastic lobsters?), the grocer uses actual ship's bells located near the checkout area to signal to employees that help is needed.
Here's what all the noise is about: One ring lets employees know that another cash register needs to be opened. Two rings mean there are additional questions that need to be answered at the checkout area. Three rings signal that a manager is needed for further assistance. While this system may be a bit odd, shoppers seem to like the chain's eccentricities. Trader Joe's ranks first in customer satisfaction among supermarket shoppers, according to the 2020-2021 American Customer Satisfaction Index Retail and Consumer Shipping Report, ahead of Costco, H-E-B, Publix and Wegmans.
12/18
Trader Joe's Stores Donate Unsold Food to Local Charities
While offering customers quality products is a top priority for Trader Joe's, so is giving back to the community. The grocer says that it donates 100% of products that go unsold, but remain safe for consumption. Each store has a donation coordinator who is responsible for working with local food banks and soup kitchens to arrange daily donations. The company even donates non-food items such as fresh flowers and health and beauty products still in good condition.
Last year, the grocery chain says it donated $345 million worth of products to charities across the country.
13/18
All Trader Joe's Products Go Through a Tasting Panel
Trader Joe's takes product quality seriously. Every product the grocer sells goes through a tasting panel and must receive a 70% vote of approval before it gets the green light to hit store shelves. If the panel doesn't like it enough, you won't see it at Trader Joe's. There's no "pay to play" for product placement as is the case with most other supermarket chains, as mentioned by Trader Joe's Sloan in an "Inside Trader Joe's" podcast episode.
"We don't collect slotting fees. We don't have producers of the stuff that we sell pay for the privilege of having space," he says.
14/18
Flowers and Greeting Cards Are a Particular Value at Trader Joe's
You may not think of your local grocery store as the go-to spot for deals on fresh flowers and greeting cards, but if you're on a budget, Trader Joe's should be on your radar, says consumer savings expert Andrea Woroch (opens in new tab).
We did some comparisons of our own recently. Small potted orchids were selling for $10.99 at Trader Joe's (while they're usually around $20 at Whole Foods). If you're in need of a reasonably priced bouquet in a pinch, Trader Joe's flower section is usually located near the front of the store. Bouquets ranged from $6.99 to $12.99. A small bouquet at Whole Foods was $16.99.
An even bigger bargain at Trader Joe's are the distinctive greeting cards, selling for 99 cents. We usually stock up when we make a TJ's run. At Whole Foods, all-occasion greeting cards ranged from $2.99 to $7.50.
15/18
Trader Joe's Says No to Plastic and Styrofoam Packaging
When it comes to product packaging, Trader Joe's is making a big push for sustainability. In 2019, the grocer began replacing the plastic and styrofoam containers on items including produce, meats and greeting cards with renewable and plant-based alternatives. For example, Trader Joe's now uses a compostable tray instead of a styrofoam version for its fruits and vegetables. Their product marketing team has worked to replace the plastic sleeves on their greeting cards with a plant-based starch version to help keep them in pristine condition. The new card sleeve is biodegradable, and shoppers can compost it at home.
The grocer announced that it had removed about 6 million pounds of plastic from its product packaging in 2019 alone. This included getting rid of plastic bags — which they did starting in 2018 — at the checkout register. You get biodegradable paper bags instead, great to use to collect your recycable paper to haul to the recycling center. Trader Joe's is also replacing plastic and foil pouches on its tea packages with compostable film.
16/18
Trader Joe's Will Give You a Heads-Up on New Products
One of the many quirks that keeps die-hard Trader Joe's customers coming back is the unique food selection — from dark chocolate peanut butter cups to "Everything but the Bagel" sesame seasoning. While the grocer regularly releases new products, many customers only randomly stumble upon them. Luckily, there's a way to find out about new products that hit store shelves sooner rather than later.
Shoppers can follow the What's New page on the grocer's website to learn about the most recent product launches. The page gets updated several times per week. Each post lists a new product's ingredients, explains how it made its way onto store shelves and where you can find it in-store. A few of the recent posts include Pumpkin Spice Espresso Beans, Butternut Squash Mac & Cheese, Kintamani Small Lot Coffee, Sweet Cinnamon Filled Korean Pancakes, Rosemary Sfogliette Crackers, and Vegan Cream Cheese Alternative. Shoppers can check this page and add desired items to their grocery lists before their routine weekend Trader Joe's trip, which can help cut down on impulse shopping.
17/18
Vegan, Kosher and Gluten-Free Options Abound at Trader Joe's
If you have a food allergy or adhere to a strict diet, shopping at a traditional grocery store can be problematic. Oftentimes you'll have to make multiple trips to several stores to grab everything on your list, which can be time-consuming. Trader Joe's aims to make that weekly chore a bit easier for shoppers with special dietary needs by offering a vast selection of kosher, vegan and gluten-free items. All are clearly labeled. Special dietary offerings include organic brown rice and quinoa spaghetti, Miyoko's vegan butter and gluten-free cinnamon raisin bread.
Shoppers can find a robust list of kosher, vegan and gluten-free products available at Trader Joe's on the website, as well as related recipe ideas.
18/18
Want a Trader Joe's Near You? Just Ask
If you're now curious about visiting a Trader Joe's only to find out that there isn't a store near you, you have some recourse. Shoppers interested in bringing a store to their area should visit the Request a TJ's in My City page (opens in new tab) on Trader Joe's website and fill out the short questionnaire.
While Trader Joe's can't guarantee it will open a store in every requested city, if consumer demand is high enough in a particular area management vows to give it serious consideration. There are several new Trader Joe's locations that just opened or are in the works that will be located in Christiana, Del.; South Bend, Ind.; Crestview Hills, Ky.; Morrisville, N.C.; Lower Allen Township, Pa.; and Long Island City and Halfmoon, N.Y.
Online Editor, Kiplinger.com
Browne Taylor joined Kiplinger in 2011 and is a channel editor for Kiplinger.com covering living and family finance topics. She previously worked at the Washington Post as a Web producer in the Style section and prior to that covered the Jobs, Cars and Real Estate sections. She earned a BA in journalism from Howard University in Washington, D.C.