7 Signs You Are Buying a Counterfeit Product
You love the finer things in life -- designer clothing, precious jewelry and top-of-the-line electronics -- but can't really afford them at retail price.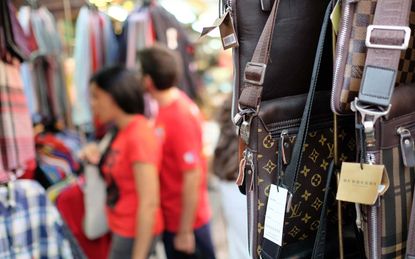 (Image credit: iStockphoto)
You love the finer things in life -- designer clothing, precious jewelry and top-of-the-line electronics -- but can't really afford them at retail price. So you take to the internet or pound the pavement in a sketchy downtown shopping district in search of deep discounts. You, dear reader, are a counterfeit merchant's dream come true.
The counterfeit market is big business for scammers looking to take advantage of consumers by selling low-cost, low-quality replicas of luxury goods and brand-name products. Last year, the number of counterfeit seizures by U.S. Customs and Border Protection (CBP) totaled 31,560 -- up 9% from 28,865 in 2015. The most popular product categories on the CBP's seizure list include apparel and accessories, electronics, footwear, watches and jewelry, and handbags. The total estimated manufacturer's suggested retail price for those items (if they were authentic) was $1.4 billion, according to the CBP.
Consumers who get duped by counterfeit goods aren't simply left holding a fake bag. You also expose yourself to identity theft by unscrupulous merchants now armed with your credit-card numbers and other personal information. Perhaps even worse, you risk allergic reactions to the unorthodox ingredients -- such as urine (in fragrances) and high levels of aluminum (in makeup) -- often used in counterfeit beauty products, warns Bob Barchiesi, president of the International Anti-Counterfeiting Coalition, a Washington, D.C.–based nonprofit organization that helps combat product counterfeiting and piracy.
We spoke with several experts about how to detect a fake product before buying it -- and possibly losing a couple hundred dollars in the process. Here are seven signs you're buying a counterfeit:
1/7
The Price Is Too Good to Be True
Before shopping around for the best deal, look up the manufacturer's suggested retail price on its official site or the site of an authorized retailer. Also evaluate the generosity of any discounts or sales. Then, as you navigate further to unverified sites selling what appears to be your desired product, you'll know what the real item should cost. A near-identical product that costs significantly less is likely fake, Barchiesi says.
For example, a Louis Vuitton Montaigne Monogram leather tote bag retails for $2,570. We found a merchant selling replica versions through online marketplace Alibaba.com for as little as $26 per bag.
2/7
The Product Is Imperfect
If you're contemplating spending a few hundred dollars on a luxury item, a quick glance at an online image or a once-over inspection at a brick-and-mortar consignment shop isn't enough. "Not only can the external appearance of an item be copied, but so can the internal serial numbers and authenticity cards," warns Susan Scafidi, founder and academic director of the Fordham University School of Law's Fashion Law Institute program.
That's why it's important for shoppers to research a desired item -- down to the exact shape of the hardware [for example, on high-end luggage] and the type of zipper pull on an interior pocket, says Scafidi.
As sophisticated as counterfeiters may be in replicating high-demand products, there's usually at least one giveaway if you look closely enough. Anything that looks sloppy, such as uneven stitching or sloppy edge dye, is a telltale sign of a fake, Scafidi says. Counterfeit products are designed to fool the eye -- not the fingertips: For instance, real "leather looks, feels and smells different than pleather," she adds.
Other features commonly found on fake goods, such as designer handbags, and rarely ever on authentic versions include hangtags, plastic sleeves on handles and masking tape used to protect the feet of a bag, says Graham Wetzbarger, authentication director for luxury consignment website TheRealReal.com.
3/7
The Product Doesn't Come With Official Packaging
Perhaps one of the biggest warning signs of a counterfeit operation is the lack of official branded packaging. You'll typically see this with third-party online marketplaces, Barchiesi notes, where the product listing may state that there's no packaging available with the item. This should raise a red flag immediately, because "legitimate brands spend a lot of money on their packaging," he says. For example, many high-end accessory brands will include a dust bag, which helps protect the exterior of leather goods, such as handbags, from dust and dirt when not in use.
Keep in mind that some counterfeiters will actually take that extra step to include packaging; you should request pictures of it so you can examine it, too. Often, the packaging that comes with fake goods will have misspellings, or the ink will be smeared or the graphics will be blurry, Barchiesi adds.
4/7
The Seller Won't Respond to Customer Inquiries
Manufacturers often publish lists of authorized retailers on their websites or include it in their packaging materials. For example, electronics brand Samsung's site provides a list of more than 100 online and brick-and-mortar retailers who are authorized to sell Samsung products.
Not sure if the cheap online vendor you've discovered is an authorized reseller? Ask a question. Legit sellers should respond to your inquiry swiftly and clearly. If you're dealing with a merchant who is unwilling to answer a simple question about, say, the source of a particular item for sale, use common sense and don't purchase it, says Michael B. Walsh, director of the U.S. Customs and Border Protection intellectual property rights division.
5/7
The E-Commerce Site Doesn't Assure Product Authenticity
Reputable consignment sites and tech resellers that aren't necessarily authorized retailers -- such as TheRealReal.com, Portero.com and TechRabbit.com -- guarantee product authenticity or that products sold meet the manufacturer's specifications. Look for a site-wide guarantee on the home page or on the site's FAQ or About Us page.
"Many [fraudulent] websites will mislead shoppers with phrases such as 'guaranteed original' or '100% new'" [on individual product listings], says TheRealReal's Wetzbarger, "or may not mention anything at all."
6/7
The E-Commerce Site Doesn't Provide a Secure Checkout
When shopping online, make sure that you're buying from retailers that provide a secure checkout experience, such as Nordstrom.com and NiemanMarcus.com, which are authorized retailers for many popular brands including Ray-Ban and Fendi. If paying with a credit card, look for a small lock icon in front of the website address, followed by https (versus http for an unencrypted site). Sites that take this measure are helping to protect your personal information from scammers who may use it to open fraudulent credit card accounts or steal your identity. Or shop at consignment sites such as ThredUp.com and Tradesy.com that also offer a secure checkout process via PayPal.
"Websites selling counterfeit or pirated items will often not have secure checkout systems in place," Walsh says. These types of systems cost online merchants extra money to maintain. The lack of a secure checkout, he adds, is a red flag that the merchant may not be trustworthy.
7/7
You're Buying It on the Street
Many major cities have areas that are known as hot spots for counterfeit dealers. These areas are usually located in compact downtown shopping districts and have dozens of walk-up establishments that only accept cash. Some of the most notorious include New York City's Canal Street and Los Angeles's Santee Alley.
Year after year, unsuspecting shoppers -- often, tourists who don't know the shopping district's reputation -- flock to these areas thinking they are scoring huge deals on everything from fine jewelry to high-end skincare products to designer sunglasses, when in fact they're buying fakes. Remember, authentic items aren't sold on street corners, Scafidi says.

Browne Taylor joined Kiplinger in 2011 and was a channel editor for Kiplinger.com covering living and family finance topics. She previously worked at the Washington Post as a Web producer in the Style section and prior to that covered the Jobs, Cars and Real Estate sections. She earned a BA in journalism from Howard University in Washington, D.C. She is Director of Member Services, at the National Association of Home Builders.