6 Ways to Save Even More at Discount Retailer Big Lots
When you shop at Big Lots, don't expect to cross everything off your list.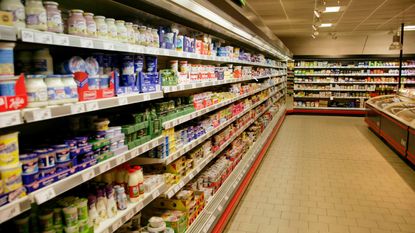 (Image credit: Getty Images)
When you shop at Big Lots, don't expect to cross everything off your list. The shopping experience at the popular discount retailer is more of a treasure hunt.
Sure, you can shop for groceries and home goods on the cheap at Big Lots, but selection is inconsistent. And the company takes pride in providing surprises and special deals down every aisle.
Big Lots, which operates more than 1,400 stores nationwide, specializes in cutting deals on closeouts and overstocks from other retailers. Big Lots buys it on the cheap and sells it that way. As soon as you roll your shopping cart into a Big Lots store, you're immediately hit with 50%-off deals and clearance racks with even bigger markdowns.
"A large percentage of Big Lots' inventory comes from after-season overstock and discontinued products from retailers and manufacturers," explains Brent Shelton, of deals website FatWallet.
Take a look at what to expect -- and how to save even more -- on your first or next visit to Big Lots.
1/6
Join the Big Lots Rewards Program
Save $5 on your first visit to Big Lots by signing up for Big Lots' Buzz Club, the retailer's in-store rewards program. You'll receive a coupon good for $5 off your purchase of at least $15.
Among other benefits, Buzz Club members earn points with every purchase and are rewarded with special offers via e-mail, get invited to members-only shopping events (some offering 20% off everything in the store) and are notified of fresh merchandise arriving in stores. Members also regularly receive more of those coupons for $5 off purchases of $15 or more.
The Buzz Club, notes Shelton, "is actually a big key to getting competitive prices at Big Lots, since so many retailers and brands now offer similar discounts at different times of the year."
2/6
Save Big on Cosmetics and Beauty Supplies
Big Lots regulars know it's the place to go for deals on makeup, shampoo and other pricey beauty essentials. Look for discontinued name-brand makeup and nail polish at 50% off and better, as well as skin- and hair-care products at 66% off or more. Sales are sporadic, but rewards club members usually get first notice, and beauty blogs such as Nouveau Cheap also get a heads-up.
The Big Lots sales usually follow seasonal sales by other retailers, including drugstores, that carry makeup, nail polish, skin-care and hair-care products, "especially [early in the year] as stores start to clear out 2016 products and stock new 2017 replacements," says FatWallet's Shelton. The older products land on Big Lots' shelves.
3/6
Double-Check Those Expiration Dates
Big Lots stores have center-store grocery aisles that include brand-name frozen foods (a relatively new offering at Big Lots) and canned goods, cereals, snacks, sodas and more (but no fresh produce). Big Lots has some of the best grocery prices found anywhere. For example, Kiplinger's recently found a one-pound box of Nabisco Saltines for $2 at Big Lots -- compared with $2.56 at Walmart and $2.99 at Giant. Likewise, a 12.5-ounce box of Honey Nut Chex cereal was just $2.80 at Big Lots -- versus $3.98 at Walmart and $3.79 at Giant.
But, cautions Shelton (and Big Lots shoppers we spoke with), "be sure to check expiration dates." That's because many food items have already sat on shelves in a warehouse or other retailer before coming to Big Lots.
4/6
No Assembly Required
Big Lots sells the big stuff, too -- discounted furniture, including bedding and mattresses (from Serta), sofa sectionals (from Simmons Upholstery) and more. For now, head to the back of your local Big Lots to see furniture in stock, but redesigned stores will showcase furniture at the front later this year.
Big Lots furniture -- bookshelves, dressers, TV stands, end tables -- is all preassembled. That's a big deal for those not so adept at doing it themselves.
5/6
Score 20% Off on Weekends
Well, not every weekend. But three or four times a year, Big Lots offers 20% off everything in the store throughout the weekend. (Big Lots reps tell us no dates have been set yet for 2017.)
Buzz Club members are notified via email and usually get first crack at the storewide sales before the stores reveal the 20%-off events to the general public.
Not a Buzz Club member? Keep an eye on the Big Lots website or the inserts in your local newspaper for details on the next big sale.
6/6
Save Big With Seasonal Items
Savvy shoppers hunt for deeply discounted seasonal items after the season, and this is Big Lots' specialty. Prices on seasonal merchandise are slashed weekly at Big Lots until it's all gone.
Christmas items, for instance, were a hot sale in January. Big Lots had the Winter Wonder Lane 7-foot Aspen Slim (for those tight spaces) pre-lighted artificial Christmas tree on sale, post-Christmas, for $34 -- that's 60% off its regular price of $85. Now, seasonal sales revolve around patio and deck furniture, and other spring decorating items.
Online Editor, Kiplinger.com
Bob is a Senior Online Editor at Kiplinger.com. He has more than 40 years of experience in online, print and visual journalism. Bob has worked as an award-winning writer and editor in the Washington, D.C., market as well as at news organizations in New York, Michigan and California. Bob joined Kiplinger in 2016, bringing a wealth of expertise covering retail, entertainment, and money-saving trends and topics. He was one of the first journalists at a daily news organization to aggressively cover retail as a specialty, and has been lauded in the retail industry for his expertise. Bob has also been an adjunct and associate professor of print, online and visual journalism at Syracuse University and Ithaca College. He has a master's degree from Syracuse University's S.I. Newhouse School of Public Communications and a bachelor's degree in communications and theater from Hope College.