8 Secrets Wegmans Shoppers Need to Know
The most celebrated grocery chain in the nation is 100 years old, but you've probably never heard of it.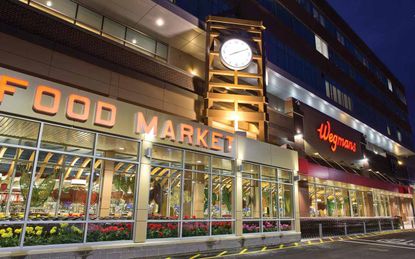 (Image credit: Courtesy Wegmans)
The most celebrated grocery chain in the nation is 100 years old, but you've probably never heard of it. And even if you have, you've probably never set foot in one of its stores. The retailer recently dethroned Trader Joe's as America's favorite supermarket, yet you won't find its stores in 44 states.
But don't fret for Wegmans. What the Rochester, N.Y., company lacks in name recognition and geographic reach, it makes up for in other ways. Wegmans stores are bigger and more abundantly stocked than those of rival chains, and its shoppers exhibit a cult-like devotion to its products and service. Case in point: You might need a reservation – a reservation! – to eat at one of Wegmans' in-store restaurants.
I'm no stranger to Wegmans. I shopped there frequently during my many years living in Upstate New York. I also covered Wegmans and the Wegman family for two decades in my job as a business journalist in Syracuse, getting an inside look at what makes the company tick. Here's what you'll want to know before you make your first trip.
1/8
Stores Are Really, Really Big
The shopping experience at Wegmans is rich. And textured. And huge. Stores range in size from 75,000 square feet to 140,000 square feet, versus 46,000 square feet for a typical supermarket, according to the Food Marketing Institute, a trade group for food retailers and suppliers. The open, airy layout begins with a signature produce section that evokes a European market. Bins are piled high with fruits and vegetables that often are in season and locally sourced.
Choices abound. Wegmans stocks up to 70,000 products in its larger stores, while the average supermarket carries about 42,000 products. Expect to be bombarded with free samples (along with cooking demonstrations and recipes) on the busiest shopping days.
The approach is paying off for Wegmans. Annual per-store sales at its Boston-area locations top $80 million, while competitors' sales average $30 million, Andrew Wolf, managing director for BB&T Capital Markets, told the trade publication Supermarket News.
"So each [Wegmans] location is doing the equivalent of two or three other stores,'' says Wolf.
2/8
Good Luck Finding a Location Near You
Wegmans' stores might be big, but the company's national footprint is small. There are just 89 locations in six states: Maryland, Massachusetts, New York, New Jersey, Pennsylvania and Virginia. Live anywhere else and you're out of luck. By comparison, Kroger operates 2,778 grocery stores in 35 states.
Founded in Rochester, N.Y., a century ago, Wegmans didn't even expand outside of its hometown until the 1960s. Its first out-of-state store, in Pennsylvania, opened in 1993. Since then, the company has slowly spread in the Northeast and Mid-Atlantic.
Thirteen new Wegmans stores are in development, including five in Virginia; two each in New Jersey, Pennsylvania and Massachusetts; one in Maryland; and one in Brooklyn, the first foray into New York City. As for new states, Wegmans is exploring expansion into North Carolina.
3/8
Prices Are Competitive
The downside of Wegmans' huge selection and abundant product displays is the perception that its prices are higher than competitors' prices. According to Jim Hertel, senior vice president at Willard Bishop, a retail industry consulting firm owned by Inmar Analytics, that's not necessarily the case. In particular, Wegmans' store-branded products can be a bargain.
"The quality is as good as the national brand,'' says Hertel. "And if a national brand costs $1, a typical store brand costs 82 cents."
We puts Wegmans' store brands to the test against the store brands of three competitors in Northern Virginia: Giant, Harris Teeter and Whole Foods. We compared regular non-sale prices on a basket of eight everyday items: a can of diced tomatoes, a jar of pasta sauce, a box of dried spaghetti, a can of tuna, a half-gallon of 1% milk, a large container of plain yogurt, a dozen Grade A eggs and a package of frozen corn. We didn't factor in savings from coupons or store loyalty programs.
The winner: Wegmans. Of the four stores, the basket of eight store-brand items cost the least at Wegmans ($14.62), followed by Giant ($15.03), Harris Teeter ($20.00) and Whole Foods ($21.13).
4/8
It's a Good Place for Dinner…or a Date
Wegmans is more than just a supermarket. Many visitors to its stores are hanging out, eating a meal and socializing, in addition to stocking up on groceries. Analysts who track the industry call this trend destination retailing.
"Most supermarkets are around 45,000 square feet, and shoppers can't wait to get out," says Phil Lempert, a supermarket industry analyst who runs SupermarketGuru.com. "Wegmans' stores are double that size and more, and shoppers want to spend the day there -- to shop, to see their friends and to enjoy the wonderful prepared foods."
To encourage lingering, the company has been rolling out restaurant concepts located within or adjacent to its stores. Some locations even accept reservations. The Pub, for example, serves craft beers and dressed-up bar fare. Amore specializes in Italian food and wine. The menu at Next Door ranges from seared fois gras to sushi. There's also a Burger Bar and a Seafood Bar.
"The culture of shopping has changed," says Lempert. "Millennials shop differently than baby boomers or Gen X. They never want to eat the same thing twice in their lifetime."
5/8
Everybody (Hearts) Wegmans
Wegmans has been piling up accolades for years. As an employer, it's been on Fortune's "100 Best Companies to Work For" list every year since 1998, ranking No. 4 in 2016. (It was No. 1 in 2005.) It also ranks fourth on Forbes' list of "America's Best Employers" for 2016. Wegmans employs more than 46,000 workers.
Customers like it, too. Wegmans was picked as America's favorite grocer in a recent survey of 10,000 shoppers by Market Force Information. Publix finished in second place, followed by Trader Joe's, which had held the top spot for four years in a row. Wegmans also ranked first among supermarkets in the latest American Customer Satisfaction Index, ahead of Trader Joe's.
Need more proof of its popularity? Wegmans says more than 4,000 people contacted the company in 2015 asking for stores to be opened in their communities.
6/8
Competitors Copy Its Practices
Even if you've never been to a Wegmans, you've likely seen Wegmans' influence in your local supermarket. The chain's practices are widely imitated in the industry.
"We go around the country, and we see evidence that other retailers have visited a Wegmans," says Hertel, the retail industry consultant. "There are signs all over the place.''
Those covered shopping cart corrals in your grocer's parking lot? The Wegmans effect, he says. The design protects the expensive carts during harsh Upstate New York winters. If you walk into the produce section and see bananas selling for 39 cents a pound, that's a Wegmans touch, too. Hertel says displaying the cheap fruit front and center creates an impression of value for shoppers entering the store. Tilt tables showcasing mounds of fresh produce? Wegmans, again.
"Many, many grocers have gone to school on Wegmans," says Hertel.
7/8
The Wegman Family Still Runs the Business
Wegmans traces its origins to 1916, when brothers Walter and John Wegman were peddling fresh produce to the citizens of Rochester. The company has been privately owned and family operated ever since. Robert Wegman, son of Walter, joined the business full time in the 1930s. He assumed leadership in 1950 and guided Wegmans' expansion as chairman until his death in 2006.
Wegmans' current CEO is Danny Wegman, son of Robert. He joined the company in 1964. One of Danny's two daughters, Colleen, is president of Wegmans (pictured here on a store tour). The other daughter, Nicole, is a senior vice president. Both are in their forties, planting the Wegmans name firmly in the executive lineup for years to come.
Independence is unusual in the rapidly consolidating supermarket industry. Among the latest grocery-store mergers: Albertsons snatched up Safeway in 2015, and Kroger acquired Harris Teeter in 2014. But Wegmans seems to be in good hands. Annual sales hit $7.9 billion last year, up from $7.4 billion in 2014, placing Wegmans at No. 33 on trade publication Supermarket News's "Top 75 Supermarkets" list based on sales volume.
8/8
Say 'Cheese'
Many Wegmans shoppers rave about the cheese selection. And why not? Visit the "Cheese Shop" on Wegmans.com and you'll find more than 300 kinds to choose from. And we're not talking Kraft Singles. Wegmans' fancy cheeses venture into the gourmet realm of cave-ripened bries, camemberts and triple cremes.
The secret to Wegmans' success? It operates its own cheese caves -- sort of. There are no stalagmites sticking up or bats hanging down. Rather, Wegmans built a high-tech facility near Rochester to replicate the effect that cave ripening has on cheese.
Aging cheese in natural caves is a long-established practice in Europe. The controlled climate allows "good" bacteria and mold to go to work on cheese and enhance (ripen, in cheese-speak) the flavor. Wegmans' eight artificial cheese caves housed within the facility perform the same function.
"Our customers will get a cheese that's absolutely perfect, with the taste and texture they prefer, every time," Cathy Gaffney, who oversees cheese for Wegmans, said when the cheese caves went into operation in 2014.
Online Editor, Kiplinger.com
Bob is a Senior Online Editor at Kiplinger.com. He has more than 40 years of experience in online, print and visual journalism. Bob has worked as an award-winning writer and editor in the Washington, D.C., market as well as at news organizations in New York, Michigan and California. Bob joined Kiplinger in 2016, bringing a wealth of expertise covering retail, entertainment, and money-saving trends and topics. He was one of the first journalists at a daily news organization to aggressively cover retail as a specialty, and has been lauded in the retail industry for his expertise. Bob has also been an adjunct and associate professor of print, online and visual journalism at Syracuse University and Ithaca College. He has a master's degree from Syracuse University's S.I. Newhouse School of Public Communications and a bachelor's degree in communications and theater from Hope College.