11 Tricks to Shopping at Amazon's Whole Foods
With Amazon.com now firmly in control of Whole Foods, ways to save money at that grocer are growing for Amazon Prime customers but perhaps diminishing for everyone else.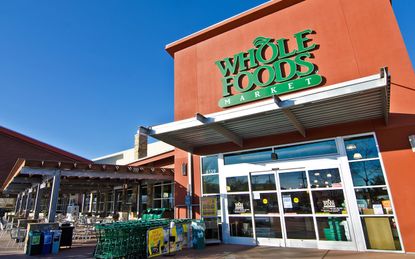 (Image credit: Courtesy Whole Foods Market)
With Amazon.com now firmly in control of Whole Foods, ways to save money at that grocer are growing for Amazon Prime customers but perhaps diminishing for everyone else. Amazon purchased Whole Foods in the summer of 2017 and, on its first day of ownership, slashed prices on an array of items from bananas to organic avocados. In the summer of 2018, Amazon began rolling out additional discounts at Whole Foods exclusively for its Amazon Prime members. Meanwhile, prices on other goods such as frozen foods, dairy products, coffee and tea have gone up.
"[Whole Foods] is fairly characterized by consumers as being overpriced, except for its private-label 365 products," says Burt P. Flickinger III, managing director of Strategic Resource Group, a consumer industry consulting firm. A family of four would typically spend at least $5,500 a year shopping at Whole Foods, estimates Flickinger. But by employing cost-cutting strategies, he says, that annual amount can drop by $1,000 or more.
The chain, which specializes in natural and organic foods, is giving Amazon Prime members, in particular, reasons to drop by. Whole Foods also is now stocking Amazon gadgets, including the voice-activated Amazon Echo and smaller Echo Dot, at deep discounts. Read on to learn more about shopping at the Amazon-owned Whole Foods.
1/11
Opt for the 365 House Brand
No edible item that Whole Foods carries can contain hydrogenated fats or artificial colors, flavors, preservatives or sweeteners. The 365 Everyday Value house brand is no exception. "The quality, at minimum, is as good as national brands and in many cases superior, but you still realize savings of 12% to 20% or more," says Flickinger.
Nor are you limited to boring kitchen staples. Whole Foods' 365 products run the gamut from naan chips and spinach spaghetti to meatless burgers and barbecue sauces (grilled pineapple and moonshine, anyone?).
2/11
Shop the Frequent Sales
At any given Whole Foods, you may be able to find weeklong national sales on top of weekend and one-day flash sales that vary by region and even by store. Some items will retain a promotional price for two weeks or even a month, says Flickinger. Recent sales that caught our eye included ground bison for $8 a pound ($3 off) and organic seedless grapes for $2.49 a pound (save $1.50). Speaking of the produce aisle, Whole Foods tends to carry premier brands, such as Driscoll's berries, so when those go on sale, "the prices stand out," says Flickinger.
To keep abreast of new promotions, grab the sales flyer for your local store. If you're an Amazon Prime member, you can also sign up for the weekly e-mail newsletter for special offers and recipes.
3/11
Remember Your Coupons
While Whole Foods discontinued its digital coupons as of May 2018, the Amazon-owned grocer still accepts manufacturers' coupons on brand-name items. Combine manufacturers' coupons with the new lower prices on select items and the new 10% discount for Amazon Prime members, and your total shopping bill can be a bit easier to swallow at checkout.
4/11
Buy Only What You Need
You can cut down on waste – of both food and money – by purchasing the exact amount you need at Whole Foods. Say you only require a quarter of a cabbage for a recipe or half a loaf of fresh bread to get you through the week. Ask a store manager (rather than a regular employee nowadays, suggests Flickinger) to hand-cut the portion you want. There might be some limitations, depending on the product, but many items can be purchased this way.
Not quite sure what you want? Whole Foods has a "try before you buy" policy, meaning you can ask for a free sample of, say, those mango habanero pickle chips that intrigue and unsettle you at the same time. Cheese lovers can chat with certified professionals behind the cheese counters, try free samples and order up just enough to fill a cheese plate.
5/11
Stock Up and Save
Net a 10% discount for buying certain products – such as wine, sodas and snacks – by the case rather than in individual bottles or packages. You'll need to ask what constitutes a "case," as it can vary by store, but a case of wine, for example, might be as few as six bottles. In the meat aisle, keep your eyes peeled (or ask) for "value packs" – large quantities of meat bundled together and sold at a discount. Freeze whatever you can't use by the expiration date.
6/11
Get Your Dinner to Go
At some Whole Foods stores, the meat and seafood departments will cook what you buy for you, either on the house or for a small fee. Not only will you save time on dinner prep, but you'll also save money over ordering your steak or salmon at a restaurant.
Fishmongers will scale and debone fish to order, season fillets with anything from salt and pepper to a Latin spice blend, and steam them, too (a few stores even have the capability of grilling, baking or sautéing your fish). In addition to slicing and grilling your meat, including lesser-known cuts, some butchers make sausages to order and even dry-age beef.
Another frugal tip: Ask the butcher or fishmonger for leftover bones or shells to make homemade stock (or, in the case of bones, a treat for your dog to gnaw on). Even if the scraps aren't free, you can usually get them for a very low price.
7/11
Pick the Right Day to Shop
Whole Foods offers specials on food and drinks on certain days of the week. The schedule varies by location, so check ahead (either online or by asking a store manager). I liked "Meatless Mondays" at my old neighborhood Whole Foods because I could load up a takeout container with vegetarian food from the hot and cold buffets. As long as the lid fit, I paid a flat $8 – making Mondays the perfect night to fill up on heavier items, such as macaroni and cheese or mashed potatoes. Also scout your local stores for cheap pizza nights and brunch specials.
8/11
Enjoy Free (or Nearly Free) Events
Many Whole Foods locations host free or low-cost beverage tastings and cooking demonstrations. We recently spotted free wine and cheese pairings at some stores on Saturdays, as well as a "Beer School" on Tuesdays that includes five beer samples plus small bites for just $5. No advance registration is required. Check your local store's online Events Calendar to find out what's coming up, or ask the store manager.
9/11
Bring Along the Kids
Some Whole Foods locations host a "Kids Club." Among the perks is a free snack (say, a fruit bar or animal crackers) for your child to nibble on. It's a good way to keep the little ones sated while you shop.
Online at WholeFoodsMarket.com, look for nutrition guides aimed at families as well as healthy recipes that are kid-friendly. A couple of after-school snacks that caught our eye: carrot cashew spread and apple sandwiches with granola and peanut butter.
10/11
Try the Chain's Smaller Sibling
Whole Foods has rolled out a chain called 365 by Whole Foods Market, which currently has nine locations. "It's designed to be a lower-cost operation that translates to lower everyday prices," says Jon Springer, executive editor of Winsight Grocery Business. "It has a little less merchandising pizzazz and fewer employees. You don't get fishmongers and butchers."
Besides its namesake 365 products, the smaller and more budget-friendly 365 stores stock a range of other brands, grab-and-go meals, packaged meat and seafood, fresh produce and more. Surprisingly, you'll also find hip restaurants and cafes. Some 365 stores have partnered with independent businesses, including a plant-based burger joint, a craft brew bar and a self-serve tea station where you can customize your own blends. Prime members get an extra 10% off items marked with a yellow sale sign.
11/11
Sign Up for Amazon Prime
Whole Foods discontinued its loyalty program in May 2018 and replaced it with an additional 10% discount off select sale items for Amazon Prime members, as well as other in-store discounts exclusive to Prime. The Prime discounts at Whole Foods are currently available in 23 states. To receive the discounts, in-store shoppers must download the Whole Foods Market app, log in with their Prime account and scan a code at checkout. Members who use the Amazon Prime Rewards Visa card also get 5% back on Whole Foods purchases.
Amazon Prime members already were eligible for free two-hour delivery of groceries from Whole Foods in select cities. A Prime membership costs $119 a year.
Associate Editor, Kiplinger's Personal Finance
Miriam lived in Toronto, Canada, before joining Kiplinger's Personal Finance in November 2012. Prior to that, she freelanced as a fact-checker for several Canadian publications, including Reader's Digest Canada, Style at Home and Air Canada's enRoute. She received a BA from the University of Toronto with a major in English literature and completed a certificate in Magazine and Web Publishing at Ryerson University.