12 Things Every College Student Needs From Costco
A warehouse club stocks just about everything, often in bulk and often at bargain prices, making it a great one-stop destination for back-to-school shopping for college students with lots of needs but not a lot of money.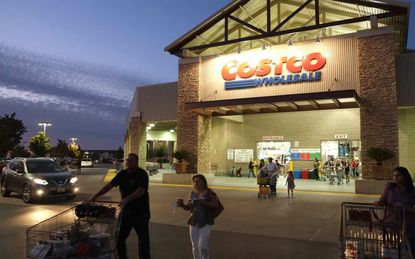 (Image credit: Getty Images)
A warehouse club stocks just about everything, often in bulk and often at bargain prices, making it a great one-stop destination for back-to-school shopping for college students with lots of needs but not a lot of money. Costco is my go-to store since I already have a membership, and Costco's Kirkland Signature is my go-to brand since I know from experience that I can count on the private label's quality and affordability.
But since it's been years – OK, decades – since I was in college, I didn't want to assume I knew what today's students really want or need. (Ramen noodles are so '80s, I'm told.) So I reached out to a handful of current collegians to see what they'd covet most from Costco's Kirkland Signature line of products. Here's what they picked.
1/12
A Costco Membership
Access to any warehouse club starts with a membership. If there's a Costco in the town where your young scholar is attending college (opens in new tab), you could simply spend the $60 to get them a basic Gold Star membership that's good for a year. Alternatively, if you already have a Costco membership of your own, you can request an additional household card. It's free, and your college student can use it as long as they are 18 or older and their permanent address is the same as yours.
Here's another alternative to purchasing a separate Costco membership for a college student: Get them a Costco Cash Card instead. The reloadable card – a gift card, essentially – comes in denominations starting at $25 and going up to $1,000. You need to be a member to buy a cash card (or add value to it), but whomever you give the card to can shop at Costco or on Costco.com without a membership.
2/12
Batteries
From TV remotes to digital recorders, gadgets for campus life demand batteries. Costco Signature can keep students charged up at bargain prices. A 72-pack of Kirkland Signature AA batteries is $19.99, or about 28 cents per battery. Stepping into name-brand batteries will cost you more at Costco (and much more at other places). A 40-pack of Duracell AA batteries is $16.99, for example, or more than 42 cents per battery. (Costco often puts Duracell batteries on sale, however, so check the flyer if you must have a name brand.)
3/12
Big Red Cups
Because, c'mon. Yup, Costco is in the Red SOLO Cup knockoff game. It sells a 240-pack of 18-ounce Kirkland Signature Chinet The Big Red Cup for $9.79, which works out to just 4 cents per cup. On Walmart.com, for example, a 60-pack of real Red SOLO Cups was going for $6.97, or about 12 cents per cup.If you're ever in a pinch and there's a Wegmans near you, you can find that supermarket's version of the Red SOLO Cup selling for the same price and count as Costco's cups.
4/12
Coffee
Here's where Costco's Kirkland Signature store brand is taking the lead: recyclable K-cups for the Keurig line of coffeemakers. If your student has a Keurig machine (or objected to them because most plastic K-cups aren't recyclable), check out boxes of 120 pods of Kirkland Signature Pacific Bold or Organic Dark Roast coffee in recyclable K-cups. The boxes sell for $36.99, or the equivalent of $12.33 per pound of coffee. Compare that to a box of 72 pods of Dunkin' Donuts coffee for $39.99, or $24.05 a pound.
5/12
Clothing
I know, I know, it's a bold and daring move to buy clothing for college students. But some you can get away with – and many who have bought Kirkland Signature clothing products swear by them for wear and savings.
Some examples: Kirkland Signature ladies' softshell jackets were selling for $19.99, and Kirkland Signature ladies' French terry leggings were $11.99. Kirkland Signature men's button-down dress shirts, perfect for internships and job interviews, were $17.99. A package of eight pair of men's athletic socks was $11.99.
6/12
Detergent
It's a fact of college life: Eventually, you have to wash your clothes, and you'll need detergent to get the job done. Kirkland Signature high-efficiency Ultra Clean liquid laundry detergent sells for $10.99 in jugs that hold about six quarts and can cover 126 loads. That works out to less than 9 cents per load. Costco also sells Tide Original HE laundry detergent for $23.99 (146 loads), or more than 16 cents per load. Yup, more expensive.
Dishwasher detergent? You'll probably need it if you're living off-campus in an apartment or group house. Kirkland Signature will get the grease out. A 115-count package of Kirkland Signature Premium Dishwasher Pacs sells for $9.79, or less than 9 cents per pac. On a nearby shelf, a 90-pack of Cascade Complete Action Pacs was selling for $15.99, or nearly 18 cents per pac – double the price.
7/12
Energy Shots
Sometimes you need a little liquid encouragement to get through late-night cram sessions. Costco sells 48-count packages of 2-ounce Kirkland Signature Energy Shots for $34.99, or about 73 cents per shot. Wegmans was selling six-packs of the name-brand 5-Hour Energy shots for $12.99, or more than $2.16 per (nearly) 2-ounce shot.
8/12
Snacks
Everybody loves snacks, including Costco, which has pressured manufacturers to package high-quality goodies under the Kirkland Signature brand that are all but identical to national brands. You can get varieties of Kirkland Signature snacking nuts in 30-count packages (a total of 3 pounds) for $16.89. Four pounds of Kirkland Signature's excellent trail mix with M&Ms goes for $12.99. You can also pull down Kirkland Signature cashews for $14.99 for a 40-ounce bag.
Microwave popcorn is also a Kirkland Signature thing, with a package of 44 3.3-ounce packets of popcorn with "movie theater butter" for $9.79. And for dessert, four pounds of Kirkland Signature organic animal crackers go for $9.99. Top them off with Kirkland Signature organic peanut butter. Two 28-ounce jars cost just $9.99.
9/12
Toilet Paper
Your dorm bathroom should come stocked with spare rolls, but if your college living arrangement calls for buying your own toilet paper, Kirkland Signature 2-ply bath tissue is a steal. Thirty high-quality rolls sell for just $16.99.
Facial tissue is another story. One shopping expert we consulted knocked the quality of Costco's Kirkland Signature facial tissue, earning it a spot on our list of the worst things to buy at warehouse clubs (opens in new tab).
10/12
Toiletries
Kirkland Signature has your bath and body regimen covered. You can get a 15-pack of 4.5-ounce bars of Kirkland Signature Body Soap for $10.99, or about 73 cents per bar. Nearby, Dove Moisturizing bar soap was priced at $15.99 for 16 4-ounce bars, or a buck a bar (and the Dove soap bars are smaller than Costco's).
Kirkland Signature Daily Facial Cleaning towelettes, which do duty as makeup removers, were $12.99 for 180, or about 7 cents per towelette. It would cost you nearly double to buy the national brand Neutrogena Makeup Remover Facial Towelettes. At $16.99 for 120, Neutrogena towelettes run 14 cents apiece at Costco.
11/12
Water Filter Cartridges
Perhaps your thirsty college student, like many, is health-conscious and environmentally aware. Good for them. But tap water can contain impurities, and bottled water is a no-no due to the plastic waste. Enter the Brita or Pur water pitcher, which can find a home in any dorm fridge. Here's the catch: Replacing the water filters can be expensive.Costco to the rescue. Kirkland Signature water filters fit Brita or Pur pitchers and cost $24.99 for a package of 10, or $2.49 each. Nearby, a Brita 10-pack of filters runs $39.99, or $3.99 per filter.
12/12
Wine and Beer
Indeed, many a college student, I'm told, has discovered the quality and affordability of Kirkland Signature's private-label wines. For example, 750-milliliter bottles of Kirkland Signature Sonoma County Chardonnay or Marlborough Sauvignon Blanc go for just $6.99. Stepping up to larger bottles, you can get a 1.5-liter bottle of Kirkland Signature Pino Grigio for $7.89 or a 1.5-liter bottle of Kirkland Signature Chardonnay for $7.99.
If beer is your game – and you're of legal drinking age, of course – look for Kirkland Signature craft beers, which are highly rated and a bargain. Ditto for cases of its light beer. Note that not all Costco locations sell alcohol; it depends on local laws.
Online Editor, Kiplinger.com
Bob is a Senior Online Editor at Kiplinger.com. He has more than 40 years of experience in online, print and visual journalism. Bob has worked as an award-winning writer and editor in the Washington, D.C., market as well as at news organizations in New York, Michigan and California. Bob joined Kiplinger in 2016, bringing a wealth of expertise covering retail, entertainment, and money-saving trends and topics. He was one of the first journalists at a daily news organization to aggressively cover retail as a specialty, and has been lauded in the retail industry for his expertise. Bob has also been an adjunct and associate professor of print, online and visual journalism at Syracuse University and Ithaca College. He has a master's degree from Syracuse University's S.I. Newhouse School of Public Communications and a bachelor's degree in communications and theater from Hope College.