9 Best Things to Buy at an Estate Sale
Estate sales can be a gold mine for shoppers in search of unique, high-quality goods at reasonable prices.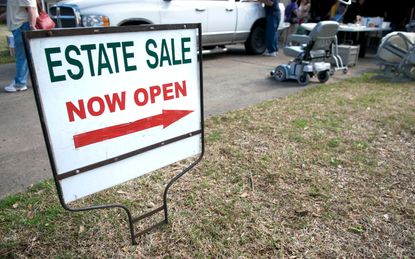 (Image credit: Getty Images)
Estate sales can be a gold mine for shoppers in search of unique, high-quality goods at reasonable prices. These include everything from clothing and jewelry to furniture and home décor. Keep in mind that you probably won't find the trendiest items at estate sales, but rather classic pieces that have stood the test of time -- and still have lots of life left in them.
If you're a novice, there's a host of dos and don'ts to shopping an estate sale. For starters, don't call it a garage sale. Estate sales are usually run by professionals and held when a homeowner passes away or moves to an assisted-living facility. Don't be surprised if virtually everything in a house is tagged for sale -- even appliances, fixtures and window treatments. As for the dos, do line up early to get a first look at what's available, and do haggle (though don't expect big markdowns until late in the day or on the last day of a multiday estate sale).
We talked with several estate sale experts about which items tend to be worth your money and time. Here's what they had to say.
1/9
Furniture
If you're looking to furnish your home on the cheap with furniture that'll last, seek out quality solid-wood pieces at estate sales. You'll pay a fraction of what you'd spend on a comparable new piece. For example, we found a mahogany five-drawer vanity with a mirror and bench selling for just $26 on EstateSales.org (opens in new tab), an online estate sale auction site. Amazon lists a similar version that comes with three drawers and is made from mahogany and cherry veneer for $335.
Estate sale purchases are final, so be sure to examine the condition of each item you're interested in before any money is exchanged. Check that a dresser has all the drawer pulls or that a table's legs aren't wobbly, advises Martin Codina, founder of Fine Estate Sales (opens in new tab), a San Francisco area-based estate sales firm, and the founding chair of the National Estate Sales Association (opens in new tab) (NESA).
Another note of caution: Tread carefully with upholstered furniture, advises Jacquie Denny, co-founder of Everything But The House (opens in new tab), an online estate sale marketplace. Upholstery can hold odors such as cigarette smoke and pose a potential health hazard if soiled with pet dander or mold. The same goes for cushions and pillows. If you're visiting an in-home estate sale and the sellers are burning scented candles, they're likely trying to cover up bad odors, Denny adds.
2/9
Tools
Tools are often hot-ticket items at estate sales -- the older, the better. Look for vintage tools such as a Millers Falls eggbeater hand drill from the early 1900s or a Sears Craftsman table saw from the 1970s. Despite their age, high-quality tools such as these should still be in working condition, says NESA's Codina. With a bit of elbow grease, you can even have them looking like new again.
"A lot of times you'll find a better grade of tools [made from solid steel instead of a mixture of lesser quality metals] . . . for pennies compared to what they'd sell for today brand-new," he adds.
3/9
Designer Clothing
Don't dismiss clothing at estate sales, because there's a good chance you'll be able to score serious bargains on high-end brands, Everything But The House's Denny says. For mid-tier designer brands, such as Coach and Tory Burch, you can expect to get up to 50% percent off the original price. Items from top-tier brands including Louis Vuitton and Chanel will sell closer to retail price at around 30% off, she adds.
To avoid getting duped by knock-offs, familiarize yourself with a brand's signature design details -- for example, the type of stitching used on handbags or the typical positioning of logos. Armed with this knowledge, you should be able to spot a fake right away, Denny notes. (See our story, 7 Signs You Are Buying a Counterfeit Product.)
4/9
Jewelry
Estate sales are known for having one-of-a-kind costume and fine jewelry that's priced to sell. You can expect to get the biggest discounts on costume jewelry pieces, while fine jewelry will be priced closer to market value, says Saundra Latham, a staff writer for consumer advice website Cheapism.com (opens in new tab)
If you're interested in jewelry from a specific maker, do some research beforehand to find out if the company is known for a particular design detail, such as engraving its logo on the clasp of a necklace. That way you know what to look for when trying to confirm a particular jewelry piece's authenticity on your own.
Keep in mind that if you're interested in buying fine jewelry at an estate sale, there won't be time for a professional appraisal, warns Judy Dutton, deputy editor of Realtor.com (opens in new tab). Unless you come armed with at least some knowledge, you'll have to take the seller's word for it that the 14-karat gold necklace you're ogling is real.
5/9
China Sets
If you regularly host dinner parties or large family gatherings, then you know that having a quality dinnerware set to entertain is a must. Estate sales are a smart place to shop for secondhand fine china with intricate details, such as a filigree pattern or gold trim, at a reasonable price, Latham suggests. Do a quick on-the-spot inspection to check for chips and scratches before committing to a purchase.
For novice estate sale shoppers who've watched one too many episodes of "Antiques Roadshow" on PBS, resist the urge to stock up on multiple sets of china with an eye toward re-selling them at a profit later, Latham warns. "Unless you're an expert . . . stick to what you like and will actually use in your own home," she advises. Otherwise, you'll end up with stacks of nice-looking dishes nobody wants -- including your kids -- explaining why you find so many china sets at estate sales in the first place.
6/9
Vintage Home Décor Goods
If you want to update your home's décor but don't want to spend a small fortune, estate sales are ripe with home furnishings at low prices. You'll run across lots of one-of-a-kind vintage goods, such as an old-fashioned typewriter or a hand-drawn map that can be framed, Realtor.com's Dutton says. These are the kinds of décor items that will add character to your home, because they aren't the cookie cutter-type products you'll find at most big-box retailers.
To get a sense of the various types of home décor items you might find for a steal, we searched online estate sale marketplace Everything But The House. We spotted a vintage Geib Incorporated Phonograph that came with a small record collection that sold for $55. (There are several phonograph replicas with Bluetooth capabilities available on Amazon starting at $120.) There was also a pair of vintage Swarovski crystal figurines that sold for $50. (We found a similar set available new on Swarovski.com for $169.)
7/9
Fine Art
We've all heard the stories of people who unknowingly purchase a painting for pennies at an estate sale that ends up being worth thousands -- or even millions. Simply put: These instances are extremely rare, but fine art is still a good buy, says Matt Ellison, director of marketing for EstateSales.net (opens in new tab), an estate sale aggregator website. In particular, expect to find some original paintings as well as many quality reproduction prints, Ellison says.
Know that the artwork you'll turn up at a particular estate sale will be indicative of the seller's personal taste, he notes. This means that while there may be variety in the types of artwork available (paintings, sculptures, stained glass and so on), there may not be as much variety when it comes to the overall aesthetic. For example, you may be on the hunt for modern pieces, but end up at an estate sale where all the artwork is inspired by the Renaissance period.
8/9
First-Edition Books
If you spot a stack of old books for sale, take a few minutes to look through it. There may be some valuable reads hiding in plain sight. Vintage first-edition books are a hot item on the resale market right now, Everything But The House's Denny says. Historical first-editions, such as "The Lincoln-Douglas Debates of 1858," are popular and will score top dollar, she notes.
So how can you tell if a book is a first edition or not? Often, the publisher will print "first edition" on the copyright page of the book. Alternatively, check the sequence of numbers printed at the bottom of the copyright page. If the sequence includes the numeral "1" that's an indication it's a first edition. Stumbling across a first-edition book that has the author's signature will help drive up the book's value even more, Denny adds.
9/9
Small Appliances
Small appliances can be smart buys at an estate sale because they tend to be tagged with low prices to sell fast. But it's wise to stick to small appliances from brands that are known for durability, such as a KitchenAid stand mixer or a Bernina sewing machine, Cheapism.com's Latham advises. Plug them in and turn them on before buying.
However, you may be better off buying everyday small appliances such as toaster ovens or waffle irons new from a big-box retailer rather than at an estate sale. Most aren't expensive, and buying new means you'll get a warranty. Otherwise, you run the risk of wasting money on a used small appliance that won't work very long after you get it home.
Online Editor, Kiplinger.com
Browne Taylor joined Kiplinger in 2011 and is a channel editor for Kiplinger.com covering living and family finance topics. She previously worked at the Washington Post as a Web producer in the Style section and prior to that covered the Jobs, Cars and Real Estate sections. She earned a BA in journalism from Howard University in Washington, D.C.