9 Secrets to Making More Money on Your eBay Auctions
Maybe you found your son's old Pokémon cards in a box in your basement.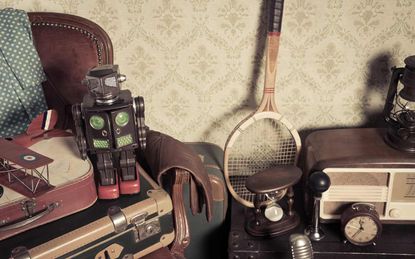 (Image credit: Getty Images)
Maybe you found your son's old Pokémon cards in a box in your basement. Or perhaps you ordered a professional camera, but you realize you have no time to use it. It's time to de-clutter, and you want this stuff – valuable stuff to somebody out there – gone, now. What do you do? Sell it on eBay, the popular online auction site.
I've done it myself. It's fun and easy, and it quickly fills your pockets with some extra cash. I have sold, for instance, a tennis racket, a tennis bag and strings. To sell the racket, I took some pictures, wrote a product description, listed it at eBay's recommended "Buy It Now" price ($75) and sold the item within two days. Great. . . until I found out that other eBay sellers had sold the same racket for double the price. Why did I come up short? Lots of reasons, I've discovered.
Here are 9 simple ways to get more money on your eBay auction.
1/9
Provide Privacy for Bidders on Sensitive Goods
Unless you've set your listings to private, anyone can identify active bidders on your auction as well as the final buyer. Public listings might turn away potential buyers who prefer to keep their online activity confidential.
If you are selling sensitive goods, such as high-value items or medical products, or "adult goods," such as lingerie, a private listing could attract shy buyers and increase the number of bids. It keeps bidders' and buyers' identities hidden from the public. The seller, who must know the buyer's identity to complete the sale, is the only one who sees them.
Private selling still allows buyers to give you feedback after the transaction. However, the reviews will not link to the private-listed items you sold.
2/9
Align Your Auction With a Charity
When listing your item on eBay, you can choose to donate 10% – 100% of your auction's final sales price to a charity of your choice. If you do so, the organization's logo will appear in the item's description, which will attract more traffic to your listing. While most online shoppers hunt for the cheapest price, some buyers filter for listings associated with a specific charity.
Your donated proceeds are tax-deductible. Additionally, eBay credits back a portion of the seller fees -- equal to the percentage of your sales price that you designate for charity -- after you sell the item, increasing your profits on the sale.
Even after donating a portion of your proceeds, you still might come out ahead. For example, let's say you're selling a camera. Without the charity tie-in, you might sell the camera for, say, $100; subtract eBay's 10% cut, and you'll net $90.
With the charity tie-in, you'll attract more shoppers, perhaps driving the final price up to, say, $110. Give 10% ($11) back to eBay, and give away 10% (another $11) to charity, and you're down to $88. But eBay will credit you $3.30 for the charity link, bringing your bottom-line gain up to $91.30.
3/9
List Your Goods for 10 Days
When you list a new item for sale on eBay, you can set the length of time that bidding will be open – from one day to 10 days.
The Journal of Industrial Economics shows that 10-day auctions yield 42% more than three- and five-day auctions, and 18% more than seven-day auctions. "Typically, the longer your auction is up and running, the more exposure to prospective buyers, and the higher the chance for competing bidders driving up the price," says Jordan Malik, author of six best-selling help books for eBay and Amazon sellers.
The downside to a 10-day listing: You'll have to wait a few extra days to get rid of your stuff – and to get your money.
4/9
Start Your Auction on a Thursday Night
To maximize your auction's exposure to potential buyers, start your listing on a Thursday evening. With a 10-day listing, it will end on a Sunday evening, and it will be active on two Sundays instead of just one. Although folks can bid around the clock every day, wherever they are, Sunday evenings on eBay offer what late Friday afternoons offer in Los Angeles: peak traffic. People are at home, not distracted, and they have time to go bargain hunting.
And you? You enjoy the item's price going up on your lazy Sunday evening.
5/9
Allow Returns
"Return is a comfort and trust factor," says Prabhat Shah, online marketer and seller at DayToDay eBay, which offers training for eBay and Amazon sellers.
Allowing buyers to return items mitigates the fear of buyer's remorse that might prevent some folks from bidding on your item. It gives them a sense of security, and they will be willing to pay a little extra for that. "My experience shows that buyers will pay significantly more for an item when they are confident they can return it 'hassle free,'" says Malik.
Also, if you handle returns properly, you are more likely to receive positive feedback. Sellers with many positive reviews receive more bids.
6/9
Offer Free Shipping
Although free shipping cuts into your profit margins, "it is a must," says Mike Thomas, of BTW Consulting, a firm that gives advice to eBay and Amazon sellers. These days, buyers expect free shipping, and they are put off if you don't offer it.
Malik agrees: "It's a thoughtless process for buyers to just jump to the other seller who is offering free shipping."
7/9
Start the Bidding at a Penny
Opening your auction at $0.01 (dubbed the "penny auction") will encourage early and frequent bidding by shoppers hoping to snag a deal, and they'll stay engaged with your auction as prices escalate. Malik explains that the early activity can lead to a higher selling price because the competition motivates bidders to win at any cost. "Emotion drives their buying power," he says.
If you are afraid to start your auction as low as a penny, you can set a reserve price: the lowest price, unbeknownst to bidders, that the bidding must reach for the item to be sold. This allows you to set a low starting price for your auction – and boost interest in your item – without the risk of having to sell your item for less than you think it's worth.
8/9
Appeal to Buyers in Your Area by Offering Local Pickup
Adding a local-pickup option to your listing does not mean that buyers must pick up the item, and your auction will still be out there for the whole world to see – and bid on. Such listings will be more likely to appear as a top hit for buyers who have used eBay's tool to filter their search by proximity to the seller - because they either don't want to wait or don't want to pay for shipping.
9/9
Use the Right Keywords to Attract Buyers
"Think like a buyer," says Danna Crawford, another consultant to eBay sellers. "What kind of words would you place in that search bar to find your item?"
You're allowed a maximum of 80 words in your product description. Some words are more profitable than others. Researchers at Birmingham City University, in England, analyzed more than 15 million words in more than 68,000 completed eBay listings. Results showed that carefully chosen words increase traffic to your auction and even impact the final price. Listings that used the word "sneaker," for example, sold at a 52% higher price than those saying "trainers" instead.
But what words should you use? "Follow success," Crawford says. She emphasizes the importance of studying other sellers to see what has worked for them. The advanced search option on eBay allows you to filter sold and completed listings by category and buying format (auction or fixed price). This is how I found out that my tennis racket could have sold for $150 instead of $75. Benchmark successful sellers, and you will be surprised at how much your items will sell for.