Business Cost Outlooks for 2022: Eight Key Sectors
What's in store for all sorts of business costs in 2022?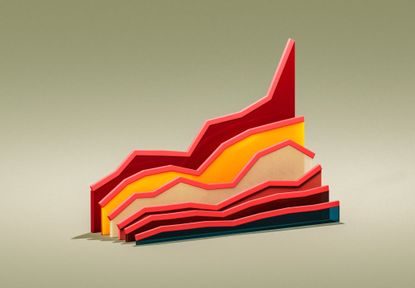 (Image credit: Getty Images)
Every year, The Kiplinger Letter publishes a special issue that looks ahead to the expenses businesses should budget for in the next calendar year. It starts with how fast to expect the economy to grow, and then looks at key economic data like future inflation and interest rate trends. Then, to help readers make their budgeting plans, letter editors at a range of business costs, such as energy prices, IT costs, health care costs and shipping rates.
We've republished it here for your 2022 planning.
Click here for a free issue of The Kiplinger Letter or for more information.
If you already subscribe to the print edition of the Letter, click here to add e-mail delivery and the digital edition at no extra cost.
1/8
A Strong Economy Should Give Firms a Lift
Expect GDP to grow 5.5% in 2022, with consumer spending increasing 4.7%, as both subsiding coronavirus infections and massive federal spending bills keep the economy humming. Unemployment should dip below 4% before 2022's end.
Corporate earnings figure to jump 13%, after 2021's heady 20% increase. But inflation will still run hot at around 3.0% at the end of 2022, after the 5.3% rise that we expect this year. Pent-up consumer demand and government spending will continue adding price pressures.
The cost of borrowing will inch up, with the 10-year Treasury note rate set to rise to 2.3% by the end of 2022. The 30-year fixed mortgage rate will rise to 3.8%. However, the bank prime rate will stay unchanged at 3.25%, as it's related to the Federal Reserve's federal funds rate, which will not change. The central bank will likely wait until 2023 before raising short-term rates, though we expect the Fed to end its purchases of Treasuries and mortgage-backed securities late this year and wrap up that "taper" by next September.
The tight labor market will push average pay hikes to 3.5% next year, following 2021's 4% rise. Wage gains will continue to be strong for production jobs in construction, manufacturing, shipping, travel, retail, and food service. That is, until the lofty job opening rate comes down. Expect high demand for these workers in the first half of 2022 as infections ease and more of the service sector opens fully.
2/8
Health Costs Rising Again after COVID Reversal
Health costs are likely to pick up after insurers cover costs from the surge of Delta infections this year. Expect prices for employer-sponsored plans to jump 7% in 2022, after a 4% drop in 2021. Many firms will choose to absorb the higher costs instead of passing them on to employees because they need to keep attracting workers. That will likely change in future years as the labor supply improves. Meanwhile, prescription drug prices will rise 7%, while dental insurance will cost 3% to 4% more.
3/8
Energy Costs Hinge on Pandemic but Increases Likely
Forecasting how much higher energy costs will go is tricky; much depends on whether the pandemic is still weighing on the global economy next year or is largely over, with oil demand rebounding strongly worldwide.
For gasoline and diesel, the 2022 prices should be averaging 5% to 10% higher than 2021 levels. That's a smaller increase than seen this year, with gas prices rising by 40% from early Jan. to the present, as demand recovered faster than output.
For natural gas, a similar outlook: a more modest increase after the spike that has occurred so far this year. As always with natural gas prices, weather patterns will play a major role. A cold winter next year could cause a sharp rise, for instance, whereas unusually mild temperatures could lead to a major decline. Setting aside such extremes, underlying supply-and-demand trends suggest that gas prices will nudge higher, on the order of mid-to high-single-digit gains.
Electricity rates will continue this year's steady climb. So far in 2021, prices for all types of users are running 5.1% higher than in 2020. Plan for a similar uptick next year as demand continues to recover.
4/8
Shipping Costs Will Peak But Eventually Fall
Expect shipping costs to be about 5% lower as conditions normalize a bit. However, many contracts will be renewed at higher rates for a while as contract rates catch up to spot rates. Look for flatbed truck rates to ease more than dry van or refrigerated. Rail container rates will improve a bit as backlogs are resolved, but other rail rates will rise at least 2%, as automobile and coal production increase.
Most ocean freight rates will ease a little in mid-2022 as trade normalizes after container rates doubled in 2021. Chassis and container shortages will linger, though. Refrigerated rates for U.S.-South America trade will continue to increase.
Air freight rates will move inversely with global passenger travel volume since much freight flies in the holds of commercial airliners. The loss of that capacity last year and this year has driven rates up sharply. If the pandemic fades enough that international travel returns to normal in 2022, freight rates will pull back. Look for continued disruptions to passenger air travel that will last into next year, meaning freight rates are likely to stay near this year's level, or may creep up a bit more.
5/8
All Quiet on the Pension Front
Payroll taxes are rising, with the $142,800 wage base increasing to about $145,500. For firms that pay pension premiums to the Pension Benefit Guaranty Corp, there is no change in rates except for inflation-related indexing. Flat-rate premiums for single-employer plans will hover around $89 per plan participant in 2022. Variable-rate premiums for underfunded plans will be approximately $47 per $1,000 of unfunded vested benefits (subject to a per-participant ceiling of $600 or so).
6/8
D&O Coverage Costs to Spike
For commercial property insurance, rates should rise between 5% and 10%, on average, for properties that aren't exposed to natural catastrophes. For those with exposure expect an average increase of 15%. Rates for directors and officers insurance will increase by 50% for public companies, and 60% for private firms and nonprofits, due to a steady increase in litigation. Casualty insurance will be up 5% to 10%. Cyber insurance for companies renewing policies are in for hikes of up to 5%. For those with recent claims or incidents, premium hikes may be about 7% to 10%. Retailers with point-of-sale systems should expect hikes of 10% to 15%. Cyber insurers may be willing to offer a rate cut if a firm can show improved security.
Legal costs for businesses will rise about 4%. Many fees are negotiable, though. Accounting costs figure to increase up to 10% for a typical company
7/8
Mixed Bag on Travel, Rents
Domestic airfares will rise another 20% whenever travelers feel safe again. Hotel rates are inching up, as the industry recovers back from the pandemic. Car rental rates will stay high because of strong demand and vehicle shortages.
Office rents are in for a slight increase in 2022 after falling this year. Retail rents will stay about flat, as construction is at a multi-year low, but vacancy rates are high. Well-located, newer malls with modern anchor tenants may see some hikes. Demand for warehouses continues to be strong; rents will rise about 2.5%. Demand continues to remain strong.
8/8
Some Drops in Tech Costs, But Not Across the Board
It's best to budget for at least slightly higher tech and telecom costs. PC prices are a bit higher, especially for laptops. Watch out for delays and shortages. Small hikes for printers, both personal and commercial. 5G phones are getting cheaper, though and cellular service data costs continue to fall, but expect to score fewer deals. Home internet services have seen small price hikes and fewer deals on bundles. Business internet service is one area with competitive pricing and deals.