The Forces Shaping Retirement in the 2020s
Gone are the days of retiring with a pension and gold watch. What retirement means has changed significantly and not always for the better.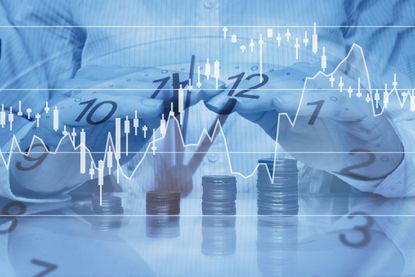 (Image credit: Getty Images)
This is the decade when retirement gets redefined. The era of trading a long career for a pension, a gold watch and afternoons on the golf course ended long ago. In its place, today's retirees face growing financial pressure from multiple directions, including the looming fiscal crises for Social Security and Medicare.
The remedies for these financial pressures can sometimes exacerbate economic divisions. Retirement for the middle or working class is changing more than retirement for the wealthy. "There are already different levels of retirement," says Jason Schenker, an economist and chairman of The Futurist Institute (opens in new tab).
That imbalance starts with retirement savings. Although a robust stock market helped turn a record 334,000 people into 401(k) millionaires by the end of 2020, one in three Americans also report that the pandemic set their savings back a few years, according to a Fidelity Investments survey. Americans in their 50s had, on average, $203,600 stashed away in their 401(k)s as of the fourth quarter last year, with people in their 60s reporting savings of only $25,500 more, Fidelity says. That's not chump change, but it's hardly enough to retire on.
Subscribe to Kiplinger's Personal Finance
Be a smarter, better informed investor.
Save up to 74%
Sign up for Kiplinger's Free E-Newsletters
Profit and prosper with the best of expert advice on investing, taxes, retirement, personal finance and more - straight to your e-mail.
Profit and prosper with the best of expert advice - straight to your e-mail.
Although most Americans will need to work longer, older employees have a shot at striking a better work-life balance, allowing them more time for other pursuits. That's good because the one thing the four following forces shaping retirement in the 2020s have in common is the need for a bigger nest egg.
Finding Flexible Work in Retirement
You can't be a little pregnant, but in the 2020s, you might be a little retired. "Retirement will be less of a binary state. People will find small ways to work and phase out of the labor force," says Allison Schrager, senior fellow at the Manhattan Institute. "The pandemic set up less traditional work and more remote work, maybe even contract work, and that's good for seniors." Many may prefer to work part-time or switch to a less stressful full-time job. Gen X, which turns 60 in 2025 and is known for being entrepreneurial, may be especially well positioned to work as consultants and set their own hours.
Schrager envisions seniors like her mother, a therapist, mixing work and play more easily. She could spend a month traveling in France and do teletherapy from there, Schrager says. The Urban Institute (opens in new tab)'s director of retirement policy Richard W. Johnson adds: "Older workers value flexibility. They don't want a traditional 9-to-5 job or deal with the hassle of commuting, and they are willing to give up some salary to achieve that."
They may have to. The Center for Retirement Research at Boston College (opens in new tab) found compensation on RetirementJobs. com listings averaged $43,800 for full-time work in late November 2019. That was better than the openings aimed at workers of all ages on general jobs boards, where pay for full-time positions averaged $37,900, but worse than the average pay of $50,000 for Americans overall. The study also found that only 34% of listings on RetirementJobs.com (opens in new tab) mentioned benefits, like 401(k)s and health plans, compared with 47% of listings on general jobs boards.
Although age discrimination still exists, older managers are typically more willing to hire older workers, says Alicia Munnell, the center's director. But "this also highlights the inequality for people who can't work longer because of health problems" or the type of jobs they're in, Johnson says. "They will have much lower retirement income than healthier people or those who can work longer in sedentary jobs."
Looming Changes to Entitlement Programs
Americans are working longer in part because Social Security benefits are shrinking. Meanwhile, Medicare is becoming more privatized. Both programs face fiscal challenges. Social Security is expected to run short of money in 2034 and Medicare as early as 2026. To fix the shortfalls, Congress can raise revenue, cut benefits or both. Politicians, though, are unlikely to slash benefits. "Retirees are a strong political group, and to be fair, they have paid into these programs and planned around it," Schrager says.
That doesn't mean the fixes will be painless. In fact, younger generations of retirees are already getting less from Social Security because the age for claiming full retirement benefits has been rising steadily -- from 65 for people born before 1943 to 67 for those born in 1960 or later. The latter will wait longer to claim full benefits and get less per month because of the way Social Security's actuarial formula is calculated.
Raising payroll taxes 1.6% for employees and employers alike would fund Social Security for the next 75 years, according to the Center for Retirement Research. Most experts are less keen on some Democratic proposals that call for raising payroll taxes on higher earners without increasing the maximum monthly benefit, as that would sever the historic link between the two. "Social Security has flourished because it has almost universal support," Johnson says. Everyone pays into it and gets proportional benefits. If it's viewed more as a welfare program that helps lower income people, higher earners may not be as willing to support it, he says.
As for Medicare, the growing popularity of Advantage plans is turning the traditional government insurance program into the Obamacare exchanges, with millions of seniors choosing from private insurers each year based on where they live. The trend toward privatization, though, hasn't been as good for beneficiaries or Medicare's bottom line. Unlike traditional Medicare, which lets patients see any doctor they want, Advantage plans are managed care with restrictive provider networks and lower premiums. Several studies, however, have shown that sicker enrollees are far more likely to switch to traditional Medicare, raising questions about the quality of care from Advantage plans. Medicare Advantage also costs the government more, accounting for 46% of total federal Medicare spending in 2021 but only 42% of enrollees, according to the Kaiser Family Foundation (opens in new tab).
Any discussion about fixing Medicare must address those inefficiencies and care quality before expanding the program, says David Lipschutz, associate director of the Center for Medicare Advocacy (opens in new tab). (Some Democrats have called for lowering the age of eligibility to 60 from 65 and expanding coverage to include dental, vision and hearing.) "Otherwise, you will pass on the existing problems to a younger cohort, and the program will become more privatized without a real, honest public debate about whether that's what we want."
Technology Improving Care for Seniors
Adding to Medicare's burden is the looming shortage of medical professionals. The Association of American Medical Colleges (opens in new tab) projects a shortfall of up to 139,000 doctors in the U.S. by 2033. The health care industry hopes technology can help fill the void.
Voice-activated technology, for example, could improve physician efficiency. "When electronic medical records were introduced some years ago, it was not a happy transition," because someone had to type those notes, says Laurie Orlov, founder of Aging and Health Technology Watch (opens in new tab). With voice-enabled dictation, "doctors will be able to speak the notes either in the examination room or just outside. It couldn't have come at a better time because we have a lot of burnedout doctors, and medical records were a factor."
Artificial intelligence has even greater potential to streamline and improve health care. With AI's data analysis, doctors and hospitals can detect and diagnose illnesses more accurately, customize treatments and track patient outcomes closely. "Hospitals are most likely to invest, with doctors' practices next and home health aides a ways out," though all are possible in the next decade, Orlov says.
Climate Change Could Disrupt Retirement Plans
The signs of climate change -- wildfires, droughts, hurricanes and floods -- are all around us, but many older Americans contemplating where to retire don't take it into account. Financial adviser Tom Nowak of Quantum Financial Planning (opens in new tab) in Langley, Wash., thinks they should because many retiree locations in the South and West are in the crosshairs of global warming.
Nowak integrates climate risk with retirement planning by budgeting more for taxes, insurance, housing, electricity, water and food. "The pandemic has given us a good preview of how climate change will impact us," he says. If grocery prices soared from disruptions to the food supply during the pandemic, just imagine what prices will be like when water emergencies are declared in the bread and fruit baskets of America, he says. California and seven prairie states face rising threats from drought.
Property insurance is already on financial adviser Buz Livingston's radar screen for personal and professional reasons. He lives in Santa Rosa Beach, Fla., where homeowners insurance is more expensive and harder to come by. Many of the larger carriers have left the state, and regulators have forbidden some smaller insurers from signing on new business because they can't absorb the risk, he says. Meanwhile, deductibles and premiums continue to rise. "My homeowners insurance 20 years ago was less than $1,000 a year and now it's $4,000," he says. "We've never had any claims, but the premiums go up regardless because of claims in other parts of the state." For his clients' retirement plans, he recently began factoring in a higher annual inflation rate -- starting at 5% -- just for insurance.
The single biggest worry for retirees is the loss of home value, says David Stookey, author of Climate-Proof Your Personal Finances. That loss can come suddenly after a drought, flood or fire devastates a community. "There are plenty of towns whose beachfront homes make up 20% or 30% of the tax base," he says. If those houses are destroyed or lose value, the tax base plummets. "When a devastated town has no fiscal savings and an eroding tax base, financially it's headed to disaster," Stookey says. Even a financially sound community is vulnerable because, he says, "the infrastructure challenges from climate change are going to be big."
Managing Editor, Kiplinger's Retirement Report
Siskos is an old hat with the Kiplinger brand. More than a decade ago, she spent eight years writing about personal finance for Kiplinger's Personal Finance magazine, including a monthly column—Starting Out—that served young adults. That was in her salad days. Now she's turned her attention to an audience she hopes to join in a decade or so: retirees. Siskos is the managing editor for Kiplinger's Retirement Report. In between, she broadened her personal-finance repertoire with real estate and investing stories at Old-House Journal, Investing Daily and U.S. News. She comes to Kiplinger by way of the Newseum, where she worked as an exhibit editor.